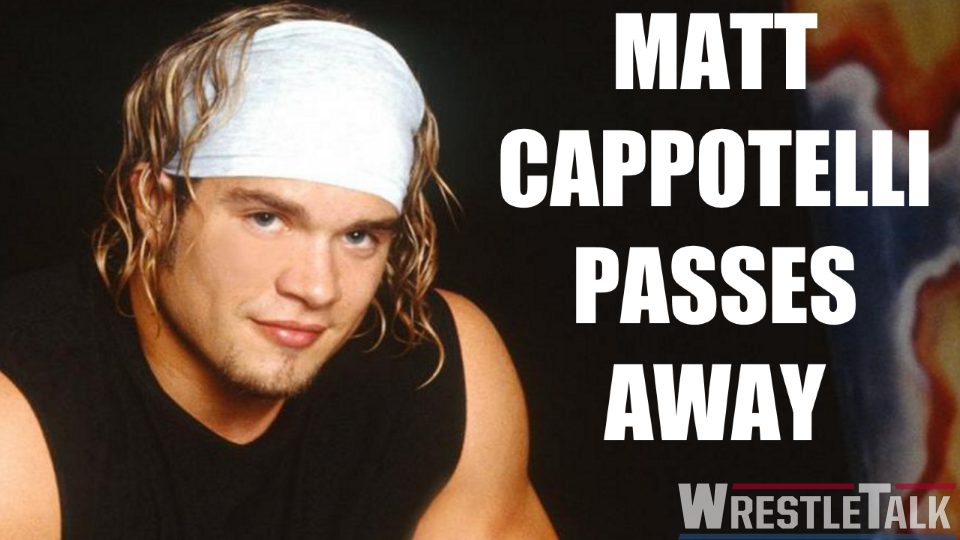 On Friday, July 28, former Tough Enough III winner Matt Cappoletti passed away at the age of 38. Matt had been battling his second bout of cancer.
Cappotelli co-won the third Season of Tough Enough. Alongside former WWE Superstars John Hennigan (now known as John Morrison/Johnny Nito) and Melina. However, he picked up most of his wrestling success down in Ohio Valley Wrestling, where he would capture tag team gold and the OVW Heavyweight Championship.
Sadly in 2006, he was diagnosed with his first brain tumor. Having undergone successful surgery in 2007 to remove it, a second tumor formed in 2017. This led to a decision to cease all medical interventions and treatment in May of this year.
As soon as his wife broke the news via Facebook, WWE posted their official condolence via there website. Along with tributes from fellow wrestlers, some of which can be all seen below.
From WWE.com:
Matt Cappotelli passes away

WWE is saddened to learn that Matt Cappotelli, a promising Superstar who was a co-winner of WWE Tough Enough III, passed away Friday at age 38.

His death was first announced by his wife, Lindsay Cappotelli, on her Facebook page.

"Today my love-my strong, sweet, beautiful love-took his last breath at 3:30 a.m. and went Home to be with Jesus exactly one year after his brain surgery," Cappotelli wrote in her post.

Matt Cappotelli, who previously proved his athletic prowess as a member of the Western Michigan University football team, quickly made a name for himself in sports-entertainment as a co-winner of WWE Tough Enough III.

He shared the victory in 2003 with John Hennigan, who later came to be known as John Morrison. After coming out on top of the WWE reality competition, the duo quickly started their training in Ohio Valley Wrestling to become future Superstars.

Cappotelli's OVW training was cut short in 2006 due to an initial brain cancer diagnosis that was treated one year later. Ten years after surviving the first battle, his cancer resurfaced in 2017 and worsened later in the year.

In 2017, Cappotelli spoke with WWE.com about his second bout with cancer. Despite the troubling outlook, he continued to publicly fight his illness in hopes his story might help others find the strength to keep fighting their battles, too.

"Life is the most precious gift we're given," Capotelli said in 2017. "If I can inspire others to not give up on the life they've been blessed to have, that's what I'm trying to spread – hope."

WWE extends its condolences to Matt Cappotelli's family, friends and fans.
#RIPMattCappotelli You showed everyone what it means to never give up and to always stay positive. It was a honor to know you. https://t.co/rHsOgXIsfm

— Stephanie McMahon (@StephMcMahon) June 30, 2018
My first best friend in the wrestling business and to this day one of the best people I've ever known Matt Cappotelli has passed on. I'm gutted about this news. Matt inspired everyone around him especially me early in my career. He is loved and will be missed.

— John Morrison (@TheRealMorrison) June 29, 2018
#MattCappotelli was the true measure of what a man should be. I am a better person for having met, known, & worked with him. I can only smile when I think of him.

— Eugene Nick Dinsmore (@UGeneDinsmore) June 30, 2018
https://twitter.com/OfficialTAZ/status/1012841389044977665
Very saddened to hear that Matt Cappotelli passed away. I had the privilege of working with and getting to know Matt during my time in OVW. If everyone strived to be even half the human being Matt was the world would be a wonderful wonderful place. #RIP

— Lance Storm (@LanceStorm) June 29, 2018
I hate to hear this. Seemed like a really good guy. https://t.co/iH5kGQcn7A

— Hurricane Helms (@ShaneHelmsCom) June 30, 2018
RIP Matt your influence and inspiration in all of our lives will be sorely missed . I am grateful for having you in my life and being a small part of yours . pic.twitter.com/qLsZr6OPr5

— Al Snow (@TheRealAlSnow) June 29, 2018
https://www.instagram.com/p/BkoMonkHCmS/?utm_source=ig_embed
From all of us here at WrestleTalk, we send our deepest condolences to the Cappotelli family.