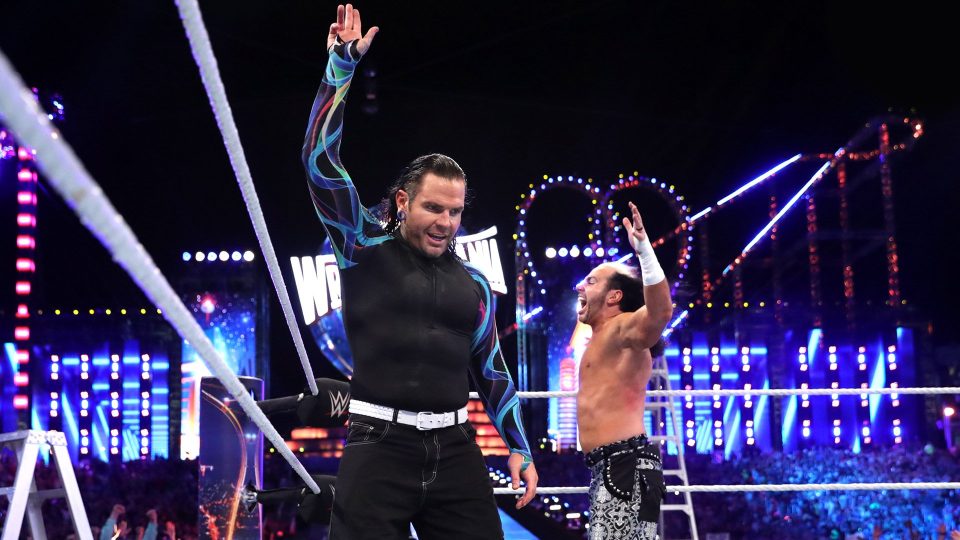 Ever since returning to WWE at WrestleMania 33 to one of the biggest pops in recent memory, it hasn't been the most inspiring of runs from either Matt or Jeff Hardy.
Matt brought back a less successful version of his broken gimmick, teamed with Bray Wyatt before an uninteresting run with the Raw tag belts. Jeff on the other hand had a bit more success; winning the US Title and having a few decent upper midcard feuds.
But that's about as good as it got. Of course you can argue that as they're a bit older than most stars, they didn't want to take the spotlight, but many fans have been underwhelmed with the Hardys' latest run.
According to the Wrestling Observer Newsletter, Matt and Jeff's contracts are up in a couple of months, so we may not see all that much more of them in WWE.
""Both Matt & Jeff Hardy's contracts expire at Mania season but the expectation is they are staying for at least one more year. They signed a two year deal in 2017 with a third year option. It's believed WWE will pick up the option now, which does include a substantial pay raise in year three. Matt is scheduled to come back but not sure of the timetable, are he's feeling great with the time off to heal.

"He wrote, "No, I am not retired and not going to be retiring at any time soon. I've worked my ass off to rehabilitate and have physically been greenlit. My body is in the best shape it's been in in years and I'm the lightest I've been in 20 years." Obviously Young Bucks vs. Hardys with major television promoting it has a good shot at being a big program since it set the ROH attendance record before Omega-Cody broke it, and it was really just kicking off when they had to end it"
As you can see WWE do have an option to extend the deal, but with the looming threat of AEW, could Matt and Jeff Hardy be tempted to jump ship?