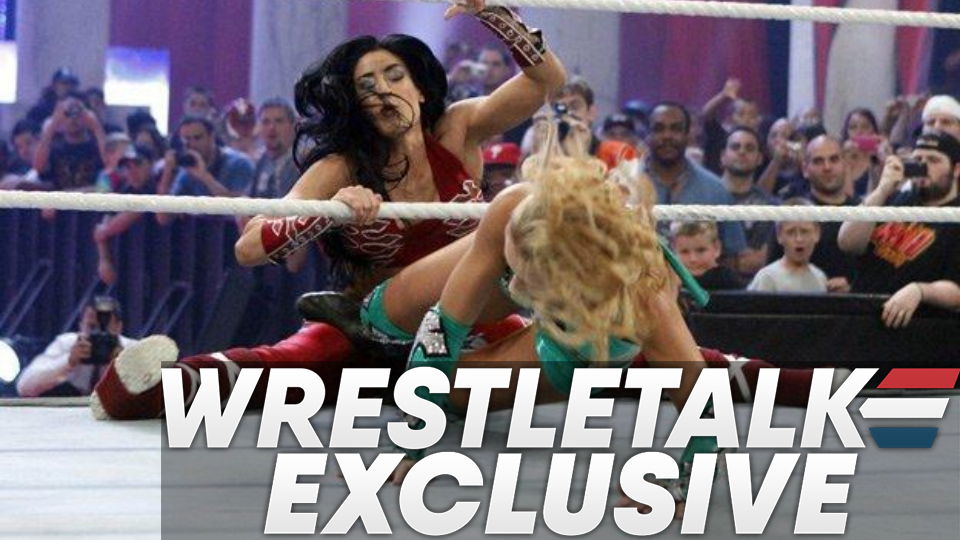 It has been reported that following their match at Night of Champions in 2009, former WWE Superstars Melina and Michelle McCool were lectured by WWE management as their bout was "too good".
Speaking to WrestleTalk in an exclusive interview, Melina has opened up the match, and her memory of what actually happened once the women walked to the back:
"I don't know… Sometimes women, we don't really get feedback sometimes. Sometimes we do, sometimes we don't. At that moment in time, I didn't get yelled at, they just kind of told us, 'Okay look, what if something happened?'. They were concerned and they were shocked we were gonna do stuff like that because they didn't know, but we knew that we weren't gonna say anything because it's better to ask forgiveness than ask permission.

"It was an amazing thing because we both knew that we worked so hard, and we had this vision and a dream, and we wanted to create it. And if there's ever gonna be a moment, let's do it now. So to be able to work with somebody who feels the same way, has the same goals, and is willing to meet you on the same plain of, 'Hey, I'm gonna bump my ass off for you' and they're gonna do the same for me, and we're just gonna kill it.

"Sometimes you meet people and you work with people and… it's just hard to work with them because they don't look weak, or they wanna be superior, and it's like, no this is a dance. This is a dance, we gotta tell a story, and when you have people like that, like Michelle (McCool), like Beth (Phoenix), like Mickie (James), like Nattie (Neidhart), like Gail (Kim), I was very, very lucky that we were all on the same page and whenever we got together were like, 'Let's make magic happen'.

"And I was proud of that match, of course I was proud of that match."
During the same interview, Melina also spoke about the reports that she was set to return to WWE towards the end of last year, which you can read more about by clicking here.
What are your thoughts on the above story? Let us know in the comments on Twitter or Facebook.