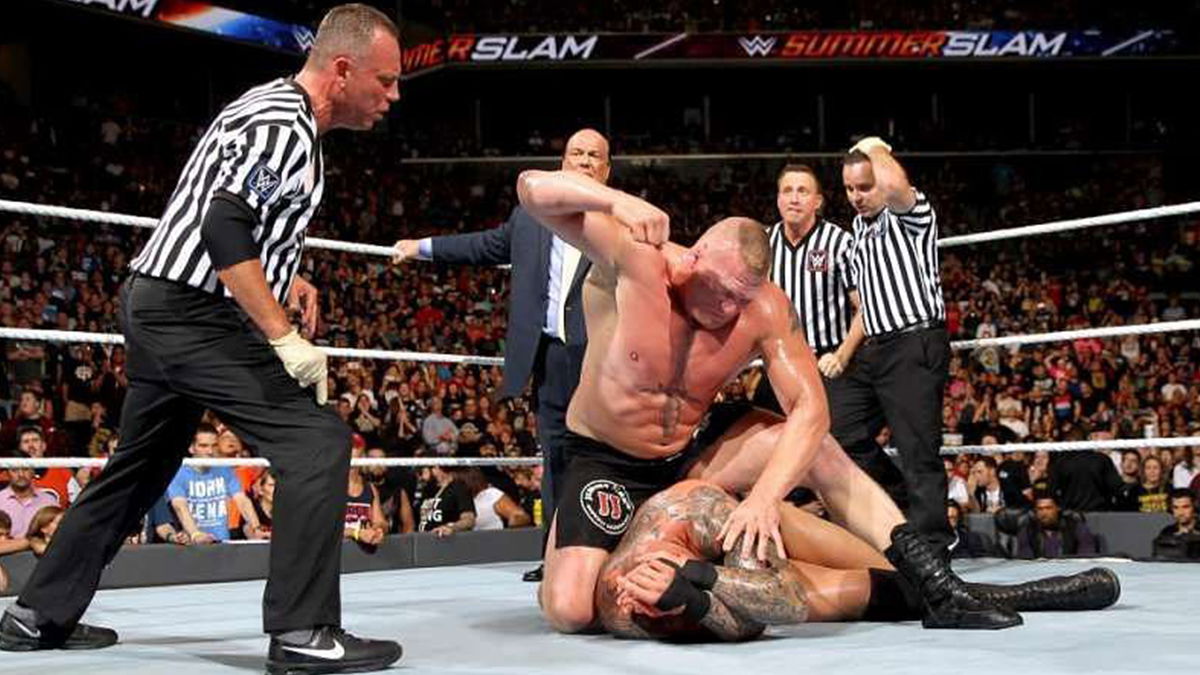 Mike Chioda has detailed his unique perspective of being the referee during Brock Lesnar and Randy Orton's infamous match at SummerSlam 2016.
Speaking with Wrestling Shoot Interviews, Chioda said he didn't know if Lesnar was lashing out at Orton or if he was doing what he was instructed by the office. Here is the quote, courtesy of Sportskeeda:
"Brock gashed him open and I could tell there was something going on, but I didn't know if it was really Brock towards Randy or if it was just Brock listening to what the office wanted him to do. Randy had a little bit of heat at that time. He gashed him open real bad over the forehead. You could tell he was going for it because he was just elbow to forehead. I was kind of shocked that they would do that because concussion protocol was still strong at that time."
Mike Chioda also went on to say that there wasn't much heat between Lesnar and Orton afterwards. He also said he thinks Orton knew the finish was coming.
"There wasn't a fallout between Brock and Randy but they just didn't talk all day, so something was going on. I don't know if it was really from the office or Brock telling them how he wanted it. I don't think Randy really had too much heat with Brock. He kind of knew what was coming, I think."
The match ultimately saw Lesnar take his gloves off and bust Orton's head open hard way. This led to the match being stopped by TKO with Lesnar being awarded the victory.
To make sure you stay updated with all the latest wrestling news, add WrestleTalk.com to your Google Discover feed and follow us on Twitter!