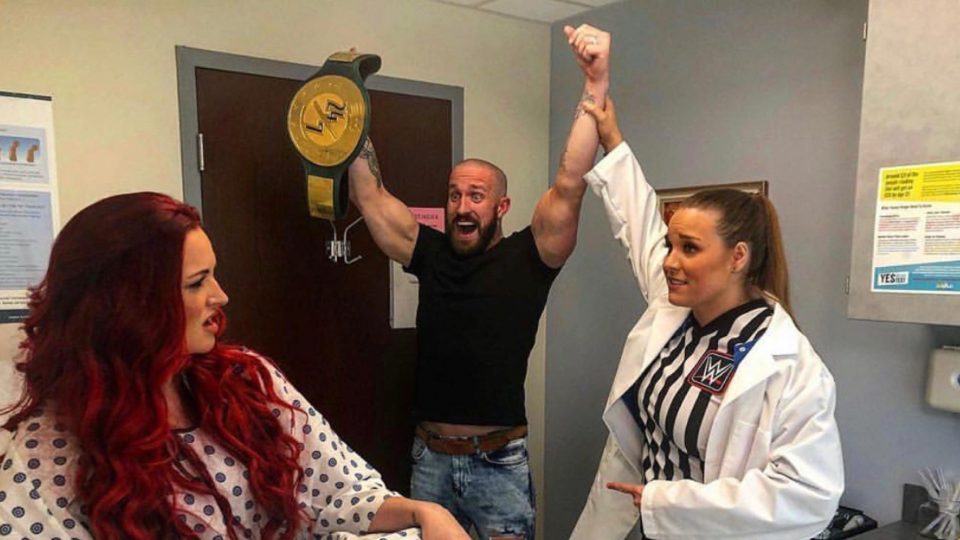 What a horrendous thing to do. Mike Kanellis betrayed his wife Maria on WWE Raw, taking the 24/7 Title from her during her OBGYN visit.
The title continues to be the greatest invention in the history of wrestling, with the shenanigans continuing on Raw tonight.
As mentioned, Maria Kanellis was with husband Mike at her OBGYN visit, when, as the first ever pregnant champion, she was pinned by Mike himself in hilarious fashion.
Mike was comforting Maria – or pretending to at least – when it was revealed the doctor was actually NXT referee Jessika Carr, who counted three while Mike had Maria pinned down to crown him new champion.
It didn't last long though. As soon as he made his way out to the waiting room, Truth and Carmella were hiding there, Truth popped a baby out from underneath himself, and rolled Mike up to become champion for an 11th time.
You can watch the madness ensue in the clip below:
Wow. @RealMikeBennett went there, and @RonKillings & @CarmellaWWE ACTUALLY WENT THERE!

Sorry, @MariaLKanellis. #RAW #247Championship pic.twitter.com/ThqXFib9Pm

— WWE (@WWE) August 6, 2019