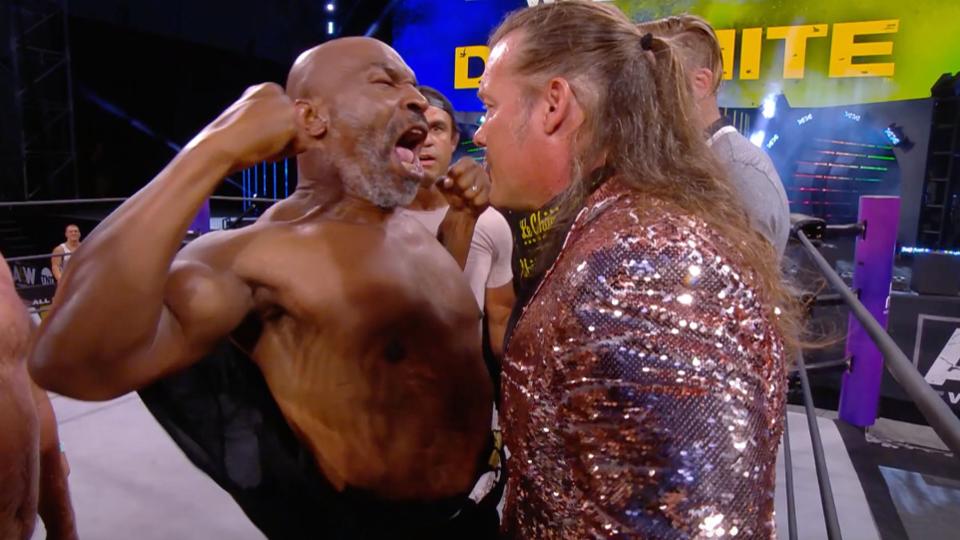 There's currently an ongoing argument amongst wrestling fans on whether or not Mike Tyson is still a draw in 2020. Some say he clearly is a draw, but not as big as he once was.
Others say Mike Tyson is just as big or bigger than he ever was. Based on the ratings from AEW: Dynamite, he certainly helped last night's show draw viewers.
According to Fightful, Mike Tyson was just offered big-time money for a fight. Iron Mike was offered $1,000,000 to fight Italian Heavyweight Champion, Juiseppe Angelo Cusumano, by Classic Entertainment and Sports.
All hell broke loose between the Inner Circle & the Mike Tyson camp!
WATCH the full altercation between @IAmJericho & @MikeTyson here – https://t.co/XAHEA3wQBe pic.twitter.com/IPCLg7OD5R

— All Elite Wrestling (@AEW) May 28, 2020
In addition, he was offered a percentage of the closed-circuit receipts to be negotiated. Also, they offered to make a $200,000 donation to a charity of his wife's choosing.
If Tyson can get an offer to have a boxing match for 1 million dollars, he certainly must still be a draw of some kind. It will be interesting to see if the details of what he's making for appearing for AEW ever come out.
10 years in the making!
Watch the war of words between @MikeTyson & @IAmJericho post Dynamite.
WATCH the full Tyson & Jericho altercation – https://t.co/XAHEA3ffJG

Rewatch #AEWDynamite via the @tntdrama app or watch every Wednesday on TNT, 8e/7c. #AEWonTNT @AEWonTNT pic.twitter.com/SflnIYcWll

— All Elite Wrestling (@AEW) May 28, 2020
Jericho and Tyson got into a brawl to end last night's Dynamite. Jericho also commented he thinks Tyson can have a wrestling match.
It wouldn't be surprising to see Tyson/ Jericho be a part of the card at all out.
What are your thoughts on Mike Tyson in AEW? Let us know on Twitter.