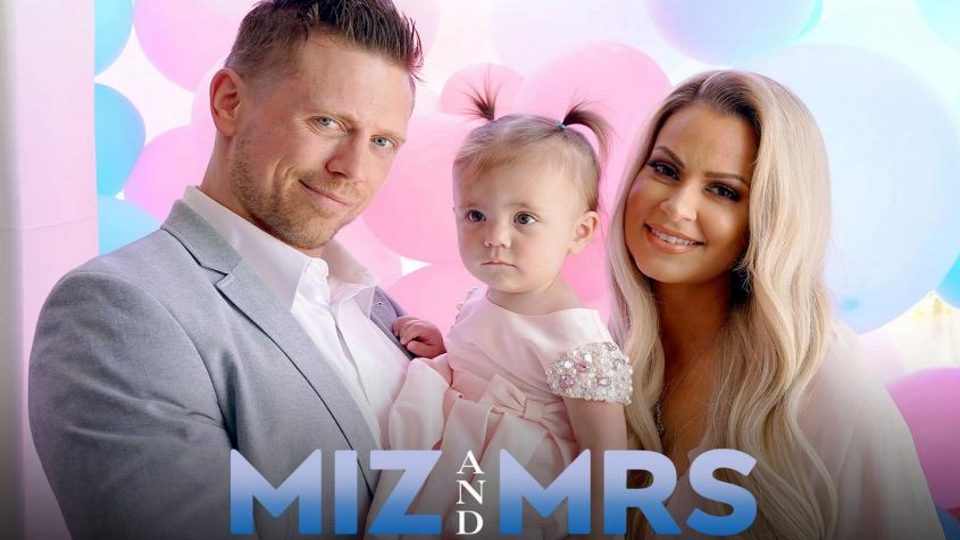 The Miz appeared on WWE's The Bump today to announce that season two of Miz & Mrs will premiere on Wednesday January 29, 2020, on the USA Network.
The show will air straight after that night's episode of NXT also on USA Network.
Here's what WWE.com says about the series:
USA Network today announced the hit docuseries, Miz & Mrs., is set to return for Season 2 on Wednesday, January 29, at 10/9 C, immediately following NXT.

The series gives an exclusive glimpse into the A-List lifestyle of married WWE Superstars The Miz and Maryse. This hilarious "It" family is moving from their quiet life in Austin back to the hustle and bustle of Los Angeles. With two mothers-in-law, a grandfather with WWE aspirations, two dogs, two cats, a 1-year old daughter, and a new baby on the way, every day is a new adventure. Mike and Maryse may be Superstars in the ring, but at home they face the same challenges that affect all new parents. From spicing up their love life to keeping their family at bay, the duo will work together to take on whatever is thrown their way.

Produced by WWE and Bunim/Murray Productions,Miz & Mrs. complements USA's WWE programming, which includes five hours of live programming each week with Monday Night Raw and NXT. Gil Goldschein, Farnaz Farjam-Chazan and Russell Jay serve as executive producers for Bunim/Murray Productions. Kevin Dunn and Chris Kaiser serve as executive producers for WWE. The Miz (Michael Mizanin) and Maryse (Maryse Mizanin) are also executive producers.
Miz's former tag team partner John Morrison made his return to WWE programming on The Bump, explaining why he had left the company in 2011:
"When I left in 2011, I meant to take like a year off, you know? I wanted to take a year off, I wanted to make some movies and do my own thing for a little bit and that year turned into eight years. It's crazy how fast the time flew and part of it was because i had a lot of fun wrestling for these other places.

"I was like the guy, the brand ambassador and it was cool having all that autonomy and why did I come back or why did it take so long? I think I was just having so much fun doing what I was doing and I'd always meant to come back here and then at this point when I realized, I was like, 'Man, I better like, get my ass back to the WWE before ten years go by cause time's flying.'"
The Miz has a match at the TLC pay-per-view this Sunday against Bray Wyatt, although as of now it won't be for Wyatt's Universal Championship.