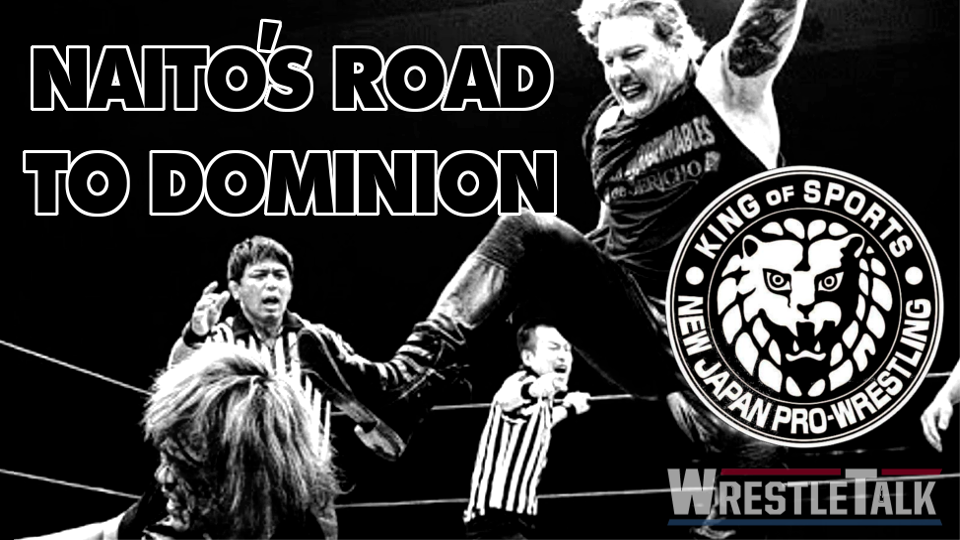 2018 has not been the year that Tetsuya Naito would have hoped it would be.
His highly anticipated Wrestle Kingdom 12 main event ended with a loss to Kazuchika Okada, he was eliminated in the first round of the New Japan Cup by Zack Sabre Jr., and he has been jumped twice by Chris Jericho.
He managed to defeat Minoru Suzuki for the IWGP Intercontinental Championship in an uninspiring match but now his year has reached a crossroads with his match with Chris Jericho this Saturday at Dominion. Before the match takes place, however, it is important to look back at Naito's year in detail to fully understand why this match is so crucial for Naito going forward.
Wrestle Kingdom 12 was meant to be the culmination of Tetsuya Naito's five-year journey.
He won the G1 Climax in 2013 and the fans turned on him leading to the IWGP Heavyweight Championship being defended in the semi-main event of the biggest show of the year. Naito lost to Okada at Wrestle Kingdom 8 before leaving for CMLL where his outlook on wrestling changed forever.
After aligning himself with La Sombra, Naito returned to New Japan Pro Wrestling and founded Los Ingobernables de Japon, a group that would become the most popular faction in all of Japan. With his new apathetic attitude towards the Japanese fans and New Japan as a whole, Naito embarked on a quest to destroy everything that had gotten in the way of his Wrestle Kingdom 8 main event.
He defeated Okada for the IWGP Heavyweight Championship at Invasion Attack in 2016 before disrespecting the title by tossing it aside following his victory. After losing the title back to Okada, Naito turned his attention to the title that stole the main event from him, the IWGP Intercontinental Championship. The title symbolized everything he had lost and he took every chance to mutilate and disfigure the belt and defeated Hiroshi Tanahashi, the man who stole his main event spot in 2014, at Wrestle Kingdom XI.
After exorcising all of his demons, Naito won the 2017 G1 Climax and earned himself his long-awaited shot at the IWGP Heavyweight Championship in the main event of Wrestle Kingdom 12.
In the eyes of Naito and the fans, this match was the culmination of Naito's journey. In the moment he has been waiting for his whole career, Naito regressed and attempted to elicit the memory of his former life by playing to the crowd and trying to land his old finishing maneuver, the Stardust Press.
In one final attempt to play to the audience, Naito was finally beaten by Okada. In what should have been the biggest moment of his career, Naito was unable to fully embrace the attitude of his El Tranquilo character and fell back onto what failed to make him successful in the first place. Naito's five-year journey ended in heartbreak and left fans to wonder what was next for him in New Japan Pro Wrestling.
Naito did not just lose his match with Okada, he betrayed everything that he had stood for since 2015. Naito showed that the work he put into trying to appear apathetic was all to cover the fact that deep down he does care about the audience's adoration. Ungovernable or not, Naito exposed himself to the fans and after the loss it was not clear what direction he would take.
The following night Naito was attacked by Chris Jericho. Jericho, who had come off a loss to Kenny Omega the night before, managed to get his heat back at Naito's expense.
Naito's year took another step backward when he entered the New Japan Cup and was eliminated in the first round by the relatively unproven Zack Sabre Jr. Going from the Wrestle Kingdom main event to a first-round exit put Naito's year at its lowest low. The questions that had plagued the first quarter of Naito's year were still prevalent after his appearance in the New Japan Cup and his rivalry with Minoru Suzuki did little to help his position.
One saving grace in Naito's feud with Suzuki was Naito regaining the IWGP Intercontinental Championship. The title still carries a great deal of prestige and Naito holding it elevates the title despite the recurring indifference Naito exhibits towards it. While holding the title is a positive step for Naito in an otherwise disappointing year, this reign seems to hold less significance than Naito's first.
Until finally, Naito was jumped by Chris Jericho once again. When Jericho attacked Naito at Wrestling Dontaku it presented Naito's first major challenge since losing to Okada in January. Whereas Naito's feud with Suzuki never really got off the ground, the match between Naito and Jericho had people talking almost immediately. Now with his match with Jericho looming, Naito will control his own fate and the direction the second half of 2018 will take.
A big win against Jericho could propel Naito into a momentous summer but a loss to a part-time foreigner would be the latest in a long line of blows to Naito's momentum. The IWGP Intercontinental Championship is on the line with Jericho claiming that he will win the title and become a ten-time Intercontinental Champion (combining his nine reigns with the WWE version of the title). The stakes are high in this match but more importantly is this match may be the time that Naito is forced to show is hand in regards to his true motivations at this stage of his career.
Naito's match with Okada at Wrestle Kingdom 12 exposed his inability to get past his desire for the audience's approval. Now, six months later, the match with Jericho at Dominion offers the first chance for Naito to further this story. Will he regress further into his old babyface ways? Or will he turn to the dark side once again as a man disgusted with his own inability to let go of the past?
(WARNING: Video contains blood. May be considered NSFW)
Tetsuya Naito's road to Dominion has been his most difficult stretch since Naito returned from Mexico and founded Los Ingobernables de Japon. The highly anticipated Chris Jericho vs. Tetsuya Naito match now acts as a crossroads for Naito's character and Naito's year that will have serious implications on where New Japan Pro Wrestling's most popular star will go next.
Dominion takes place on June 9th from Osaka-jo Hall in Osaka, Japan.
Are you excited for the Chris Jericho vs. Tetsuya Naito match? Let us know in the comments below or on Twitter!