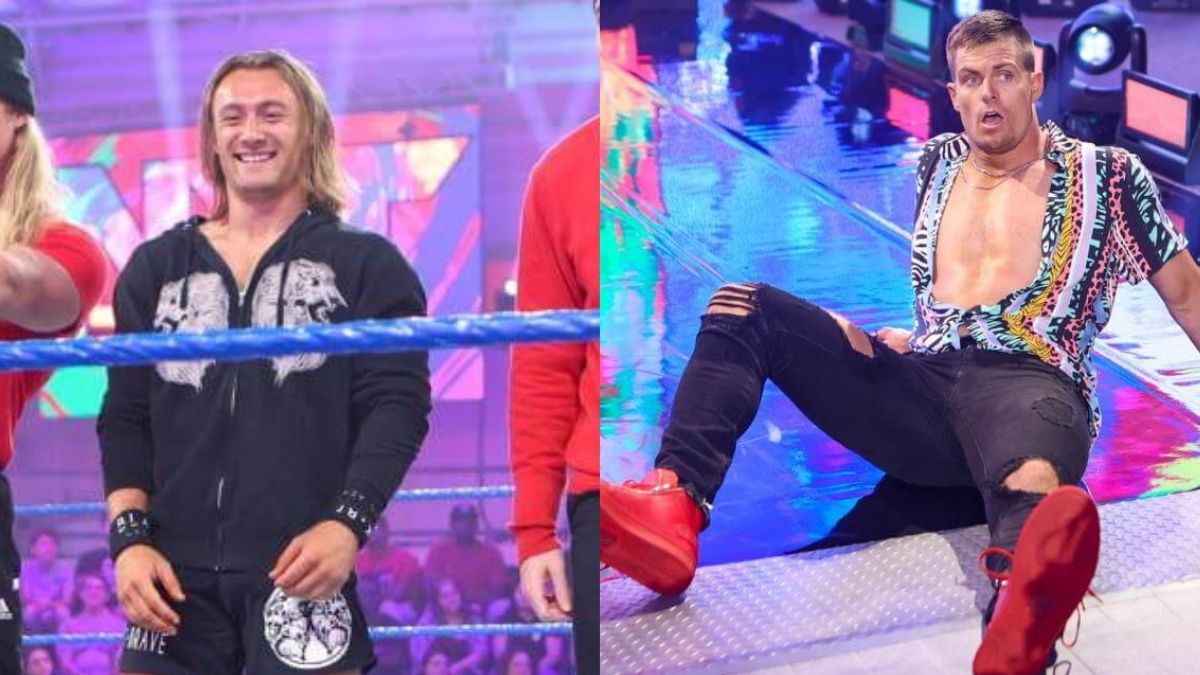 The war of the words on Twitter is starting to heat up between NXT 2.0 foes Nathan Frazer and Grayson Waller and it involves Seth Rollins.
After Waller interrupted Frazer's NXT 2.0 debut on the most recent episode (April 26) blocking fans from seeing the high-flying NXT UK star's first match, they ended up with a match of their own for Spring Breakin' and now the feud has spilled over to Twitter.
With Waller firing the first shot, Tweeting to Frazer:
"Fact of the day- if being trained by Seth Rollins is your only personality trait, you don't actually have any personality"
Which prompted a video response from Frazer, mimicking Waller's social media style where he confirmed that he was indeed trained by Seth Rollins, also: Seth Rollins thinks Grayson Waller sucks!
Speaking to Waller in the clip, Frazer said:
"Grayson Waller, hello mate! I know in the past you've made these kind of videos so I thought that you'd appreciate it if I did one just for you. Now you're on the Twitter timeline saying that like why the only personality I've got is that I was trained by Seth Rollins? And granted, I'm not exactly shy to broadcast that to the world, at the end of the day I learned how to do this from one of the best performers of this or any generation and I happen to think that's pretty cool. Because his legacy won't necessarily be just all the accomplishments and accolades he's got, it'll be all the information that he's passed down on the future generations and what that generation can do with the information and make no mistake pal, I am damn proud to be a part of Seth Rollins' legacy. Someone should have told you a long time ago that your opinion really isn't worth that much like I'm never gonna like, lose sleep over watch Grayson Waller has to say about me."
If you use this transcription or any portion of it please credit WrestleTalk.com and link to this page.
He ends the Twitter promo by telling Waller that he feels "pity" for him being "by nature a terrible human being" but "that being said though Seth Rollins thinks you suck!"
Nathan Frazer and Grayson Waller will be in action at this week's special Spring Breakin' edition of NXT 2.0 on USA network.
You can check out the win/loss records for the NXT 2.0 men's roster here.
Fact of the day – Seth Rollins thinks Grayson Waller sucks https://t.co/TO5TKhwbZ9 pic.twitter.com/iuTYj5DWi6

— Nathan Frazer (@WWEFrazer) April 28, 2022
 To make sure you stay updated with all the latest wrestling news, add WrestleTalk.com to your Google Discover feed and follow us on Twitter!