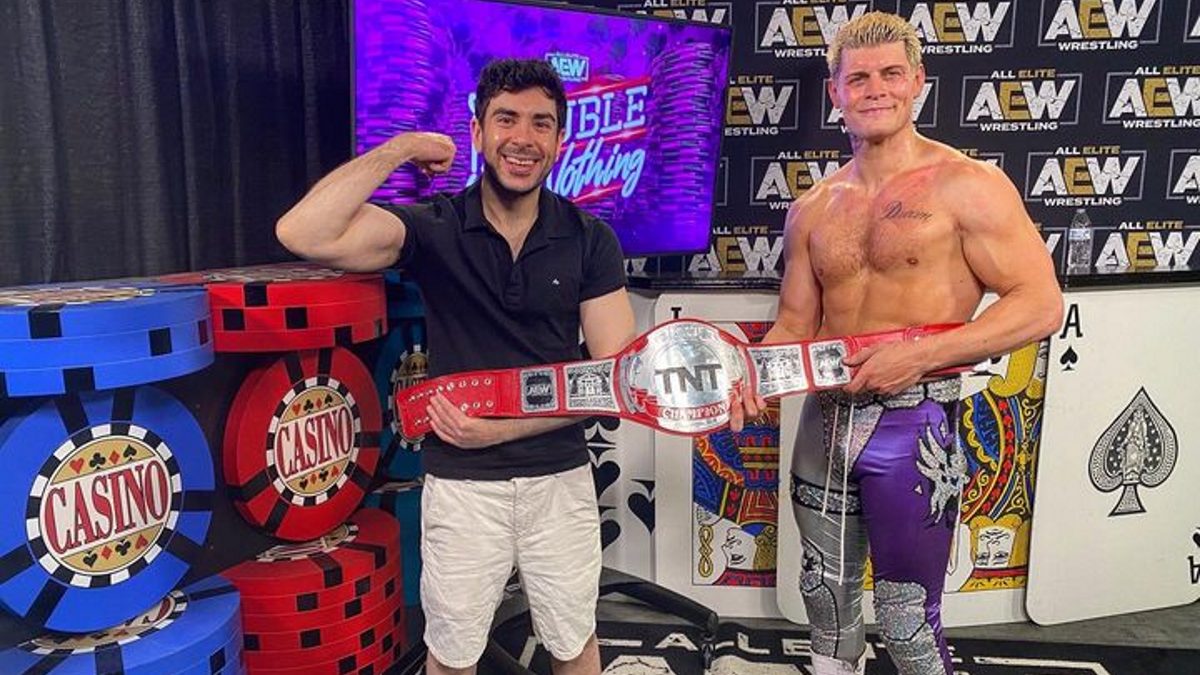 A new AEW signing debuted on last night's Dynamite, Cody Rhodes has revealed the truth about his contract status, some more Royal Rumble spoilers, and more.
It's Thursday morning, the Rumble is now just two days away, and it's time to get caught up on all the latest wrestling news. I'm Liam Winnard for WrestleTalk.com, and this is our audio news bulletin for January 27, 2022.
Listen to this morning's round-up here:
Danhausen Debuts & Signs With AEW
Last night's episode of Dynamite played host to a very nice, very evil debut as the main event lights out match between Adam Cole and Orange Cassidy saw the first ever AEW appearance of Danhausen, who was hiding under the ring, and seemingly cursed Cole who went on to lose the match.
If you're not aware of Danhausen, check out his Twitter, because there is a reason he's as popular as he is and has such a rabid following, which includes CM Punk.
Before now joining AEW, Danhausen was known for his time in Ring of Honor for the previous couple of years, but it's his social media presence that has really driven his popularity.
Tony Khan took to Twitter after the debut to announce that Danhausen is officially "All Elite", and it wasn't just a one-off appearance.
Cody Rhodes Reveals Truth About AEW Contract
On the topic of last night's Dynamite, Cody Rhodes was back in action for the first time in 2022, as he was beaten by Sammy Guevara in a ladder match for the TNT Championship.
It had been reported previously that Rhodes' AEW contract expired at the end of 2021 and he has officially been working as a free agent, and in an interview after the match that was posted on AEW's social media, the man himself confirmed that to be true.
Cody said:
"I am working here without a contract. I'm not even on payroll anymore. I'm working here on a handshake deal. That is 100% legitimate, I swear on Pharoah's life if you want to know how serious things got, but I can tell you this – I have never felt more at home than under those lights, wrestling for the TNT title…"

If you use this transcription or any portion of it please credit WrestleTalk.com and link to this page
With Cody Rhodes confirming his free agency, this has once again sparked the speculation that he technically could appear in the Royal Rumble this Saturday.
More Royal Rumble Spoilers
Speaking of which, some more reports have come out about possible surprises and spoilers for the Rumble matches, so, like I said yesterday, I don't know why you're listening to this if you're trying to avoid Rumble spoilers, but this is your warning to stop listening now if that's the case.
While some people are wondering about Cody, other people are wondering about Veer Mahaan, and when on earth he's going to finish coming. Well, it sounds like he won't be coming all over the Royal Rumble.
PWInsider reported that, unless there's a last minute change, there are no plans for Mahaan to be an entrant in the Rumble match, nor to appear on the show in any capacity.
A somewhat surprising name that might not be the case for though is Kairi Sane, with Fightful Select reporting that her name has been pitched within WWE as a possible entrant for the women's Rumble match.
Sane left the United States to return to Japan in mid-2020, but remained contracted to WWE as an ambassador, and has done work for the company such as Japanese commentary. The latest report from Dave Meltzer was that she's still under contract until February.
Staying on the topic of the women's Rumble, many legends have been announced such as Michelle McCool, Mickie James, Lita, the Bellas, and most notably Summer Rae, but one name missing from that list is Trish Stratus.
The Bellas actually asked Stratus about this on their podcast, and her response was that she's currently busy being a judge for Canada's Got Talent which is being filmed at the moment, playing down the possibility of a Rumble appearance.
Other Stuff
In other little bits of news…
Randy Orton said on the Ringer Wrestling Podcast that he's contractually obligated to work 80 WWE shows a year.
Roman Reigns addressed Bully Ray's controversial comments about Jon Moxley's promo last week. Reigns said he could see where Bully Ray was coming from with the mindset that Moxley should have apologised for leaving – in that wrestlers are often conditioned that they should try to never miss time – but Reigns said in today's day and age taking care of yourself should take priority and Moxley doesn't need to apologise to anyone.
Reigns also told Sports Illustrated that he's still feeling the effects of COVID-19 in his chest during conditioning training.
Seth Rollins named some people who he'd like to see win the Rumble, with a couple of interesting picks being Chad Gable, Riddle and Montez Ford.
And Fightful Select is reporting that, despite the chants from the crowd in his hometown of Cleveland, Ohio during last night's show, Johnny Gargano is not currently headed to AEW. He's said to have had contact with some people in the company, but it isn't known whether there have actually been any formal conversations. He's continuing to make it clear that he wants to wait until after the birth of his and his wife Candice LeRae's baby, which is due to be born any day now, before he returns.
Be sure to stay tuned to WrestleTalk.com throughout the day to keep up with all the news from the world of pro-wrestling, and I'll see you tomorrow for another round-up.