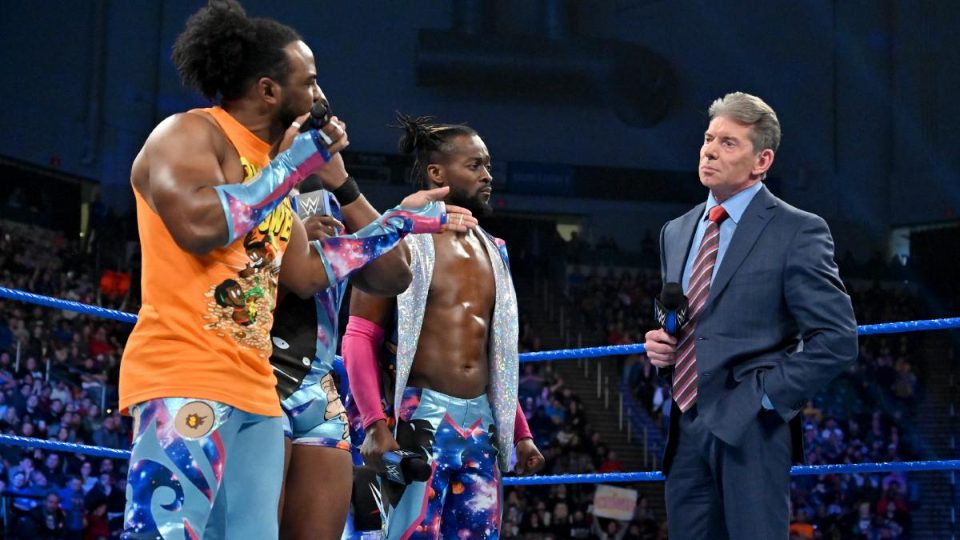 Last year at WrestleMania 35, Kofi Kingston managed to defeat Daniel Bryan in what many look back on as the match of the night to capture the WWE Championship. Kofi's title win was a real feel-good moment.
While the feud between Bryan and Kofi was pretty good, some have condemned WWE for the inclusion of Vince McMahon. They argued that it was never clear why the Chairman didn't want Kofi to challenge for the title at 'Mania.
Speaking of Kofi Kingston and Mr. McMahon, it has been revealed that WWE cancelled plans for an awesome angle that would have seen New Day storm into Vince's office.
Speaking on New Day's podcast, Big E revealed the initial plans for the angle:
"The original plan was that you and I were supposed to go backstage ripping things up on a tear we go to his office. We go to [Vince's] office and we knock on his door and either he doesn't answer or he opens the door and says, 'Oh I don't have time for you' or something like that."

"The plan legitimately and I was so excited for this was that we kick in the door. We tear his office up. Legit throw things over. I think he's in the office in the corner. We're throwing tables over and making a mess of his office just going on a rampage and like had this visceral anger about what's happening to Kofi and one of those things that drove the storyline was that [Kofi's] story so closely paralleled Bryan's, but to me didn't feel it was a rip-off or derivative of Bryan's story at all and, of course the fact that your pitted against Bryan at WrestleMania when that came. I think some of the language was interesting that He Who Shall Not Be Named talked about you that you were a B Plus player that you weren't good enough. It was a lot of thinly veiled when you've got 13 years of experience like why exactly aren't you good enough?"
There is no word on why WWE changed their minds on this angle, so stay tuned to WrestleTalk.com.