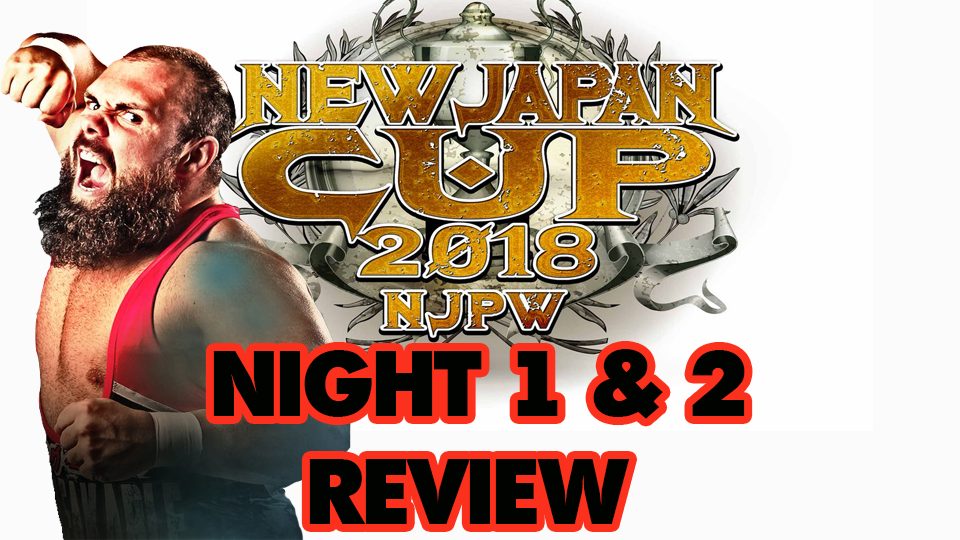 It's that time again. The annual New Japan Cup commenced on March 9 and will see 16 of arguably the best wrestlers in the world compete in a single elimination tournament. The winner receives a shot at the IWGP Heavyweight Championship and its owner, the greatest wrestler in the world today and the seemingly unbeatable Kazuchika Okada.
The fate which awaits the winner of this year's tourney is doubly difficult, however. Not only has Okada not lost in singles competition since August 12, 2017 – falling to Kenny Omega in Block B of the G1 Climax tournament – but only four of the previous thirteen winners have gone on to capture either the IWGP Heavyweight Championship or the IWGP Intercontinental Championship. These were Yuji Nagata (2007), Kazuchika Okada (2013), Shinsuke Nakamura (2014), and Tetsuya Naito (2016).
https://www.youtube.com/watch?v=nLHnpLdU5gM
This year, the elimination extravaganza will take place over nine nights on March 9 – 12 (Round 1), March 14 and 15 (Round 2), March 16 and 18 (Semi-Finals), and March 21 (Final). Held in the famous Korakuen Hall in Tokyo, Japan, night one of the tournament boasted a stacked undercard and the shock of the year so far in the main event.
In results from Night 1 of the New Japan Cup:
Juice Robinson defeated Yujiro Takahashi in a standard effort which turned into a botch-fest at its conclusion. This could so easily have become another wrestling tragedy however, when Takahashi fluffed a powerbomb and dropped Juice full-force on his head in a moment that made viewers hold their breath. It was an indefensible mistake for a fourteen year veteran to make. Amazingly, the resourceful Juice found his resolve and pinned Yujiro with the Pulp Friction facebuster at 16:08. Limited in what he can do in singles competition and more suited to doubles action, New Japan should never have booked Takahashi to compete for this long.
https://www.youtube.com/watch?v=K94XF8KF4gk
Michael Elgin defeated Tomohiro Ishii – the tournament favourite and the man a large percentage of the audience wanted to see challenge his CHAOS partner Okada for the strap – in the highlight of the night. Battling to face Juice Robinson in the second round, the exchange began exactly how you'd expect a match of this magnitude to start, with both men attempting to remove the other from their feet. It soon turned into something special, however, with an Elgin Falcon Arrow which looked superb. From there it was relentless; the pair traded chops, reversals, and strikes which could have brought down a brick wall until Ishii gained control with an explosive powerbomb as Elgin attempted a moonsault, for a tense near fall. If you weren't invested by now there must have been something wrong with you.
What came next was a truly special trade-off of high spots and near falls which put other men of their size to shame. In arguably the move of the match, Elgin took Ishii to the summit for a stunning Falcon Arrow followed by the recipient countering a top rope powerbomb into a superplex and then smashing his foe raw with a combination of destructive lariats. Headbutts, enzuigiris, and a trio of scorching pin attempts brought the duo into the home straight.
Michael Elgin caught the 42 year old with a dodgy Razor's Edge – which came close to being a repeat of the Juice Robinson incident – then blasted him with a rigid buckle bomb which the excellent Ishii sold beautifully. Strike, counter, brainbuster, sliding lariat, dragon suplex, it was breathless right up until the finish which saw Elgin counter a lariat attempt into a popup powerbomb before putting the seasoned pro away with a brilliant Burning Hammer at 29:02.
https://www.youtube.com/watch?v=JKsJiZUZgrQ
Shaking the problems he's dealing with in his personal life, Elgin looked like a star and the victory made most ponder what could be possible if he was to go all the way. Elgin vs Okada? Could he be the man to finally dethrone the king of Japanese wrestling? It's doubtful, but judging on this performance, the potential is limitless.
On the undercard:
Kazuchika Okada and YOSHI-HASHI defeated Kota Ibushi and Chase Owens
Minoru Suzuki, Takashi Iizuka, and Taichi defeated Kiroshi Tanahashi, David Finlay and Toa Henare
Zack Sabre, Jr., Yoshinobu Kanemaru, and El Desperado defeated Tetsuya Naito, SANADA, and BUSHI
Davey Boy Smith, Jr., and Lance Archer defeated Bad Luck Fale and Tanga Loa
Chuckie T, Toru Yano, and Hirooki Goto defeated David Finlay, Tomoyuki Oka, and Shota Umino
Following an amazing conclusion to night one, the ball was passed to Aichi, Japan on Saturday March 10 in the hopes that night two might be able to surpass its predecessor. With Michael Elgin and Tomohiro Ishii's excellent performance still on everyone's mind, it would be a very tall order and one which would prove impossible.
Unfortunately, the tournament action on display was not a patch on the previous night, proving to be a slog and feeling like it may never get going. The final few minutes of the main event helped to save an otherwise pedestrian evening for the competition, but one was left feeling it was all a little bit too late and that we were better off resigning this leg to history. Hey, everyone is allowed an off day.
In results from Night 2 of the New Japan Cup:
Bad Luck Fale rolled over Lance Archer in a short, tolerable 11:02 affair to advance to the second round of the competition. Countering an Archer chokeslam, Fale struck with the grenade for the win. When looking back on this year's tournament, no one will remember this.
Hiroshi Tanahashi best Taichi in a 23:52 bout which began as nothing special but built into a gripping exchange at its conclusion. Near-falls galore – what else would you expect from a Tanahashi match – the former IWGP Intercontinental Champion pinned Taichi with the high fly flow.
https://www.youtube.com/watch?v=oewsNsWRLVo
On the undercard:
Yoshinobu Kanemaru and El Desperado defeated Ryusuke Taguchi and Ren Narita
David Finlay and Tetsuhiro Yagi defeated Yuji Nagata and Shota Umino
Tomohiro Ishii and Toru Yano defeated Michael Elgin and Tomoyuki Oka
Davey Boy Smith, Jr. and Takashi Iizuka downed Juice Robinson and Toa Henare
Tetsuya Naito, SANADA, and BUSHI cracked Minoru Suzuki, Zack Sabre, Jr. and Taka Michinoku
Kazuchika Okada, Chuckie T, YOSHI-HASHO, and Hirooki Goto best Kota Ibushi, Chase Owens, Tanga Loa, and Yujiro Takahashi