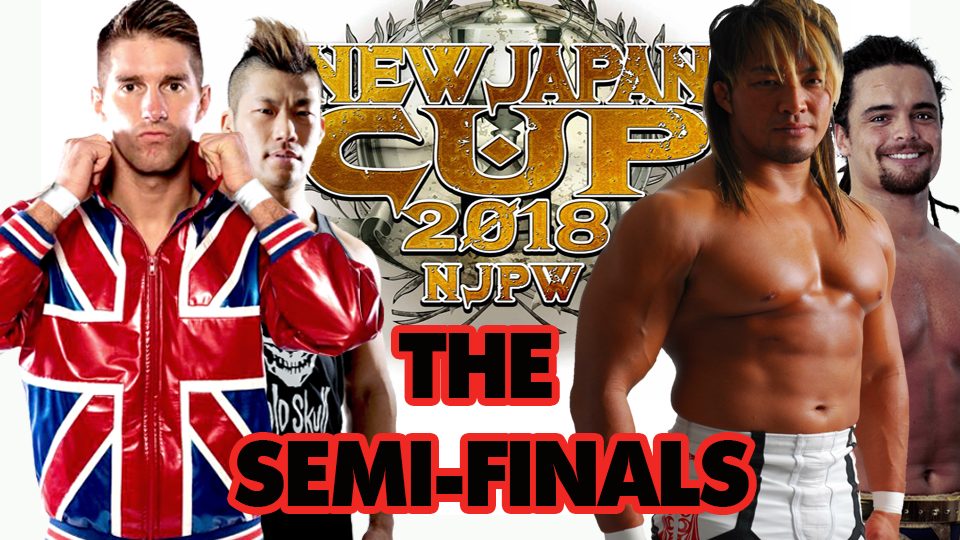 Exhausting.
That's how I'd describe this year's New Japan Cup. When it's been good, it's has been untouchable. When it's been bad, the competition has been a chore to wade through. Thankfully, the positives have easily outweighed the negatives.
Now we're down to the final four, the semi-finals, and the identity of the next challenger to Kazuchika Okada, Minoru Suzuki or Hirooki Goto is becoming ever clearer.
The semi-final matches on March 16 in Tokyo, Japan and March 18 in Hamamatsu, Japan, saw Juice Robinson battle Hiroshi Tanahashi and Zack Sabre Jr. take on SANADA. On their way to the penultimate round, Juice Robinson routed Yujiro Takahashi and Michael Elgin; Hiroshi Tanahashi bested Taichi and Bad Luck Fale; Zack Sabre Jr. triumphed over Tetsuya Naito and Kota Ibushi, whilst SANADA strolled through his match with Chuckie T and Toru Yano.
Results from the Semi-Finals of the New Japan Cup:
Juice Robinson vs Hiroshi Tanahashi
Hiroshi Tanahashi defeated Juice Robinson in a dazzling affair that went just short of half-an-hour, easily claiming my 'match of the tournament' so far.
It was all business as soon as the bell rang. The former IWGP Intercontinental Champion refused the initial handshake from his American adversary before the contest got underway at a deliberate pace, designed so neither man would blow up before the near thirty minute limit.
Tests of strength were the order of the day until Hiroshi directed the action with a side headlock. If you've ever seen a Hiroshi Tanahashi match, you'd have known this was just the groundwork for something amazing.
The amazing was teased moments later, when Juice wriggled free of the rest hold and reversed a pliant middle rope springboard bodypress into a great near fall. We'd hardly begun and already the pair was exchanging heated pin attempts. The signs were promising.
In order for the twosome to contest a gripping and taut exhibition, calculated logic needed to be employed. Constant high spots would eventually become futile. It was lucky then the bout had a true storyteller to navigate it. Charging Juice in the corner, Hiroshi glided from view, crotched Robinson on the ring post, and rammed his leg into the steel in ruthless fashion.
Sensing the crowd was not going to turn hostile on the foreign babyface, Tanahashi occupied the mindset of a heel and repetitively stomped the injured limb with an enjoyable mean streak that we rarely get to witness. Tanahashi, who is preparing for Zack Sabre Jr. in the finals, the man awarded seven five star matches by the Wrestling Observer Newsletter practiced his technical game once back inside, applying an impressive deathlock and modified figure four leg lock working over the knee.
https://www.youtube.com/watch?v=n0qdGajJJ9s
Following on from an extended period of ground work, the pace quickened half-way through the stint and control switched to the underdog upon receipt of a clubbing lariat. The excellent long-shot performance Juice put in against Michael Elgin was in full force here. A missed corner cannonball and some ringside work lead into his momentum going into overdrive. Robinson brilliantly countered a high fly flow by shoving Red Shoes into the ropes. Chops and uppercuts were traded, before Tanahashi quashed a gutbuster with a seat vaulting dragon screw and applied the cloverleaf. Juice made the ropes in dramatic fashion.
Recovering, Juice reversed a sling blade with a full nelson slam in a jaw dropping moment and snagged a near fall. Pulp Friction was reordered into the earlier sling blade and then came one of the best moments of the entire competition. Tanahashi climbed the ropes; Robinson made you love him more with endless bright eyed optimism, halting the big spot with a superplex attempt which was invalidated with a high fly flow into a roll through turnaround for a heart stopping two and three quarters. It could have gone either way if you took the longstanding rivalry between Tanahashi and Okada out of the equation.
For the next few seconds, Juice Robinson made us believe he was going all the way. A flying crossbody, his own version of the high fly flow, none were enough to undo the will of Tanahashi who countered another Pulp Friction with sheer and bloody minded determinism as both men feigned absolute exhaustion. Strike, counter, strike, counter, it was seemingly never going to end until two high fly flows caused the clock to strike midnight on Juice's Cinderella story. What. A. Match!
The handshake that followed was touching. Juice Robinson has been one of the standout performers this year and in many ways he has earned something more precious than a shot at gold. In three matches, he's warranted the love and respect of everyone who pays to see him from this point forward.
As for Hiroshi Tanahashi, the consensus is that he's destined to lift the cup and challenge Okada in order to stop the IWGP Heavyweight Champion from breaking all of his records. It would make sense. The grizzled marvel taking one last crack at the man designed to replace him. It's an age old story and one that sells out box offices if done correctly. However, Tanahashi still has a hurdle standing in his way, and this writer is inclined to believe it's one that is too steep to overcome.
https://www.youtube.com/watch?v=FsMcI97KrHM
Zack Sabre Jr. vs SANADA
Zack Sabre Jr. defeated SANADA in a virtuous technical brawl that fell short of the quality from the Brit's prior tournament outings, but was still highly enjoyable and continued to highlight Sabre as an unbeatable force.
It's been fascinating to watch Zack's progression. He entered the brackets a world renowned high flyer and has evolved into a superb technical wizard we all knew lurked beneath the surface. New Japan Pro Wrestling has done a sterling job with their foreign competitors this year.
Looking to continue where he left off with Kota Ibushi, Sabre didn't get the beginning he'd hoped for. Seconds after the bell it was clear SANADA had done his homework, counteracting the submission monster at every turn until the Englishman vacated the ring to reassess his game plan. But time wasn't on his side. SANADA interrupted the thought process with a brusque dive before the pair made their way back into the ring.
Signposting the finale, SANADA delved into his own personal technical arsenal and took control of the bout with the paradise lock and skull end, but failed to stop Sabre targeted the right arm for the break. A fight back proved fruitless, Sabre locked SANADA into the octopus stretch as proceedings adopted a familiar feel.
It couldn't end there. Had it done so, one is sure refunds would have been requested. SANADA found the exit door and the duo traded reversals which ended with a fine side suplex from the Japanese star. With a spot in the finals up for grabs, there was everything to play for. Zack Sabre Jr. dodged an attractive moonsault, tackling SANADA when he landed on his feet. A penalty kick – Gareth Southgate, I hope you're watching – was reversed into a springboard dropkick which was then setback by more arm work in a winded yet perfect exchange.
The cold skull was ineffectual, allowing Sabre to escape for a hot near fall before the British native fell back on the steps that brought him to dance. Zack grounded SANADA with a triangle choke, a second wind punched his opponent in the gut and from out of nowhere SANADA found a deadlift which he swiveled into a TKO. What a moment that was. Unfortunately, it would be the last offense he would manage
Climbing the ropes with another moonsault in mind, SANADA missed, allowing Sabre to lock in the double arm chicken wing which he would not release. The prey fought for survival but the trap was too snug. Sabre grapevined the pins and laid in several relentless headbutts until the wounded quarry submitted, handing Zack a well earned place in the final of the New Japan Cup.
https://www.youtube.com/watch?v=awrAZTDKqkY
And then there were two. Zack Sabre Jr. vs Hiroshi Tanahashi on March 21 will be a show stealer and contender for match of the year. Both men can wrestle submission style whilst being equally adept in the air. The counters and near falls are destined to take the roof off the arena with the only thing in doubt being the result. From a personal standpoint, I would love to see Zack go all the way. We've seen Tanahashi vs Okada before – assuming that's who Hiroshi will choose – and it would be nice to see New Japan follow through in their build of a new super heel who even the most battle tested legends cannot fell. Image Zack Sabre Jr. vs Kazuchika Okada…now pick your jaw up off of the floor.
However, Hiroshi Tanahashi is the out and out favorite and the excellent story NJPW have been building of the conquering invader crushing star after star, only to be stopped by the ultimate prodigy would have the biggest payoff for the Japanese audience overall. I'm going against the grain and picking Zack to take home the trophy. Whoever prevails, it has been well and truly deserved.
On the March 16 undercard:
Yujiro Takahashi and Tanga Loa defeated Tomoyuki Oka and Tetsuhiro Yagi
Lance Archer, Davey Boy Smith Jr., and Taichi defeated Shota Umino, David Finlay, and Michael Elgin
Tomohiro Ishii and Toru Yano defeated Togi Makabe and Toa Henare
YOSHI-HASHI, Chuckie T, and Hirooki Goto defeated Kota Ibushi, Chase Owens, and Bad Luck Fale
Minoru Suzuki and Takashi Iizuka defeated Kazuchika Okada and Gedo
Tetsuya Naito, SANADA, Yujiro Takahashi, and BUSHI defeated Zack Sabre Jr., Taka Michinoku, Yoshinobu Kanemura, and El Desperado
On the March 17 undercard:
Shota Umino defeated Ren Narita
Tanga Loa, Yujiro Takahashi, and Bad Luck Fale defeated Togi Makabe, Toa Hare, and Tomoyuki Oka
Tomohiro Ishii and Toru Yano defeated Taichi and Takashi Iizuka
Michael Elgin and Juice Robinson defeated Kota Ibushi and Chase Owens
Lance Archer and Davey Boy Smith Jr. defeated Hirooki Goto and YOSHI-HASHI
Tetsuya Naito, BUSHI, and Hiromu Takahashi defeated Minoru Suzuki, Yoshinobu Kanemura, and El Desperado
Hiroshi Tanahashi and David Finlay defeated Kazuchika Okada and Chuckie T