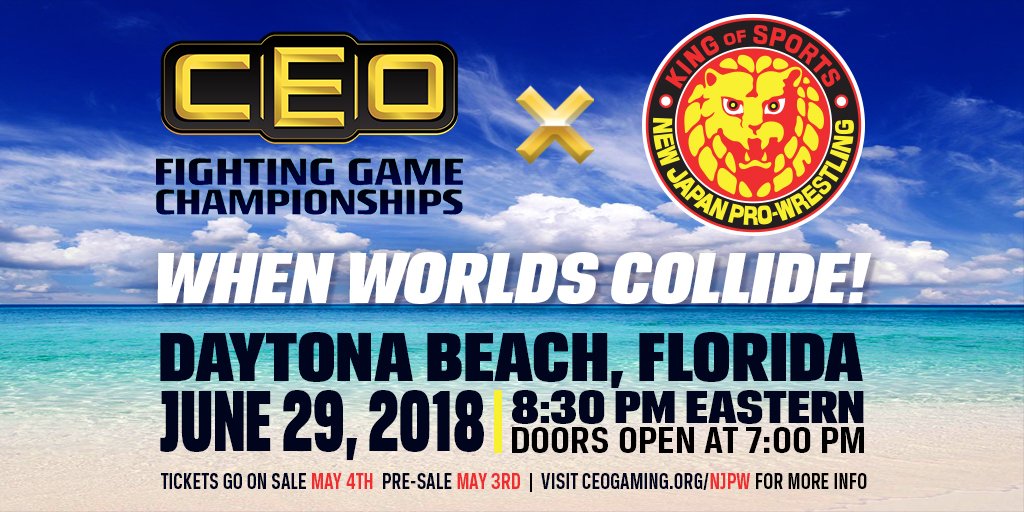 CEO is a yearly national fighting game tournament organized by Alex Jebailey. New Japan Pro Wrestling mega-star and avid video game fan Kenny Omega has made appearances at the last two iterations of this event, and this year they're taking their collaboration to a whole new level.
An experience and crossover event the #FGC will never forget. #CEO2018 pic.twitter.com/EzScSHwOFS

— Alex Jebailey (@Jebailey) March 8, 2018
On March 8, Jebailey announced on Twitter that this year's CEO – which takes place at the Ocean Center in Daytona, Florida this June – will feature one of New Japan Pro Wrestling's rarely ventured shows on American soil, dubbed CEOxNJPW.
Since then, fans and tournament attendees have been waiting with baited breath for details of this event to come out – and now they have.
#CEOxNJPW When Worlds Collide tickets go on sale on May 4th (May 3rd presale for #CEO2018 registered attendees)

Ticket link & more info on https://t.co/7UZuJmqzDh

Stay tuned for New Japan Pro-Wrestling star announcements leading up to our official press release & ticket sales! pic.twitter.com/L0Lxv6A3i7

— #CEO2022 on June 24-26 in Daytona Beach. (@CEOGaming) April 26, 2018
The show will take place on the first night of the tournament, June 29, 2018, at 8:30 pm. Tickets will range from $20 to $100 for front row seats and will go on sale May 4, 2018. Pre-sale tickets will be available the day before for registered CEO attendees.
Talent announcements for CEOxNJPW have only just started, but the two wrestlers currently announced are Kenny Omega and Jushin Thunder Liger, and those two names alone are worth the price of admission.
As a huge wrestling fan who was registered for CEO long before this announcement was made, I could not be more excited for this collaboration, and I applaud CEOGaming and Alex Jebailey for putting this event together.