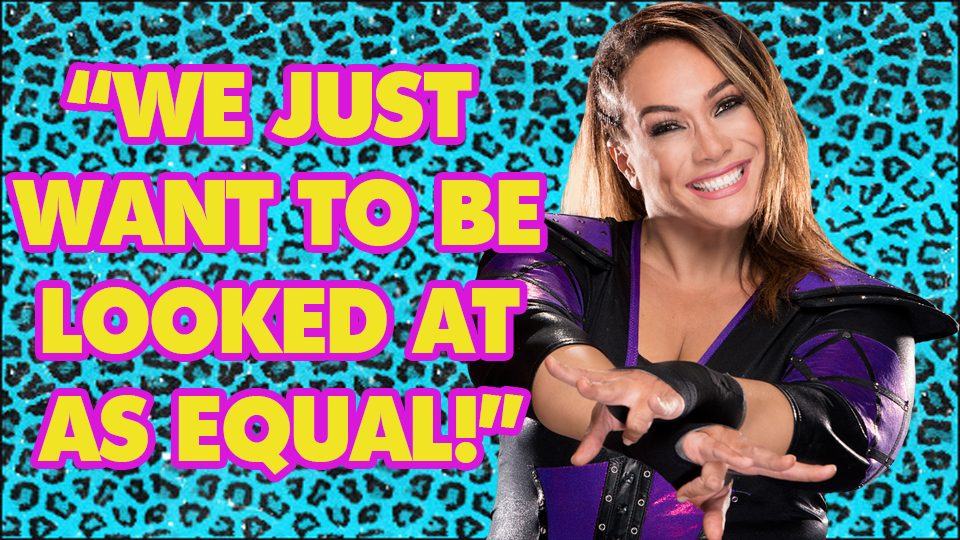 So, what do we know about Nia Jax? Well, for one thing, she's not like most girls – keep the hate mail for the cliché to yourselves – and now that she's gone through a major babyface turn which, weirdly, suits her monster image, she'll be challenging the dainty Alexa Bliss for the WWE Raw Women's Championship at WrestleMania 34.
The question on everyone's lips now is, "Is it finally Nia Jax's time?" That is an outcome I am still debating considering her past treatment and the overwhelming popularity of her opponent. Are there more sensible options with Alexa as champion? I'll leave you to debate that amongst yourselves.
In anticipation of the showdown with her former best friend, the real-life Savelina Fanene partook in an interview with website, Planeta Wrestling, where she talked about arguably the biggest singles match in her career thus far, The Rock, potentially going to SmackDown Live in the upcoming Superstar Shake-Up, and the women's revolution as a whole.
With the much-hyped revolution in full swing – three female contests will take place on the WrestleMania card this year as well as Rhonda Rousey and Stephanie McMahon's intergender tag team match – the pressure is firmly on Nia's shoulders to put in a performance. That weight is doubled when you consider that her cousin, Dwayne 'The Rock' Johnson, headlined five WrestleMania's and had countless other memorable bouts on the card against the likes of Stone Cold Steve Austin and Hulk Hogan to name but a few. With that in mind, Nia was asked if she turned to her megastar relative for advice:
"No, I haven't asked him for any advice. When he heard that I was going to have my WrestleMania match, he instantly congratulated me, and was proud of me. That was all I ever asked of him that whatever I do in wrestling, he will be proud of me."
It speaks volumes of the path Nia wants to carve out for herself in the industry. It's something she should also be congratulated on. Jax knows what she wants to do and refuses to allow others to taint it with their input. With that said, and a major rumor circulating that The Rock will indeed appear at the event in some shape or form, it's possible he'll be on hand to congratulate her following a potential victory, even though it would somewhat overshadow her moment in the process.
Next on the agenda was the subject of the actual contest with the reporters touching upon an interesting subject. With such a packed card on hand, there's bound to be time taken away from the less important contests should the bigger ones overrun. It's happened before and it will happen again. Entire matches have been scrapped because of this very reason. So what did Nia think her chances were of potentially being bumped down to the kickoff show?:
"That is obviously not the ideal position that you want to be in, but to be fair, our show is watched all around the world by millions of people and I'm pretty sure a lot of people would still catch us on the pre-show. It's an honor to be on the card, period, but I definitely feel that the women have earned a shot on the main card. I don't think that'll be happening this year."
In one way, Nia is correct. There will be at least one women's championship match on the main card this year but that will be Charlotte vs. Asuka. Despite her confident words, and I hope that I am wrong, there is every chance that Nia Jax vs. Alexa Bliss will be booted down the card with three kickoff-show openings to fill. After such sterling work and hard graft, no one wants to see that happen and it would arguably be a step backward. At the same time, none of us can say that it isn't a possibility.
Moving on to the post-WrestleMania season, Nia was quizzed about her involvement in the bigger picture and her feelings on the possibility of being drafted to SmackDown Live. This throws up an interesting question of what happens to the gold should she triumph at 'Mania because taking it with her would not be a possibility:
"I wouldn't be surprised at all. I think SmackDown [Live] is filled with talented people. I personally enjoy watching the show on that side. There are a lot of female superstars that I would like to work with. It would be great to go over there and switch it up. I wouldn't mind at all."
It's an encouraging statement. Currently, the SmackDown Live women's division is in dire straits with five females it can count on to carry the league – Charlotte, Asuka, Natalya, Becky Lynch, and Naomi at a push – and one in Carmella they hope to turn into a star in the near future. That number could be reduced greatly in the Superstar Shake-up, so the addition of Nia and possibly Sasha Banks would help to greatly fortify the female scene on the blue brand.
Lastly, we have Jax's thoughts on the current and inescapable women's revolution, as well as what she would like to accomplish within its margins and throughout the rest of her career:
"I guess like any athlete, you just want to be looked at as equal to your counterpart. For the women, we just want to be looked at as equal, period. So, main-eventing WrestleMania, live event house shows, and any other match that a man can do, we just want to be looked at as equal, period, not any different."
What do you think about Jax's statements? Are you excited to see her take on Alexa Bliss for the WWE Raw Women's Championship at WrestleMania 34? Let us know in the comments below or on Twitter here.