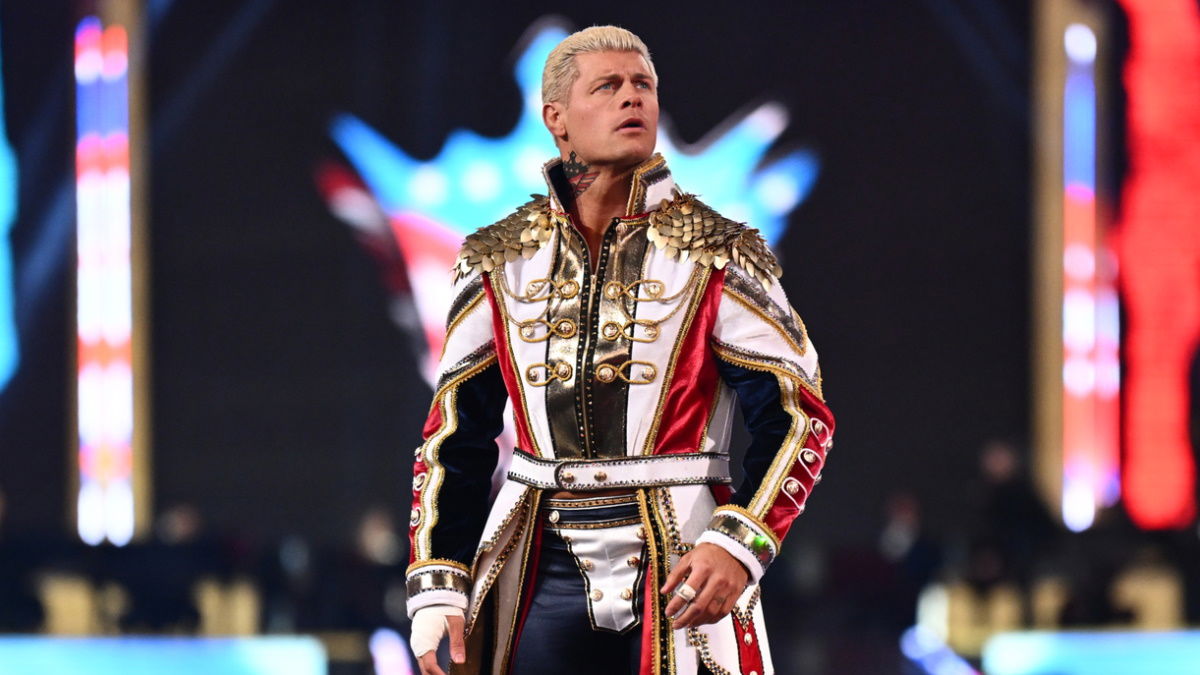 While The American Nightmare Cody Rhodes is now at the peak of his career following his main event match at WrestleMania 39, without a special night in Chicago on September 1, 2018 Cody's career may have never hit the heights it now has.
Ring of Honor's All In event laid the foundations for what would become All Elite Wrestling just months later, however, the event would also have a great impact on Rhodes' opponent on the night Nick Aldis.
The former two-time NWA World Champion Aldis would recently discuss the match at All In as well as his relationship with Rhodes in a recent interview with Tru Heel Heat Wrestling.
Aldis said:
"Well I think it was very important to Cody's path to where he is now.
"And you know I don't want to speak for Cody, but I will say when he returned at WrestleMania, he sent me a very nice text message, very gracious little text acknowledging the role the match in Chicago played in his story. That felt good.
"You know like I said there's so much you can't control, but when I think of that show, what stands out to me is Cody and I, you know you said you were the only person in the building cheering for me, I think that that's accurate, but at the same time, when the entire building was on its feet, cheering and sort of giving us this standing ovation before the bell, I always took that as their tip of the hat to me as 'we know what we're here for.'
"Like we know what the story is here, but it couldn't just be some guy coming here to do the job, you know.
"If it had just served as a coronation, people would have just shit on it right. It had to feel like this could go either way, that's the key to booking.
"That's what a world title match should be. Should be, 'well I want this to happen, but I don't know what's gonna happen.' And it could go either way.
"And I met people all weekend in Chicago who were saying like, 'there's no way you'd lose, like Cody can't be the NWA Champion right, right?'
"I thought we did a really good job of blurring the lines because we took what was real and that's pretty much my approach.
"And that's the influence that I try to carry over into anywhere I'm working now. Let's take what's real and embellish it and build on it, so that the audience can allow themselves to suspend their disbelief and get lost in it because that's what we're here to do.
"We're making movies, we're trying to get people lost in what's going on and the best way to do that is to make them feel like it's real.
"That's something I got from Bret, that's something that Cody and I were absolutely on the same page about."
As for the build toward the match, Aldis and Cody would adopt a 'old school' approach according to Aldis, something that would ultimately aid the overall throwback feel of the encounter.
"And to think of this, Cody and I had that match and yes obviously we told a lot of that story at Ring of Honor, but most of that story was done with one guy and a camera, Dave Lagana and a camera and a YouTube channel, it was very much, it was us.
"It was not a creative team, there was no agendas, there was no such this has to happen, that has to happen. It was like it was old school booking like, 'what's the business here, what is it that the people want, alright and now how do we get them there.'
"One of my favorite business quotes is from Kenneth Cole, the fashion designer and someone would ask him about how do you always keep coming up with ways to tell people what they want.
"He would say, 'my job is not to tell people what they want, my job is to give people what they want in a way they weren't expecting.' And that to me was such a perfect summary of what pro wrestling booking is.
"Figure out what the people want by listening to them and then figure out a way to give it to them in a way that takes them on a bit of a ride and maybe in a way they weren't completely expecting.
"I think that's what we did and I think we both learned a lot and I think we carried it on in our careers in different ways."
Aldis would recently put speculation regarding his future to bed when he showed up at IMPACT's Rebellion event on April 16.
The former IMPACT World Champion would recently discuss his decision to re-join the promotion rather than move to AEW or WWE, click here to find out more.
If you want to stay fully updated on all the latest wrestling news, click the red bell in the bottom right of your screen to receive notifications from WrestleTalk.com straight to your device!