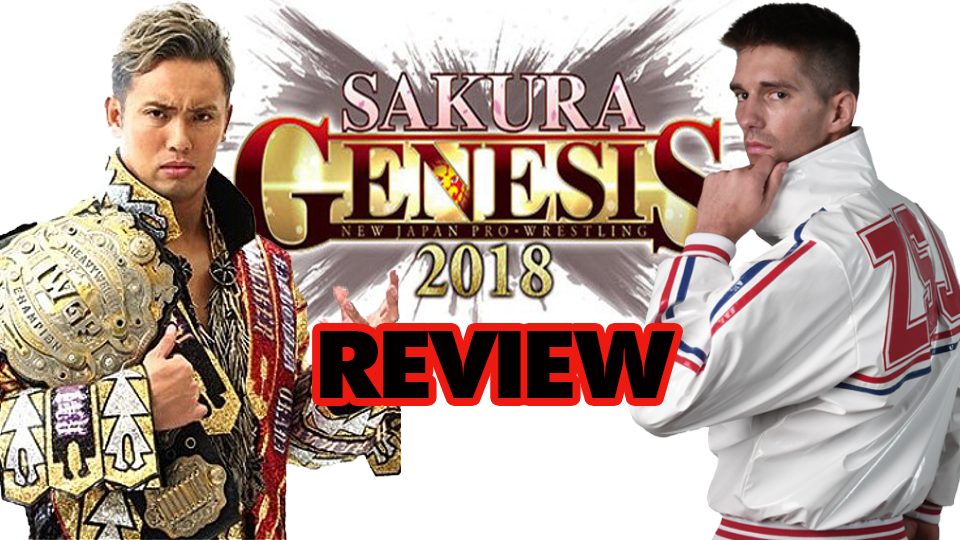 Fresh off of their New Japan Cup and Strong Style Evolved events, New Japan Pro Wrestling presented their annual springtime super show Sakura Genesis on April 1st from the Ryogoku Kokugikan Sumo Hall in Tokyo, Japan. The biggest and most anticipated bout going into the event (which was once known as Invasion Attack) saw super heel Zack Sabre Jr. challenge "Rainmaker" Kazuchika Okada – who was headlining the event for the third consecutive year – for the IWGP Heavyweight Championship.
This potential match of the year candidate followed Sabre's dominant performances over Japanese legends Tetsuya Naito, Kota Ibushi, and Hiroshi Tanahashi in route to winning the New Japan Cup in March. Sabre Jr. then turned his attention to the unbeatable Okada in the run-up to Sakura Genesis, savagely attacking him after contests at Strong Style Evolved and NJPW's Road to Sakura Genesis 48 hours prior, where he teamed with Taichi to down Okada and Yoshi-Hashi. After the match, Sabre Jr. ambushed Okada and worked over his arm to weaken the defending champion.
https://www.youtube.com/watch?v=NCclUACO2Ts
Far and away, this was one of the most anticipated and unpredictable IWGP Heavyweight Championship matches in recent memory. Sabre Jr. looked indomitable, while Okada approached a near perfect two-year championship reign, losing only once in singles competition during that time. To fans and pundits alike, it felt like Sabre Jr. could shock the world and beat "The Rainmaker" — and if Kazuchika Okada was going to retain, then he would have to give the performance of his career.
IWGP Heavyweight Championship Match
Kazuchika Okada (c) vs. Zack Sabre Jr.
Kazuchika Okada topped Zack Sabre Jr. in a mind-blowing 35:02 main event to retain the IWPG Heavyweight Championship. It was the result that many had expected following the dominance of Sabre Jr., as well as the unfinished story between Okada and Tanahashi. Without that secondary story running parallel to this, however, we may have crowned a new champion, especially considering how wise it would be to expand their presence in the U.K. through their upcoming live tour in the region.
After the bell rang, the invading foreign heel took instant control of the match, using intelligent tactics like headlocks to wear Okada down and arm scissors to immediately work over his previously injured arm. From there, it was all Sabre Jr. in the early going as he flipped through an Okada wristlock and applied a front face lock, which he then transitioned into a modified crucifix stretch. The series of moves looked stellar and truly told the story of Okada finally meeting his match.
Following a roll-up, the pair slowed the pace and engaged in a test of strength. Before the champion could transition into his arsenal, Sabre Jr. once again turned the tide with a rest hold which the Japanese defender countered with a leglock that only lasted seconds. Sabre Jr. broke the hold with a cross armbreaker and by this time the battle of wills felt like a sharp, desperate gasp for air after being submerged under water.
Keeping the pressure applied while remaining focused on achieving victory, Sabre Jr. pounded away on the already battle-worn Okada, synching in a cravate and defending attempts from the champion to break free. If the momentum had avoided Okada much longer, then we would have been looking at the new IWGP Heavyweight Champion. Managing to break the hold, Kazuchika snatched a bow and arrow which turned into a cloverleaf. It wasn't enough to suppress the irresistible Brit, however, and the number one contender repealed into a heel hook as the counters continued. Back and forth without yield, the conqueror wriggled free with a deathlock and rolled up the pretender to his throne for a meaningless count of one. What an excellent sequence this was.
As the match reached its climax, the experience of the champion clashed with the will and desire of the contender: Okada quashed a double wristlock with a toehold; Sabre Jr. rebuffed it with a side headlock. "Rainmaker" executed a head-scissors, while Sabre Jr. turned a heel hold into a second bow and arrow, which ended another wonderfully fluid move cycle.
By this point, it was impossible to predict who would come out top. Sabre Jr.'s technical-based ground and grapple offense enhanced the intense "heel heat" he carried into the match. (After all, he submitted three of the greatest stars ever to grace a Japanese ring last month.) And all the while in the face of Sabre Jr.'s strategy, Okada carried himself with a champion's presence, refusing to allow the challenger to steal his title and streak.
Sabre Jr.'s "Orienteering With Napalm Death" was countered when Okada reached the ropes; they exchanged hard strikes befitting a prize so coveted, and the reigning advocate cracked his prey with a huge boot, corner elbow, and DDT. He must have been apoplectic then when Sabre Jr. fought back, incredibly, with a rope-assisted octopus stretch. Having tried almost everything other than his thunderous Rainmaker, the face of New Japan took the fight to the arena floor, sending Sabre into the crowd, and launched himself into the paying public with a stunning cross-body.
Back inside the ring and the war of attrition continued. An Okada air-raid crash neckbreaker was reordered into an octopus stretch in an ultra-tense moment which looked as if the champion may surrender his gold. Turning up the pressure, Sabre Jr. forced his foe to the canvas and made everyone wince by hyper-extending the arm before applying Orienteering With Napalm Death for the most anxious and exciting submission tease you'll have seen in ages. Okada had seen three of his greatest challengers yield to the same move, he wasn't about to make it a quartet and made it to the ropes.
The home stretch would soon be on us, but not before some more cracking back and forth action. Forearms were exchanged, Okada nailed a dropkick, Sabre Jr. undid a Rainmaker with a dazzling arm-trap pele before countering a tombstone into a leg-trap hammerlock. Just when we thought we couldn't take anymore, the Brit ducked a second Rainmaker, scoring an exciting near fall with a European clutch.
The pele kick which handed Sabre Jr. so much success before had little effect. More strikes, hard shots to the injured arm, and a third reversal of the Rainmaker with an armbar may not have been enough, but they made the challenger look peerless. Okada finally hit not one but two Rainmakers; another was rendered useless with an octopus stretch, but Sabre's inexperience in matches of this magnitude had the final say. Okada is the greatest wrestler in the world for a reason, and his nous shone through when he needed it. Turning the octopus into a tombstone, the champion threw one last Rainmaker and almost beheaded his oppressor for the victory.
https://www.youtube.com/watch?v=UB7iHSJQf5c
Following the excellent contest, New Japan gave a clear indication of where they're going with the IWGP Heavyweight Championship picture, when Hiroshi Tanahashi, the New Japan Cup runner-up stormed the ring and amongst his congratulations to Okada for tying his record, challenged him for the gold in what surely has to be the final bout of their illustrious rivalry. I think it's glaringly obvious that Tanahashi will now be the one to end Okada's reign and stop him from breaking the record. It's a natural conclusion to their story and the champion's reign.
On the undercard:
The Young Bucks best Chase Owens and Yujiro Takahashi
Tomohiro Ishii and Toru Yano defeated Takashi Iizuka and Taichi
Bad Luck Fale, Tama Tonga, and Tanga Loa downed Togi Makabe, Michael Elgin, and Ryusuke Taguchi to retain the Never Openweight Six-Man Tag Team Championships
Hiroshi Tanahashi, David Finlay, and Juice Robinson rolled over Hirooki Goto, Jay White, and YOSHI-HASHI
Suzuki Gun outdid Los Ingobernables de Japon
Yoshinobu Kanemaru and EL Desperado survived Roppongi 3K and Hiromu Takahashi & BUSHI to retain the IWGO Junior Heavyweight Tag Team Championships
Will Osprey defeated Marty Scurll to retain the IWGP Junior Heavyweight Championship
Cody and Hangman Page best The Golden Lovers