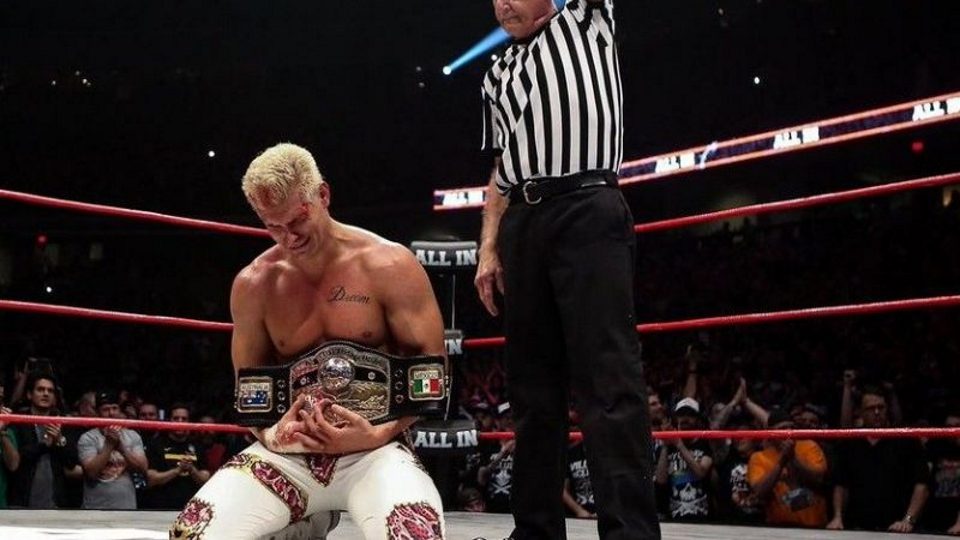 NWA Worlds Heavyweight Champion Cody has his first challenger, and it is the former champion Nick Aldis.
Aldis made an appearance at Wrestling MediaCon this past weekend and proclaimed that he wanted his championship rematch with Cody. Fellow British legend Doug Williams emerged and challenged Aldis for the right to face the 'American Nightmare,' but Aldis was able to win the match on Sunday night. The segment was filmed for the Ten Pounds of Gold YouTube series produced by the NWA.
Cody won the title from Aldis at the independent wrestling super-show All In on September 1. The match was the culmination of a months-long storyline where Cody wanted to win the championship that his father Dusty Rhodes once held. The match received one of the biggest ovations of the night, with the finish garnering a true "world title win" pop. Cody showed a great deal of emotion during match and broke down in tears after he had won the championship.
The match will take place at the NWA 70th Anniversary show which is set to take place on October 21. So far, this is the only match that has been announced. It has been confirmed that a new NWA National Heavyweight Champion will be crowned at the show, however, none the participants have been announced yet.
The show will take place at the Tennessee State Fairgrounds Arena (The building that hosted TNA Wrestling's shows in the early 2000s) and tickets will go on sale for the event on September 14th.
Have you become more interested in the NWA since Cody won the championship? Let us know in the comments below, on Twitter or on Discord!