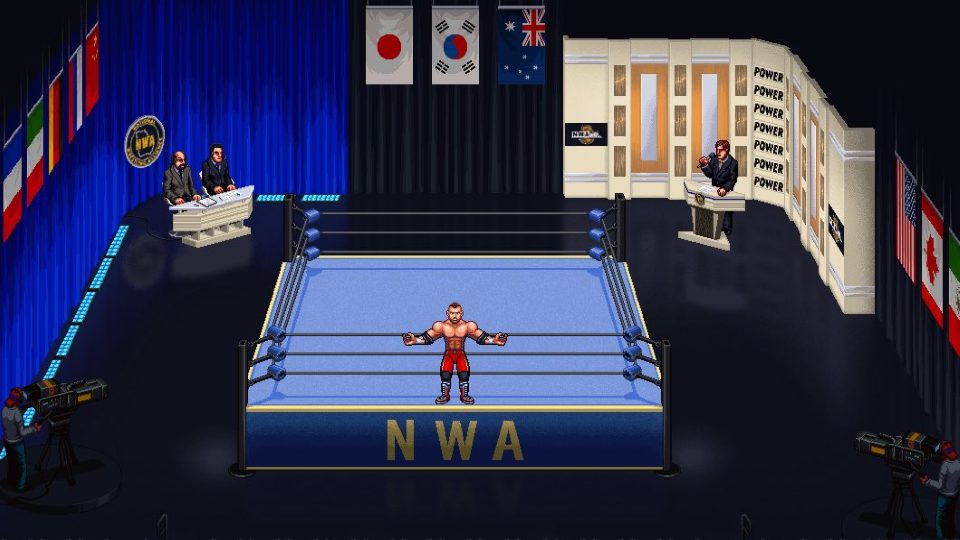 It was announced on this week's episode of NWA Powerrr that the NWA will be part of the upcoming RetroMania Wrestling video game.
This means the addition of current NWA Worlds Champion Nick Aldis, NWA National Champion Colt Cabana, and Austin Idol, as playable characters.
It also means players can play in three new arenas – NWA Powerrr, NWA 70, and Austin Idol's Universal Wrestling College.
Here's some more information on the game via its website:
RetroMania Wrestling is the spiritual successor to the classic arcade game Wrestlefest that was released in 1991 by Technos of Japan.

RetroMania Wrestling will be a "pick up and play" arcade wrestling game with beautiful 2D sprites, incredible backgrounds and fast-paced arcade style game play.

• 12 – 16 Unique, distinct playable wrestlers at launch (adding more post launch via DLC)

• 2-8 player local multiplayer (Online TBD)

• Several match types, including One-on-One matches, Tag Team matches, and the Battle Royal
​
• Ring entrances with entrance music

• Multiple entrance attires for each wrestler
​
• Strategic gameplay that is easy to pick up and play

• Beautiful 2D pixel art animated sprites with over 700 frames of animation and animated backgrounds

• Crowd chants that react to the action on screen
​
• More features still to be added!
The game is set for release on PC, Nintendo Switch, PS4 and Xbox One in 2020.
The currently confirmed roster so far is as follows:
Road Warrior Animal
Austin Idol
Big Stevie Cool
The Blue Meanie
Colt Cabana
Road Warrior Hawk
Hollywood Nova
Johnny Retro (John Morrison)
Nick Aldis
Tommy Dreamer
Zack Sabre Jr.