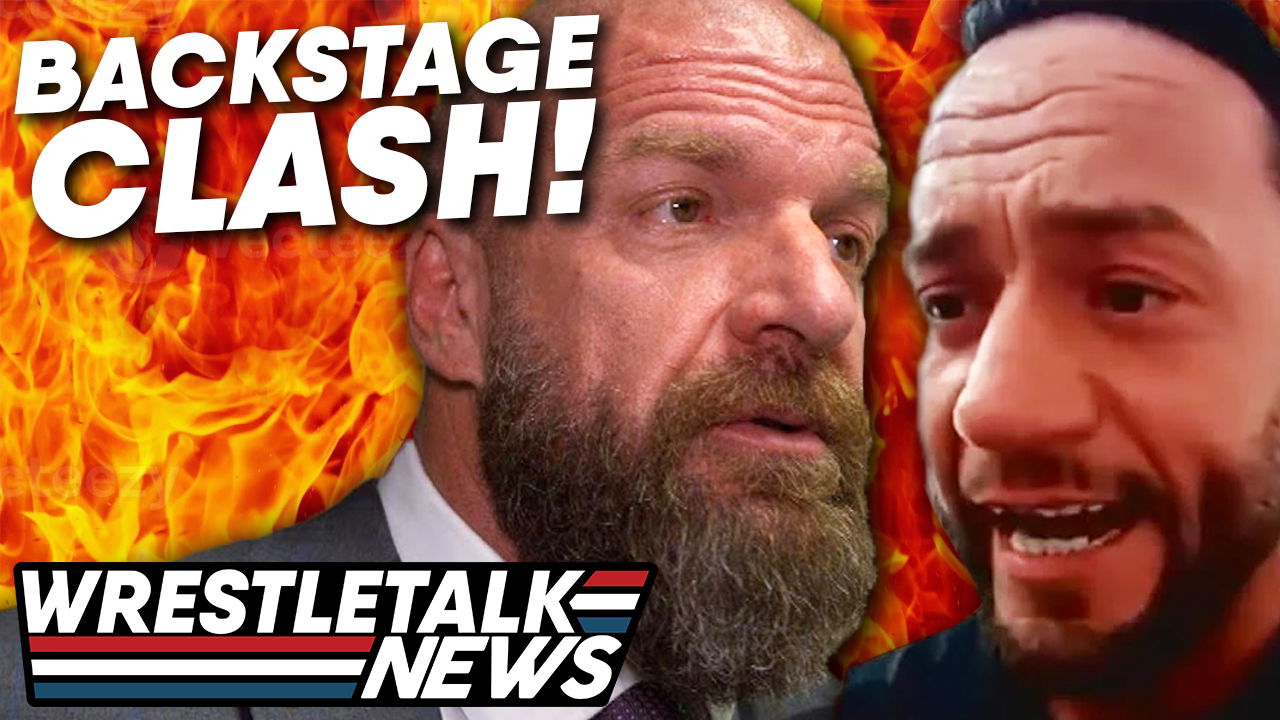 Just over a month since WWE's worst new annual pay-per-view: WrestleMania Fire Everyone – which saw the company release Samoa Joe, The IIconics and more – NXT got its very own TakeOver version, letting go a number of wrestlers and onscreen talent.
The released names include: former Sanity and Imperium member Alexander Wolfe, who was only just kicked out of the latter faction on Tuesday's episode; MMA Four Horsewoman member Jessamyn Duke, putting to rest any near future hopes of a Four Horsewomen vs Four Horsewomen feud; feferee Jake Clemons, who once turned out to be a Seth Rollins disciple on Raw; wrestlers Skyler Story, Ezra Judge, Vanessa Borne and Kavita Devi; and, most controversially, referee Drake Wuertz.
Major Drake Wuertz Heat Backstage
Wuertz was a longtime senior official in NXT since 2014, being a permanent orange tanned fixture of multiple eras of TakeOvers. But reports and rumours of his erratic behaviour have started to come out since the pandemic began.
Following reports of significant backstage heat on Wuertz, leading to him being barred entry to the Capitol Wrestling Center for weeks at a time, Fightful Select has now revealed he was also nearly involved in a backstage fight – noting that Ezra Judge, who was also released, almost felt "the need to get physical with Drake", and that "minorities within NXT took exception to the way things were worded by Wuertz". This was reportedly not an isolated incident, with people of colour repeatedly going to higher-up management to complain about these situations.
Fightful spoke to several people within the company, who said Wuertz had "nuclear heat brought on by himself", which had been ongoing for the better part of a year. One particular incident was reportedly around the In Your House TakeOver last June, which took place during the height of the Black Lives Matter movement. Triple H gave a speech to the roster at the time, indicating that "all people, races, genders, and religions were welcomed". But apparently "when 'religions' were mentioned, Wuertz's attitude immediately changed, and he aggressively gathered his belongings and left."
On top of this, Wuertz also had heat due to reportedly attempting to make "political plays", such as "trying to position himself for certain roles within the company, and was willing to try to put heat on others to get there, and attempted to numerous times."
Fightful also reports that "no fewer than ten wrestlers" reached out to them to tell them they "didn't feel comfortable or safe around Wuertz" and that "he was also known to have loudly criticized wrestlers for getting vaccinations or even simple flu shots."
What do you think about Drake Wuertz reports? Is this a case of someone falling into the extremist trap during lockdown, a generally toxic influence backstage, or, like many things in life, a mixture of a whole bunch of things? Let me know in the comments down below because I'll be replying to as many as I can for the first 15 minutes after this video goes live FROM OUTTA NOWHERE.
But where could all those released wrestlers go? How about one of AEW's 19 different weekly shows.
AEW Debuting Second TV Show; Moving To TBS
Because it's enter any day of the week here, you know what that means – AEW have just revealed they're debuting a new weekly TV program later this year.
Speaking on Busted Open Radio, Tony Khaaaaaan announced a new one hour TV show called AEW Rampage will start this August on Friday nights immediately following SmackDown. This is different to their more developmental YouTube platform shows Dark and Elevation, and will be "equivalent" to Dynamite. He also revealed both Dynamite and Rampage will be moving to TBS starting in 2022.
PWInsider is reporting that all this will result in an "eight-figure payday" for AEW. Brett Weitz of WarnerMedia, in a statement given to New York Post, said this move was partly because of the network securing the rights to the NHL and needing to make room for it.
Khan also revealed WarnerMedia "asked at one point if I wanted to do three hours of Dynamite…and I said I really believed in doing it on another night." Thank you so much Tony.
Now it's time for my review of AEW Dynamite, in about 5 minutes.
AEW Dynamite Review
The show opened on Christian Cage vs Matt Sydal with both the spectres of the Casino Battle Royal in the future, with both guys in it, and the continuing feud with Team Taz, with Taz scouting Christian on commentary.
Christian is so good at making every match feel like his desperate last. He's Old Man Cage. Which always makes the final third super dramatic. He hit a spear for his buddy Edge and won with a Killswitch in a solid opener. 
Christian and Sydal hugged in respect, but were then jumped by Team Taz. Hangman Page awesome made the save, just handing his whiskey to the injured Ricky Starks to hold, but got laid out too. Which means, that's right, we had Cage, Page and Cage in the ring at the same time. It's like a parody law firm. 
Hello generic food delivery service, put me down for a subscription order to your biggest humble pie.
When the Acclaimed first started out, I wasn't into their schtick. Now I rewatch their promos probably more than anything in AEW. Caster had a brilliant line in his pre-match rap, saying Moxley's wife is all up in his mentions, trying to hit him up about the oral sessions. For bonus goof points, Bowens quickly shouted 'what, she's just trying to get us on the podcast', while Mox put his hands over Kingston's ears. 
The match itself was really good too, built around Mox and Kingston properly making a dent in the tag division ahead of their Double or Nothing title shot. Mox made a few mistakes, like getting caught in the opponents' corner, but overcame the heel cheating to win with a tandem Paradigm Shift.
Wild Dean Malenko sighting!
Scorpio Sky and Ethan Page cut an in-ring promo on Sting and Darby Allin, which brought them both out for a brawl. Sky and Page's act just isn't connecting with me, and I had my fill of Sting and Darby tag matches back with Team Taz.
Wardlow downed a full bottle of wine and then shouted 'another' like he was a suave Thor while the Pinnacle were having a fancy meal. MJF cut a promo on the Inner Circle, and Shawn Spears attacked a waiter for not serving him quickly enough.
Shida took on Rebel next with her Double or Nothing challenger Britt Baker at ringside. Despite Rebel using the booking crutch behind the referee's back, Shida still made her tap in just a few minutes, and then Baker stomped Shida's face onto the women's title. This all felt a bit throwaway, and while it makes sense for Shida to take on Baker's goon before their championship match, Rebel's goofiness undermined the feud's seriousness.
In another great backstage skit, we saw Kenny Omega and Don Callis visit Orange Cassidy in the trainer's room after he was knocked out by PAC last week. They offered him a contract that would delay his title match until later in the year, which he very, very slowly tore in two while Kenny said 'he didn't even read it'.
The Inner Circle cut a good promo about Blood and Guts and accepted next week's Stadium Stampede, but no matter how great Jericho's delivery is, all that talk about never being the same again just doesn't hold the same weight coming back so quickly after the cage fall spot. It's Game of Thrones series six, where they're just rushing through the story. 
Jade Cargill told Mark Sterling to go away.
Serena Deeb and Red Velvet had the match of the night for the NWA women's title. Deeb is so, so, so good. She just moulds herself to any situation. Here, she worked slightly more heelish, sometimes taunting the crowd and being more aggressive, which could've built Red Velvet's comeback heat all on its own.
The final sequence was fantastic too, with a bunch of near falls, and Deeb pummelling the leg she'd been working over, and making her tap.
The Nightmare Family vs Nightmare Factory got its next event tie-in issue, with Anthony Ogogo squashing Austin Gunn. Gunn started off fast, but a few gut punches and some lucky blood from Ogogo had the referee end the match via stoppage – which is one of my favourite kinds of finish. I hope this becomes the norm for Ogogo to lean into his legit boxing background.
Cody then got into the ring with a US flag because Merica, and Ogogo held up the Union flag because while he might not have gone there to live the England dream. Cody sure ain't talking American.
AEW later tweeted Gunn is out for 8-10 weeks, which is either kayfabe to sell Ogogo's win, or he was legit injured during the match.
Christopher Daniels Lost in Translationed Kaz, whispering something in his ear before walking off, and Kaz cut a fiery promo vowing revenge on the Bucks.
But best promo of the night goes to Miro – as after almost a year of waiting for Rusev Prime in AEW, I feel like we're finally getting it following his TNT title win.
Miro thanked Jesus Christ both for protecting him. And for giving him strength to destroy people. Such a good Christian. And then shouted at Jake the Snake "There's not enough yoga in the world to save your ass if you get involved" when Lance Archer came out. I cannot wait for their title fight. Miro will face, and presumably eat, Dante Martin, next week.
And the main event saw the Varsity Blondes – who cut a great promo earlier in the night – take on the Young Bucks in a fun match. They've been the saviours of wrestling babyfaces for so many years now, I forgot how incredible they are at being obnoxious douchebag heels. 
Pillman tapped in the Sharpshooter after a load of cheap heat cheating spots, including Matt Jackson using the cold spray in Julia Hart's face, and then Mox and Kingston beat them down to close the show and steal their very expensive trainers.
What did you think of Dynamite? Let me know in the comments down below or vote in the poll on a pole match on our community tab, where 'Oral Sessions. Giggity.' is currently beating 'Serene Deeb is consistently awesome' by a landslide. This is why we can't have nice things.
Huh, it's got 69 thumbs up too.
This was a fine, enjoyable show, but that's pretty average by AEW standards. Blood and Guts aside, it's like as soon as NXT moved to Tuesday nights, Dynamite has put on its least best shows of the year – mostly mired by a rushed build to Double or Nothing. This week's Dynamite is 3 out of 5. Which yes, I also gave Raw, but they are relative scales. This Dynamite, by Raw's levels, would be 69 out of 5.
What are your thoughts on the above story? Let us know in the comments on Twitter or Facebook.