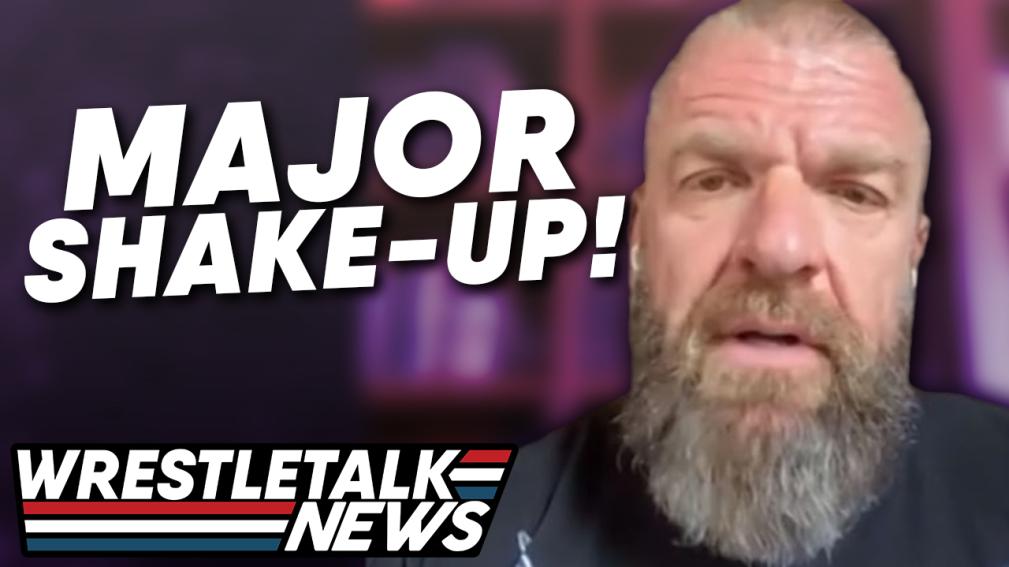 Hello and welcome to the WrestleTalk News, I'm Mr Davis – give us a subscribe, thumbs up and all that. I'm going to be covering the massive shake up rumoured to be happening in WWE very shortly, but first I've just seen…it's a tweet from Paige.
"You guys hound me to this. Thought I'd give it go.. behold my OF account – Enjoy -"
Let's just click on the link. Oh boy…
It's… it's a Home Depot page with… only fans on. Ventilating, cooling fans.
Ha, good one Paige. I totally knew that was coming. Nice job for working all those horny marks. They're so, so stupid.
Of course, Zelina Vega was released for starting an OnlyFans account for her cosplay side-hustle. We'll have to wait and see how WWE's 3rd party services ban applies to Paige trying to sell air conditioners.
But that might not be the only good news for fans…
Major WWE Shake Up Happening
…and there are rumours WWE is moving NXT to Tuesday nights, meaning both NXT and AEW can flourish unopposed on separate days, hopefully letting even more people watch high quality modern wrestling.
The Mat Men Pro Wrestling Podcast have tweeted:
"Hearing from a very reliable source that NXT will be moving to Tuesdays starting 4/13. Should be announced fairly soon."
The 13th April is the week immediately following WrestleMania 37, which is when WWE typically holds large roster shake-ups.
Dave Meltzer then partly corroborated the report on Twitter, posting:
"This was definitely a topic of discussion in WWE quarters on 2/24, but at least at that point it was not final."
Which Mat Men then added: "We had gotten the same information last week. NBC told staff this week so a lot more rumblings."
This could all potentially tie into WWE's full launch on NBCU's Peacock Premium streaming service. Although the WWE Network will first appear there on the 18th March, ahead of Fastlane on the 21st, it won't fully and exclusively migrate over until the two night WrestleMania. 
The deal could necessitate a strategy shift for the USA Network's scheduling of NXT. Ever since it first moved to TV, NXT's reported aim – from both WWE and USA – has been to take a chunk out of AEW's viewership, so the USA Network can boast they have the number one wrestling product. But with NBCU now pivoting towards the subscription streaming model, Peacock Premium sign-ups become the most important – meaning you want to prioritise growing the NXT viewership (which is different to suppressing the AEW audience) so more people subscribe to Peacock for TakeOvers. 
While this is technically a defeat for WWE, as AEW would have won the Wednesday Night Battle – I didn't say 'war' there for a reason – it's actually a huge win for everyone. For WWE, because, as we've seen whenever NXT has run unopposed, this will greatly increase their viewership. For AEW, because the same thing happens to them. And, best of all, the wrestling fans and industry, because we can watch it all. The only loser, really, will be IMPACT – which currently airs on Tuesday nights.
What do you think about the rumoured NXT night change? Let me know in the comments down below because I'll be replying to people FROM OUTTA NOWHERE saying yes, that means there's a chance we'll be able to do more NXT reviews on WrestleTalk.
But that isn't the only big news surrounding NXT…
WrestleMania Plans For NXT
After Rhea Ripley became the first person to defend an NXT title at a WrestleMania last year, where she lost it to The OmniFlair, WrestleTalk.com's Louis Dangoor is reporting – because we do exclusives now, don't you know – that as of right now, WWE is currently not planning on having either the NXT Championship or NXT Women's Championship defended at the two day event next month.
This actually appears to be a change of direction, as we've also been told there were backstage discussions about Finn Balor's men's title being defended on the show – as WrestleVotes hinted at last month – but, as of right now, those plans have been dropped. 
But it is important to note there are five whole weeks between now and Mania, and the company is run by a man who changes his mind more than a girl changes clothes, he's hot then he's cold, he's yes then he's no, he's in then he's out, he's up the he's down, he's wrong when it's right, it's black and it's white, we fight we break up, we kiss we make up.
I'm saying things might change.
You can watch Louis and Alex McCarthy discuss the NXT Mania plans more on last night's episode of Wrestling Daily clicking the link in the video description below, which livestreams every Tuesday, Wednesday, Thursday and Friday night. Where Louis does indeed put good money on it not happening.
WWE Network Move Q&A
Speaking of WrestleMania and Peacock Premium, NBC have put out a Q&A attempting to answer any confusion over what the WWE Network migration will entail.
The WWE Network will first be available on Peacock from the 18th March, but the Fastlane show just three days later will still be on both the Network and Peacock – which is likely a way to sort out any technical problems ahead of WrestleMania.
Both nights of WrestleMania, however, will be exclusively on Peacock Premium. It'll only cost $4.99 a month for all WWE pay-per-views and "Thousands of hours of on-demand programming… from the WWE Archives" – which some are concerned doesn't just say 'everything currently on the Network – along with access to NBCU's library with shows like The Office, live sports, movies, and more. The $4.99 tier includes ads, though, which will be weird for something like a pay-per-view. You have to go up to $9.99 for the ad-free version. 
If you're already a WWE Network subscriber, they say you can still watch directly there until April, when Peacock becomes the exclusive home in the US – all but confirming this really is the end of the Network in America. 
WWE Raw Fallout
Streaming might be the future, but TV ratings still are the present, and Monday's huge episode of Raw, built around Bobby Lashley winning the WWE title from the Miz, only drew 1.88 million viewers, down a few thousand from last week. This is down 1.1 million viewers – over a third – from the average audience just four years ago.
Save us Bad Bunny, you're our only hope!
Damien Priest has gone from looking like a monster in his Royal Rumble debut and being paired with big mainstream rapper Bad Bunny, to the 24/7 title picture and having long, competitive matches with Elias in just four weeks. But according to Dave Meltzer, WWE thinks it's for his benefit – as the tedious 15 minute Raw match with Elias was apparently just so they could feature Bad Bunny on TV for as long as possible to attract more Hispanic viewers.
The real wrestler vs rapper feud right now, though, is between Soulja Boy and Randy Orton.
After Soulja Boy, the artist behind Crank That, Superman that ooooh, tweeted: "Rap game faker than WWE" 
Orton responded from outta nowhere: "Fake? Dare this prick to step up. He dont like movies? Consider us actors that do stunts, without pads 200 days a year and don't bitch when we get surgically repaired and come right back. Consider us 100 times tougher then anyone you've come across. Aint nuthin but a bitch ass…"
"Ps @sanbenito would beat the f*** outta you. Why? How? Because he's seen our world. Respects it and knows what it takes and finds himself lucky to be a part of it. You wanna talk fake? Pawn that cheap ass chain and come work for it you one hit wonder ass mutha f***"
I'm with you, Randy. But maybe pick a time to tweet that that isn't just after you were phantom choked by your supernatural evil twin on TV.
Soulja Boy did not take kindly to the tweet, replying he'll bring the 'REAL wrestling', Randy said he likes rap, he bumps that s*** all day., and both accusing each other of spitting mess
AEW have also found themselves in a controversial feud.
AEW Pulls Talent From Show
A Wrestling For Women's Charity event was advertised yesterday, featuring AEW stars Sonny Kiss and Brian Cage… along with Joey Ryan.
Ryan was accused by multiple people in last year's #SpeakingOut movement, and was released by IMPACT. He has denied the allegations, and filed lawsuits against his accusers. Some of these cases have since been dismissed.
And it wasn't just a case of Ryan making his pro wrestling return. His promotion, Bar Wrestling, was the one putting on the women's charity show. 
AEW president Tony Khan then tweeted: "If Joey Ryan is there, my people won't be there. I'll gladly donate to the charity though."
The Wrestling For Women's Charity account then tweeted: "We apologize for riling everyone up. It is clear that we're in over our heads. We'll say that everybody booked was fully aware of all details including going through AEW's 3rd party booking system for talent. Rather than put talent in a tough situation, we've canceled the show."
The account and tweet have both since been deleted.
Bobby Lashley's Message To Lio Rush
Back to nicer pro wrestling feels, Bobby Lashley has left a heartwarming message to his former manager Lio Rush – who were paired together in 2018 in an act mostly based on Lio hyping how great Bobby's butt looked. Rush was released from WWE in last April's mass cuts.
And now, following Bobby's WWE Championship win on Monday's Raw, Rush posted: 
You are the f***** man. So happy and proud of you big bro. Praying hands emoji.
Which Bobbles replied: "My man! I can still hear Lashley Lashley Lashley crying with laughter face emoji. Thank you for being such an important part of my journey. I'm sure our paths will cross again my friend. Praying hands emoji."
Lio!
Rush is currently wrestling for New Japan and MLW.
But what's going on in the likes of New Japan, IMPACT, MLW, the NWA, and your local promotion that no-one's ever heard of? WrestleTalk only covers WWE and AEW, the marks.
Well we hear you, so here's former QuizzleMania champion Tempest with his new weekly segment running down all the biggest news from around the wrestling world…
What are your thoughts on the above story? Let us know in the comments on Twitter or Facebook.