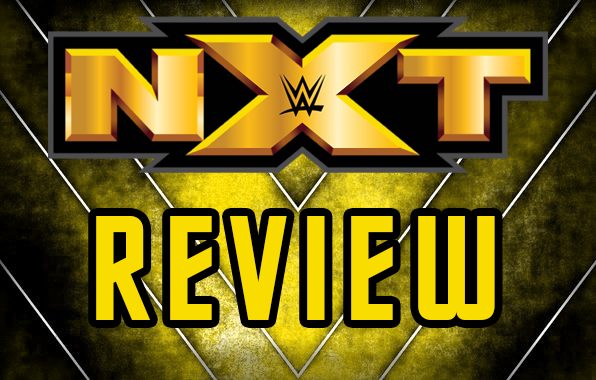 "SHOCK THE SYSTEM!"
When it comes to that Undisputed Era theme song, I just can't get enough – as Depeche Mode once said:
"There hasn't been a heel group who have oozed such swagger since the days of DX and the NWO."
And just like their legendary predecessors, these villains get cheered. The Era received a full-on face reaction as they strutted into Full Sail to open this week's episode.
Should every single member of the quartet talk? Well, they did. And at the end of the lengthy opening segment, I'm not sure it was that great an idea. Promos should ideally make the paying punter or TV viewer want to see more. After listening to Adam Cole, then Bobby Fish, then Roderick Strong, and then Kyle O'Reilly ALL have a go on the stick, I was kind of losing interest. Just leave it to Adam, lads. He's your leader, and he's the best orator you've got.
"I don't need any help beating Oney Lorcan!" sneered the North American Champ, with fabulous slimy smugness. So Cole sent his pals to the back, as Oney came out, supposedly the crowd favorite, only for Cole to then pretty much wrestle the match as a babyface in peril.
Ribs all taped up, Cole writhed in agony as Lorcan targeted his injury in a basic bout which had a nice 'old school' feel to it, despite being psychologically strange. At least the finish saw some modern-day Four Horseman antics, as O'Reilly and a trainer rushed from the back to attend to Cole's injury, distracting the ref to allow Strong to back suplex Oney on the apron. Lo and behold, the champ wasn't quite as hurt as he'd made out. Last Shot, one-two-three, and the 'Panama City Playboy' retained in entirely predictable fashion.
Then out came Martin Stone. Or rather, Danny Burch. Sorry, old habits die hard. The Londoner took an Undisputed Era pasting for his trouble. Looks like Lorcan and Burch might challenge for the tag belts. Have they ever won a match in NXT?
The same question could be asked of Riddick Moss and Tino Sabbatelli. They're so jobber, they don't even have a proper Tron entrance video. Even though it's abundantly clear that Sabbatelli is the star of this team. Everything about this guy screams top heel. Immaculate hair, gleaming teeth, perfect proportions, shredded physique, punchable cockiness. I mean, he's reportedly dating Mandy Rose (with apologies to Corey Graves) so there is literally nothing to love about him. On the other hand, Riddick comes across as just another guy. So I was quite happy for Tino to refuse a tag and walk out on Moss during their match with Heavy Machinery.
Then after winning with The Compactor, Tucker Knight and Otis Dozovic called out the War Raiders.
Or at least, I think that's what Otis said.
Wrestling's answer to Ram Man just gurned and squinted at the camera, garbling, flexing, sweating, just looking awesomely bonkers. I love him.
Then there was Kona Reeves and his weird hair again. 'The Finest!' Suddenly Kona is interesting. It just goes to show how much a character makeover can do for someone who's going nowhere. He'll be here next week.
Throughout the episode, they did a mighty fine job of rebuilding the women's division without even needing to have a match. First, they aired a video package on dominant new champ Shayna Baszler. Who's gonna beat her? Who? Who? WHO? Then they told us Bianca Belair is facing Candice LeRae next week and put the spotlight on Belair, her Hair Braid of Doom and the fact that she's the EST of NXT (what on earth does that mean?)
Later on two further segments saw Nikki Cross, Aliyah, Kairi Sane (who knows Baszler's weakness but ssshhh… it's a secret), the magnificent Lacey Evans (please push this woman now), Vanessa Borne and Candice LeRae all talk about why they could each be the one to take down the 'Queen of Spades'. And they also found time for Cathy Kelly to try to get a word backstage from Dakota Kai, who didn't want to talk about Baszler because she was clearly intimidated.
The champ then arrived, swaggering into shot like she owned the joint, and continued to play mind games with a visibly terrified Dakota. I loved EVERYTHING about EVERYTHING they did on this show with the women. From continuing to present the champ as a frightening bully, to establishing Dakota as the playground victim who you just KNOW is going to tire of being pushed around and fight back one day, to setting up a string of contenders who all want to take down the autocratic Shayna, it was beautifully done.
Remember how the Baszler-Kai issue all started? I will remind you…
Next week, it's TM61 vs. The Street Profits and Pete Dunne goes for revenge on Roderick Strong. Shaping up to be a stacked show.
The TV main event was supposed to be Johnny Gargano challenging Aleister Black for the NXT Championship, but instead that flipping Tomasso Ciampa only went and ruined it for 'Johnny Wrestling' again. Ciampa, his right eye taped up so he looked even more deranged than usual, jumped his arch-rival and they had a fantastic brawl on and around the stage and commentary desk.
This ended when Ciampa put Johnny through a table with White Noise, and Gargano just lay there all covered in cables. A concerned Candice accompanied her stricken hubby as a full stretcher and ambulance job followed, during which I half-expected Ciampa – or at the very least Kane or Braun Strowman – to be driving the ambulance. Instead, the camera just about caught Tomasso stood on a truck in the parking lot, waving his former tag partner goodbye.
Aleister Black, who'd been watching in the car park (because that's where you do your last-minute preparation for a title match) then stormed to the ring. Before he could have a go at Ciampa for ruining the scheduled championship defense, however, SAnitY came out (no Nikki Cross), Eric Young rambled on for a bit, the champ got fed up and basically said 'look, let's fight'.
The two had a decent main event which ended when Aleister Black Massed Young for the pinfall, then knocked out Killian Dain and Alexander Wolfe too, sending them packing to SmackDown Live.
A reasonable show, all in all, with the women's division taking center stage, and being denied Black vs. Gargano on TV might mean it's being saved for a TakeOver somewhere down the line. I'm more than happy with that.
But are you? What did you think of this week's NXT? Let us know in the comments below or on Twitter here.