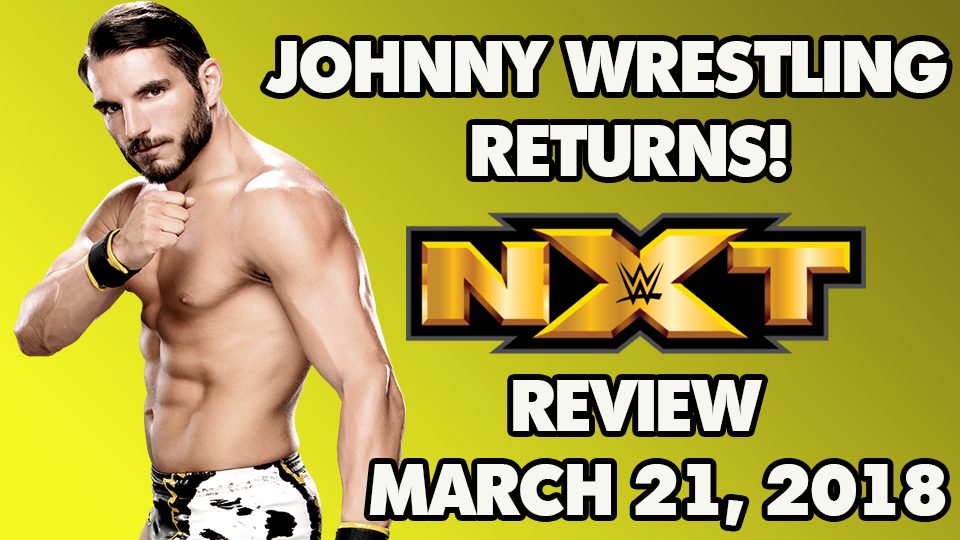 The march to NXT Takeover: New Orleans is in full swing and this week's episode of NXT featured some shocking developments and major announcements that left fans excited for next week's show and WrestleMania weekend as a whole.
Let's get to it:
The Return of Johnny Wresting
The show opened with NXT's most hated villain Tomassa Ciampa berating the Full Sail crowd. Ciampa yelled, "He's gone! He's never coming back!" before confronting angry fans ringside. In recent weeks, Ciampa has attempted to address his actions targeting Johnny Gargano as of late, only to be booed out of the building by Gargano fans chanting "Johnny Wrestling".
As he began taking Gargano signs and ripping then up, a fan stood up to him — and to Ciampa's surprise, that fan turned out to be a returning Johnny Gargano himself. He jumped the barrier before beating down on Ciampa with reckless abandon before eventually being escorted away by security.
Analysis: This segment was simply brilliant, due largely to Ciampa and Gargano being so fantastic at what they do. One can only imagine that we're heading towards a potential show-stealing match at Take Over: New Orleans to settle this long running feud once and for all.
Dusty Rhodes Classic Tag Team Tournament Update
Charly Caruso gave an update on the Dusty Rhodes Classic Tag Team Tournament, stating that Authors Of Pain, Sanity and Street Profits are a lock for the semi-finals, and revealed that Tyler Bate withdrew from the tournament due to a knee injury meaning that the combination of Moustache Mountain — Bate and United Kingdom Champion Pete Dunne would not compete in the tournament.
Roderick Strong then asked NXT General Manager William Regal if he could enter the tournament in Bate's absence, on the provision that he can find a partner to compete against Oney Lorcan and Danny Burch.
Later on, Strong and new partner Dunne faced off against Lorcan and Burch in the first match of the evening, which eventually saw Strong pick up the win, following the End Of Heartache. The win set up a semi-final clash with Sanity on next week's show. Authors Of Pain will take on the Street Profits in the other semi.
Analysis: From the outset, it seemed that the Dusty Rhodes Classic final was already set in stone, and that Authors Of Pain would face Sanity in the final. However, seeing how well Strong and Dunne performed together, and how their respective styles complimented one another so well, one has to wonder if they could take out Sanity next week.
Undisputed Greatness?
The Undisputed Era cut a backstage promo, where NXT Tag Team Champions Bobby Fish and Kyle O'Reilly said the winners of the Dusty Rhodes Classic will go down in defeat at Take Over: New Orleans. Adam Cole boasted that he was going to easily beat Kassuis Ohno in the show's main event, and that he was going to do so without Fish and O'Reilly at ringside.
Analysis: This promo could be interpreted in two ways: Adam Cole's going solo and winning demonstrates just how good of a singles wrestler he is and that he's worthy of a NXT Championship title match. Or, this could simply be a clever way of hiding Bobby Fish's recent injury at a live show, which then questions his ability to defend the tag team titles at Take Over: New Orleans.
The Queen of Spades' Campaign to Destroy The War Goddess
NXT Women's Champion Ember Moon returned to in-ring action beating Aliyah with The Eclipse while Shayna Bazsler joined the commentary team.
The Queen Of Spades explained during the match that she runs the NXT Women's division, and that anyone who steps in the ring with her will inevitably face three choices: "tap, nap or snap."
Analysis: Shayne Bazsler has quickly established herself as the Women's division's best heel. Her microphone work has remained short but sweet, only ever saying just enough to get over but not too much to expose her promo weaknesses. Despite the fact that Moon's defense of her title against Baszler will be the second time she does so, the fantastic character building has kept this feud fresh, exciting and very, very cool.
A Dark Future
In the penultimate in-ring segment, NXT Champion Andrade "Cien" Almas came to the ring and accused Aleister Black of disrespecting him and his business associate Zelina Vega during the title match contract signing last week. Almas demanded that Black show up on next week's NXT show so he can settle the score with The Dutch Destroyer's "disrespect" of his manager.
Analysis: Almas and Vega may have to come up with another master plan to help them overcome one of the duo's toughest challenges in the shape of the unbeaten Black, who will surely hold the NXT title belt this year.
From The Desk of the General Manager
NXT General Manager William Regal informed viewers that he will be making an announcement next week, one that will "change the landscape of NXT."
Analysis: Could Mr Regal be preparing to announce a new arrival? Could we be gearing up for a new title belt to be added to NXT competition? If you want to, you will be able to find the spoilers out there on social media, but if you want to make the show more enjoyable and unpredictable for yourselves, avoid them at all costs!
Going Solo Against Ohno
Adam Cole faced Kassius Ohno and to their credit, Undisputed Era stablemates Fish and O'Riley did not accompany Cole to ringside. After some great in ring action — which featured many near falls and amazing spots for both men — Cole earned the victory by hitting The Last Shot knee on the back of Ohno's head.
Analysis: Cole backed up his arrogance and delivered on his promise to beat Ohno. He looks a certainty to be challenging for the NXT title within the next few months as the people who matter at NXT clearly see him as a front runner.
Conclusion:
The road to the black and yellow brand's next Take Over event in New Orleans is well and truly on: William Regal's announcement next week, along with the semi-finals of the Dusty Rhodes Classic (featuring Authors Of Pain vs. Street Profits and Strong and Dunne vs. Sanity) and the showdown between NXT Champion Andrade "Cien" Almas and Aliester Black could all combine for an explosive hour of television.
We are NXT and we are excited for what's to come!