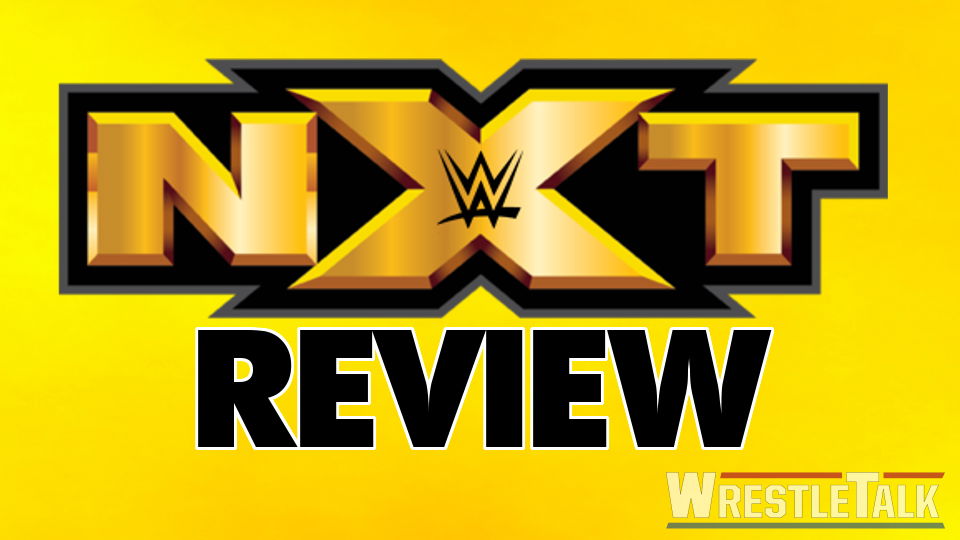 I hope all of our WrestleTalk readers Stateside enjoyed Independence Day. We had our own celebration here in England the other night. I call it We Won A World Cup Penalty Shoot Out Day. I vote we have our own national holiday from now on.
Speaking of joy, watching NXT every week fills me with Dr Shelby's favourite emotion. The writers cram so much into one hour, moving stories along, giving virtually the entire roster screen time each week even if it's with simple things such as on-screen tweets to build a match or quick promos, getting the personalities and issues over, and it never drags. It's just about the perfect wrestling show. Yet this is from the same company behind the three-hour mess that is Monday Night Raw. It's mind-boggling, to be frank.
Full Sail are still cheering Dakota Kai. That's a positive for the New Zealander after her recent failures. Apparently she has issues with Lacey Evans. The commentary team of the verbal virtuoso Mauro Ranallo, the ever-improving Nigel McGuinness and the frequently anonymous Percy Watson inform us that The Lady of NXT has tweeted mocking the easy target of the Captain of Team Kick after her loss to Bianca Belair the other week. Dakota's opponent is the lovely Santana Garrett. Santana needs to learn how to run the ropes. But her submissions are cool. Dakota has to survive a number of innovative limb twists and even a Last Chancery Austin Aries would be proud of. Back comes the Auckland lass with an enzuigiri, two Face Washes and a beautiful somersault backcracker for a much-needed win as the commentators tell the story that Kai has learned from her bad experiences with Belair and Shayna Baszler. "Her confidence is growing." Well done Percy, a worthwhile contribution there.
Outside the arena, EC3 is all smiles in a pristine white polo shirt and slapping hands like a full-on babyface. His opponent tonight Johnny Gargano, in stark contrast, looks pensive and withdrawn. Feuding with Tommaso Ciampa will do that to a guy.
"TUCKY! TUCKY! TUCKAAAAY!" You've got to love Otis Dozovic. He's in a wibbly wobbly world of his own. Tucker Knight is working out so Dozovic goes in search of steaks. "Dozer likes 'em JUICAAAAAY!" I'm cracking up here. "TUCKY! TUCKAAAAY!" Dozer's juicy steaks will have to wait because Knight's been attacked at the weight machine. Heavy Machinery are due for a rematch with The Mighty tonight. I wonder who could have assaulted Tucky? Things that make you go Hmmmm….
Shayna Baszler, the coolest woman walking the face of the earth, now comes swaggering out to the ring for a bragging sesh, just because she can. She cuts her best promo to date. Referring to her Takeover win over the crazed Nikki Cross, the champ offers sage advice. "When the dog goes rabid you put it to sleep." Shinsuke Nakamura wishes he'd thought about that. Baszler gets digs in at prospective foes such as Bianca Belair, Kairi Sane and Candice LeRae, calling the latter "the little woman who should stay at home and take care of her husband". Then she swaggers off. Short, to the point and very effective segment.
A quick music montage shows The War Raiders destroying all.
We're about to get an update on Oney Lorcan's orbital bone injury, suffered in that fantastic Takeover match against The Undisputed Era, from his tag partner Danny Burch. Who after his performance at Takeover, has earned the right to not be called Martin Stone ever again. Danny is in the midst of telling Cathy Kelly that Oney will be out for three months when the Era come strutting down the corridor. Bobby Fish, Kyle O'Reilly and Roderick Strong are all there, but Adam Cole owns the segment, as usual. It ends with Burch challenging the North American Champ to a match….BAY BAY!