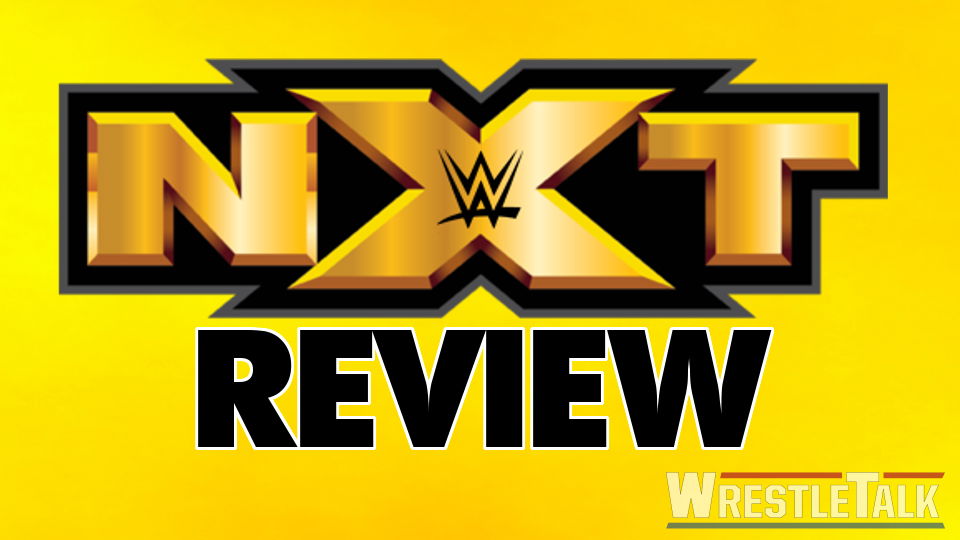 We are just a few days from NXT Takeover:Chicago and the anticipation is building. So what better way to introduce the go-home episode of NXT TV that with an announcement that tonight will see Pete Dunne defend the WWE United Kingdom Championship against The Undisputed Era's NXT tag team champion Kyle O'Reilly. My mouth is a-watering.
And what better way to kick off the action than with The War Raiders? Just a few matches into their NXT tenure and Hanson and Rowe are already super-over at Full Sail. Their rock riff entrance galvanises the crowd and they then obliterate two poor job lads in a few minutes of mayhem. The fans chant "WAR! WAR! WAR! as Jobber #1 Justin Storm proves he's not a patch on Storm Hector, and gets blown away by The Raiders' assault. This energetic squash match ends with the double-team legdrop. Kudos to the jobbers here, who do a mighty fine job of getting utterly battered.
Afterwards the Raiders grab the mic and get straight to the point.
"You say you're The Mighty? WE'LL SHOW YOU WHO'S MIGHTY!"
YES! They want to kill TM61! I heartily approve!
The Undisputed Era are in a corridor as Kyle O'Reilly warms up for his match with The Bruiserweight. Adam Cole does not take kindly to being filmed. Quite right too. Those backstage cameras can be so intrusive.
We get a fantabulous Johnny Gargano-Tommaso Ciampa build-up package for their Chicago Streetfight at Takeover. It's compulsively cinematic storytelling, edited with supreme attention to detail.
This will be the main event on Saturday, even if the NXT Title match goes on last. Which it shouldn't, because nothing will be able to follow this.
I wonder if it's no coincidence that EC3 emerges for his match next? I remember a fortnight ago and the subtly peeved look The One Per Center gave Gargano when he interrupted his bout with Fabian Aichner to sign his Takeover contract. NXT bookers usually do things for a reason. (Revolutionary concept in WWE, I know.) So they will follow up on this, mark my words.
The former Ethan Carter III gets a full-on babyface reaction from Full Sail as he bounds to the ring, singing his own theme tune. His adversary Kassius Ohno has his game face on as their bout gets under way.
There's tension between them early and EC3 looks amused. Ohno's reverse knife-edges soon wipe the smile off Ethan's chops. Back comes TAFKA Bateman with a picture-perfect STO variation as duelling chants begin. Kassius fights back with his usual stiff forearms and knees but soon falls victim to the TKO, now renamed The One Per Cent. Another win for EC3. And another good performance in defeat by Ohno, who is becoming proficient at these short TV matches where he gets in his strong-looking strikes before putting his opponent over at the end.
Bianca Belair is next, sporting bright blue lipstick. The EST gets a great welcome from the NXT Universe. Oh look, her opponent is Aliyah. I'd almost forgotten she existed. I can never take Aliyah seriously. I think it's the memories of her fouling up while practising her ring entrance on Breaking Ground. She's wearing a fiery outfit and decides to wiggle right in Bianca's face. Bad move. Belair mullers her hard with a forearm in the mush, then hits a running frog splash followed by a nip-up. Or is it a kip-up? I'm never quite sure.
All Aliyah can manage in retaliation is a front facelock and a loud scream. The commentators say she's wasting valuable energy by screaming.  Never heard that before.
Belair does a ricoculously impressive deadlift into a gorilla press into a Snake Eyes then polishes off Aliyah with a Burning Hammer-type thing. This looks far better as a finisher than the Alley Oop she used to beat Candice LeRae the other week. Glad to see Bianca taking my advice.
Belair then celebrates by owning the ring and oozing charisma while twirling her braid. This girl has got 'It'. She's already far better than most of the women on the main roster. Including both the Raw and SmackDown Women's Champions.
Next is a Shayna Baszler-Nikki Cross hype package. They recap the feckless Dakota Kai storyline, which at least serves a purpose in pointing out that Baszler's mind games may have worked on scaredy-cat Kai, but won't be quite so effective against a crazy Glasgow banshee who burns playing cards for fun.
Speaking of Dakota, she's clearly living in an alternative reality. For one thing, interviewer Cathy Kelly asks her about what happened 'last week' against Baszler (it was two weeks ago). Instead of correcting her, Kai talks about how she finally stood up to The Queen of Spades and was "seconds away" from winning the NXT Women's Title. Seriously? That's not how I remember it. Thankfully Bianca Belair turns up to challenge the New Zealander to a match next week and elevates the entire segment with her mere presence. I think BB is starting to usurp Lacey Evans as my favourite new NXT superstar. And Kai should just turn heel and get it over with.
"SHOCK THE SYSTEM!"
Pete Dunne may have a beard and a strapping on his left thigh, but Kyle O'Reilly has The Undisputed Era's indestructible theme tune and a title belt he can strum like Hogan. Brownie points for Kyle's ring entrance here, he's clearly learning from Cole.
Full Sail just knows this match is going to be a keeper, the atmosphere is electric before it even starts. "It's a magnificent mat classic in the making," enthuses Mauro Ranallo. And sure enough, matters begin with some super-slick matwork, before Dunne tries to pull off O'Reilly's fingers then X-Plexes him on the ring apron.
Dunne then goes after Kyle's mouth. And his ear! Back comes the Canadian by zeroing in on the champ's vulnerable leg. We get a series of O'Reilly near falls as it suddenly strikes me how much I don't want there to be a non-British UK Champion. We don't want this belt going the same way as the European Title, do we? Dunne clearly feels the same way as he turns Terminator and starts walking through Kyle's blows. He goes for the Bitter End but O'Reilly counters innovatively into a guillotine, then transitions another X-Plex into a cross armbreaker. A furious exchanges of strikes is a little rough around the edges, but only adds to the big fight feel.
Suddenly a fallen Dunne grips hold of O'Reilly's hand like a two-year-old in a packed shopping centre. Kyle retaliates by pulling out Pete's gumshield. This only fires up the Bruiserweight and one Bitter End later, and he retains the championship. An unsurprisingly fabulous match, given the quality of these two fine young bone-benders. Just think what they could have done with a little more time.
Post-bout, Adam Cole and Roddy Strong run out for a Dunne beatdown, Oney Lorcan and Danny Stone make the save, and we get a fairly standard set-up for the NXT Tag Team Title match at Takeover. The fans were on their feet hollering for Dunne vs O'Reilly. Lorcan and Martin Burch, though, get polite applause.
Next week will be the night Dakota Kai and TM61 get flattened. They're facing Bianca Belair and The War Raiders respectively. I'm guessing these matches will be filmed at Takeover.
I've been pondering why Aleister Black has lost his aura of late. Because let's face it, he was riding high after his acclaimed rivalry with Velveteen Dream and his stupendous Takeover:Philadelphia brawl with Adam Cole. Then he beat Andrade Almas for the NXT Title and all of a sudden I no longer care. There are several reasons. One – new stars have come in to grab the limelight away like EC3, Ricochet and the War Raiders. Two – Gargano vs Ciampa has been so outstanding, this has stolen the champ's thunder at the top of the card. Three – Black's silent assassin persona was darkly effective but as champion, he needs to cut promos, and he's not a dynamic talker. And four – the quality of his opposition has dipped. Taking nothing away from Lars Sullivan – who plays his role as cerebral goliath with a wonderfully "unsavoury thirst for malice" (thanks Mauro) – but he ain't no Almas, Cole or Dream.
In short, Black needs to step up. A star making performance against Sullivan at Takeover would be a start.
As for this show, it ends with the beast plastering the Dutch Destroyer with three Freak Accidents, before placing him on the commentary table with gargantuan ease. We go off the air with Lars standing above the crumpled Black, holding the NXT Title high in the air.
This was another terrific NXT show, with Dunne vs O'Reilly and Bianca Belair taking most of the plaudits. But what did you think? Let us know! Comment below!