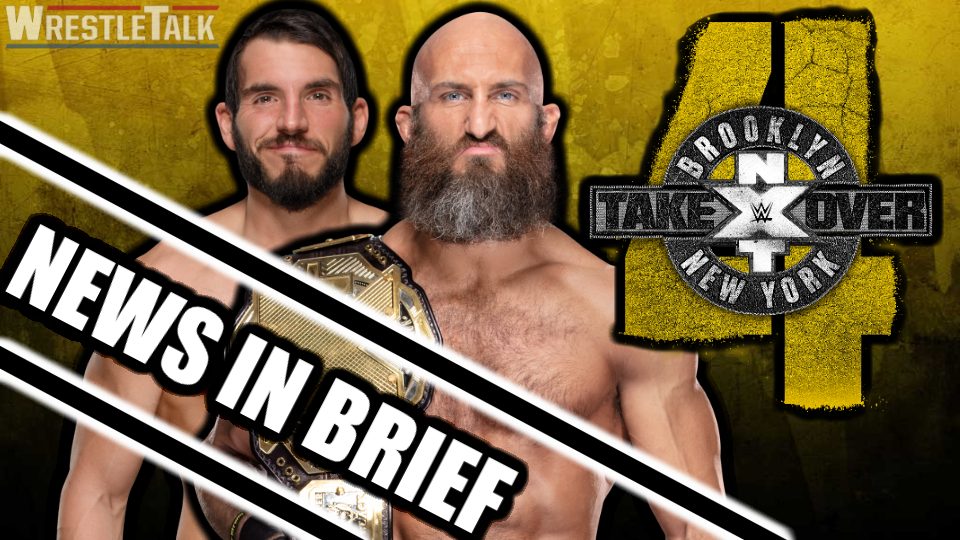 Once again, NXT proves that it is the best thing that WWE has ever created. Five incredible matches, and so much to digest. Good luck SummerSlam.
Undisputed Era bt. Moustache Mountain to retain NXT Tag Team Championships
Although it didn't quite match their recent 5-star battle, this was still a brilliant match with a great story throughout. Near falls littered the match, and it was genuinely difficult to tell who was going to take home the victory.
Ultimately, Kyle O'Reilly and Roderick Strong hit Trent Seven with the Total Elimination for the win. But it was far from over.
While celebrating, O'Reilly and Strong were attacked by War Raiders, presumably setting up the next tag title feud. Yes please.
Velveteen Dream bt. EC3
In one of the more surprising results of the night, Velveteen Dream defeated EC3 in a very solid if slightly overshadowed match. As the only non-title match of the evening, it struggled somewhat to live up to the rest of the card.
Many assumed EC3 would be picking up the victory as it is widely believed that he will be getting a main roster call-up any day now, and this would give him momentum heading into that.
However, it's also true that you generally lose your final match in NXT, so it could still be on the cards.
Ricochet bt. Adam Cole to win NXT North American Championship
Surprisingly, this match took a while to get going, but once it did, oh boy did it get going.
Not only did Adam Cole hit Ricochet with a superkick while his opponent was airborne and upside down, but Ricochet managed to hit a standing hurricanrana over the top rope onto the floor outside the ring.
This result makes a lot of sense, as you would assume that Cole will now be heading into more main event feuds on NXT.
Ricochet is an ideal mid-card champion, as although he can easily slot into any main event feud, whoever beats him will instantly be given a huge push.
Now we just have to see who's next.
Kairi Sane bt. Shayna Baszler to win NXT Women's Championship
Could this be the last time we see Shayna Baszler in an NXT ring? I think it's very likely.
Rumours suggest that the Four Horsewomen vs Four Horsewomen match is very much in the works for Survivor Series, so she needs to be on the main roster sooner or later. Perhaps she, Jessamyn Duke and Marina Shafir will all be called up at once to create a new faction, which forces WWE to call upon their own horsewomen to stop them.
But the match itself was very good. Sane is a brilliant babyface and the crowd really go behind her battle. It looked like she was to be the latest victim of the Kirifuda Clutch, but managed to reverse it at the last second to become the new NXT Women's Champion.
Now that NXT is about to see the signings of several women following the Mae Young Classic, it will be interesting to see who she will face in her first feud as champion.
Tommaso Ciampa bt. Johnny Gargano to retain the NXT Championship
And still your NXT Champion, Tommaso Ciampa.
A brutal, brutal match. DDTs onto exposed wood, falling through tables, being thrown through a barrier and who knows what else.
The two men went through hell, and once again Johnny came up short.
The finish came after Johnny hit Ciampa with a running knee, seemingly injuring himself in the process, and was therefore unable to make it to his feet before the count of 10.
Ciampa retains and it's now just time to see what's next for the two men. Will Gargano head to the main roster to wait for Ciampa's eventual call-up?
We shall see.