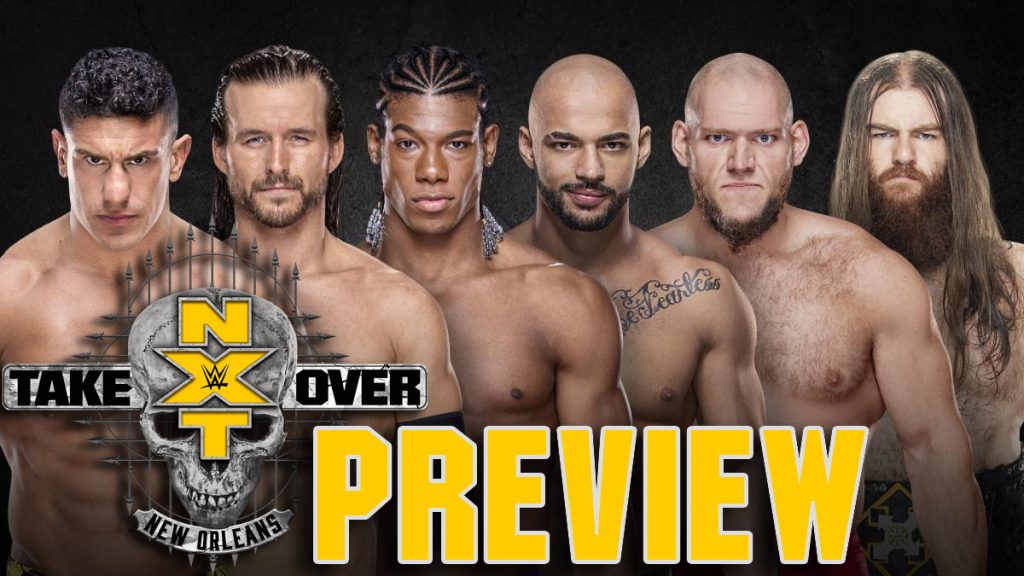 What are the differences between how NXT and WWE present their respective rosters?
They put time and effort into developing the stories behind their matches. They showcase their talent in better ways than Raw and SmackDown Live do on weekly basis and NXT TakeOver: New Orleans has the potential to receive more praise within the wrestling community than any other show put on this weekend.
Now they also have something in their possession that their main roster big brother also owns: a mid-card title. Something the brand has needed for awhile. They can now show us the fan who they believe in and who is more than likely going for the NXT Championship next. This is going to be a six-man ladder match. Six of the best superstars NXT has to offer at the minute. Two of these six will be making their televised in-ring debuts for the brand, but more on that in a little bit.
Adam Cole "Baybay", the self-proclaimed uncrowned champion of NXT, will probably be pulling double duty Saturday night as his Undisputed Era teammate and current NXT Tag Team Champion Bobby Fish is suffering from an injury. But that is not going to stop Cole from climbing the ladder if success in NXT. A former champion in Ring of Honor, he looks to finally get his hands on gold in WWE but he has to get past five other competitors.
One of those competitors he has had a run in with before so he has to watch his back. The 'Beast of Belfast' Killian Dain has a history with Adam Cole and someone of Dain's size shouldn't be able to do the things he can do in the ring. He is going to use his brute strength to bowl over the competition and climb the ladder to hopefully become the first-ever NXT North American Champion.
Dain went one-on-one with Lars Sullivan this past Wednesday night and both men showed how they could dominate this match. Lars the intellectual monster of NXT finally got his hands on Dain before the rest of the competitors broke up this monster match. One man was made to look above the rest, however, in the debuting Ricochet, who was the last man to enter the ring and stare down his competition for this Saturday night.
Ricochet has been a big name in the indies, but what a way to kick off his career in NXT if he was able to capture the title. With the two behemoths of Dain and Lars to go against, however, it's going to be tough but that's not going to phase Ricochet. That won't scare another debuting superstar in EC3. The 'Top One-Percent' of NXT and former Impact World Champion is also looking to grab gold in his debut match. He has proven already he has it on the mic and he has the look of a champion but with five other men to go against and a ladder to climb it will be an uphill battle for every man in this match.
Velveteen Dream, (a gimmick I didn't think would get over, how wrong was I), has to be one of the most beloved acts in NXT at the moment. He has even proved that losing a match didn't take away any momentum. After his first TakeOver bout, which he lost to Aleister Black, he came away with more momentum than he had when he went in. It's was only a matter of time before he was going to be challenging for the NXT Championship. But now, with the introduction of the NXT North American Championship, Dream looks to leave this TakeOver a winner and with strong momentum that is going to carry him through the rest of the year.
All six men are truly deserving of winning this match and it could easily be the highlight of the show. Who am I kidding? It could easily be the match of the entire weekend. These six men are going to spend the whole bout outdoing and one-upping each other. Brute strength, athleticism, and straight-up egos are going to clash in this ladder match where only one can be the winner.
Prediction: Velveteen Dream
What do you think about this match? How many rotations do you think Ricochet can fit into one senton from the top of a ladder? Let us know in the comments below or on Twitter here.