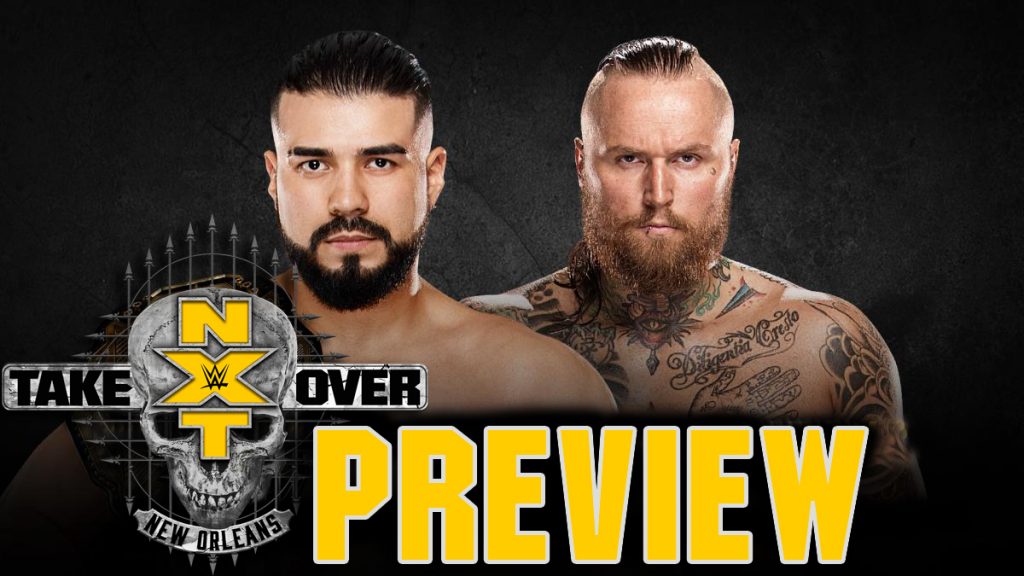 NXT's boss isn't it? Every single TakeOver event delivers and it seems like this one will be no different. The headline act: Andrade 'Cien' Almas defending the NXT Championship against Aleister Black.
About a year ago, on the night before WrestleMania 33, the same two men clashed at NXT TakeOver: Orlando in what was Aleister Black's NXT debut. Isn't it funny how things work out sometimes? Black came out the victor in that bout, but Almas' career hadn't reached anywhere near the notoriety it has today.
https://www.youtube.com/watch?v=ouKBjzoA5jo
Until the summer of 2017, Almas was a bit-part player on WWE's 'developmental' brand and had garnered somewhat of a losing streak against the likes of Cezar Bononi and Kassius Ohno. His in-ring work was never in question, but Almas couldn't really find an act, a character, other than being the Mexican guy who wore suspenders and a hat.
In August though, that was about to undergo an unpredictably monumental change with the debut of Zelina Vega as Almas' new 'business associate'. Vega provided somewhat of an edge to the dwindling Almas, both in and out of the ring, upping the interest levels of his character and adding an extra element to his matches.
Almas' ride to prominence started with multiple consecutive wins over Johnny Gargano (we'll revisit him in a moment), including a win at NXT TakeOver: Brooklyn III. From there, he earned his shot at the NXT Championship at TakeOver: WarGames against then-champion Drew McIntyre, a match which Almas won to become the face of the black and yellow brand.
A couple of months later and Almas' first defense came on the night before the Royal Rumble in January 2018 at TakeOver: Philadelphia, where he defended against the man he had bested for much of 2017, Johnny Gargano. The match itself was a thing of absolute beauty, for my money, the best professional wrestling match in the entire world so far this year. Dave Meltzer of the Wrestling Observer gave the match a five-star rating, the first five-star match in WWE since CM Punk's WWE Championship win over John Cena at Money in the Bank 2011.
https://www.youtube.com/watch?v=k6XFgraXMSg
So that was Almas' rise to prominence, but let's take a turn to check out how Aleister Black found his way into this match.
As mentioned earlier, Black made his debut in August at NXT TakeOver: Orlando in a win over Almas, and since then he has been undefeated in singles competition.
Following TakeOver: Orlando, Black engaged in the NXT Rivalry of the Year (in the NXT End of Year Awards) against Velveteen Dream. The story throughout was a simple one: Dream wanted Black to "say his name". After weeks of mind-games and one-upmanship, the match between the two at NXT: TakeOver WarGames fully delivered and cemented Velveteen Dream as one of the most popular acts on NXT.
Since then, Black picked up a win in an 'NXTreme Rules' match against the leader of the Undisputed Era Adam Cole at NXT TakeOver: Philadelphia in January, before claiming there was a "devil on his back" and that devil was indeed the NXT Championship.
In the following weeks, Black got the better of the 'Beast of Belfast' Killian Dain to earn a shot at Almas' gold in New Orleans, in what I'm sure will be a sensational match and could quite easily be the match of WrestleMania weekend.
Andrade 'Cien' Almas claims he is longer 'tranquilo', and I have a feeling that when the end of NXT TakeOver: New Orleans rolls around, he'll no longer be champion. Black has never been defeated in one-on-one competition before and I don't see it happening this Saturday. I do think there are a few too many streaks going on at the minute though, so I wouldn't mind if Almas won, but I would be somewhat surprised.
In the words of the 'Ominous Man from Amsterdam', I think "Andrade 'Cien' Almas will fade. Fade. To. Black."
Prediction: Aleister Black
What do you think about this match? Who's walking out of New Orleans this Saturday with the NXT Championship? Let us know in the comments below or on Twitter here.