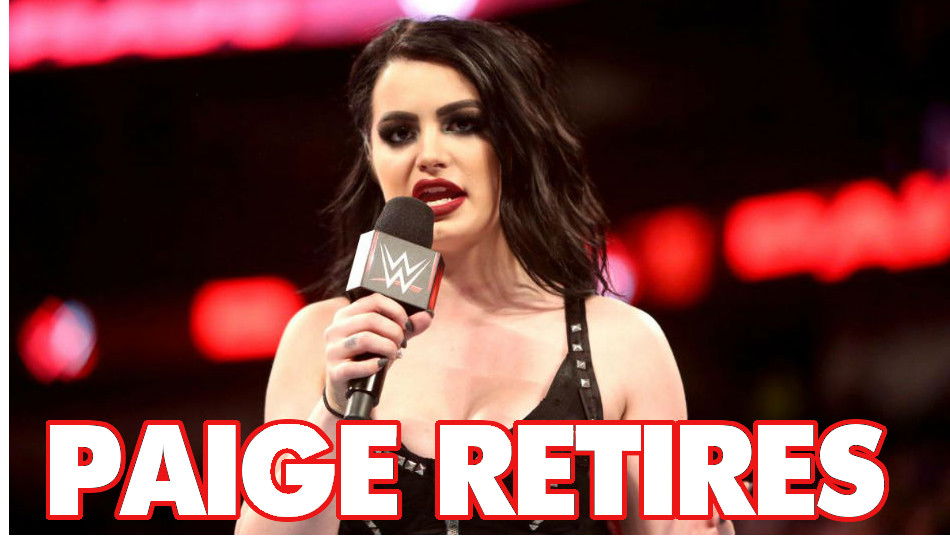 Wrestling, like every other physical activity, takes its toll on the human body.
And if further evidence was needed, just take a look at the number of people that have had to retire early from WWE.
Richie Steamboat, Tyson Kidd, Edge, the list goes on and on and, sadly, another name was added to that list on last night's Raw.
Former NXT Women's and Divas Champion, Paige, announced her in-ring retirement on the Raw after WrestleMania 34.
Joined in the ring by her Absolution faction of Sonya Deville and Mandy Rose, Paige announced that, due to neck injuries, she could no longer compete as an in-ring performer.
The British star fought back tears as she thanked Daniel Bryan for giving her hope that she could one day return, Edge for showing her life outside of the ring, her family for getting her to where she was and the entire female locker room for everything they had accomplished since she joined the company.
This news is incredibly sad for Paige and her fans. She only made her main roster debut four years ago – rather poetically in the same city as she announced her retirement, New Orleans – and was poised to become one of the biggest female stars in the history of WWE.
However, a combination of lengthy injuries and a turbulent personal life meant that Paige never reached the spot she so desperately deserved and now, by the looks of things, she never will.
While 25 is no age to retire at, Paige's youth does mean that she can still have a lengthy career in WWE as a non-wrestler. Equally, she's already begun to branch out into acting in several WWE Studios pictures, so there's every chance a big-screen career could be on the cards.
It is unclear what WWE's plans are for Paige now she's officially done in the ring. She could continue managing Absolution, but it's also possible that Deville and Rose could be split up in next week's Superstar Shake-Up.
Whatever is next for Paige, we wish her all the best. She was an absolute pioneer of women's wrestling in WWE and the success the women's division is experiencing at the moment simply wouldn't be happening without her and those first female performers in NXT.
Thank you, Paige, though you didn't stay for long, you definitely made the WWE ring your house.
What are your thoughts on Paige's in-ring retirement? What do you think is next for her? What are some of your favorite moments of Paige in WWE? Let us know.