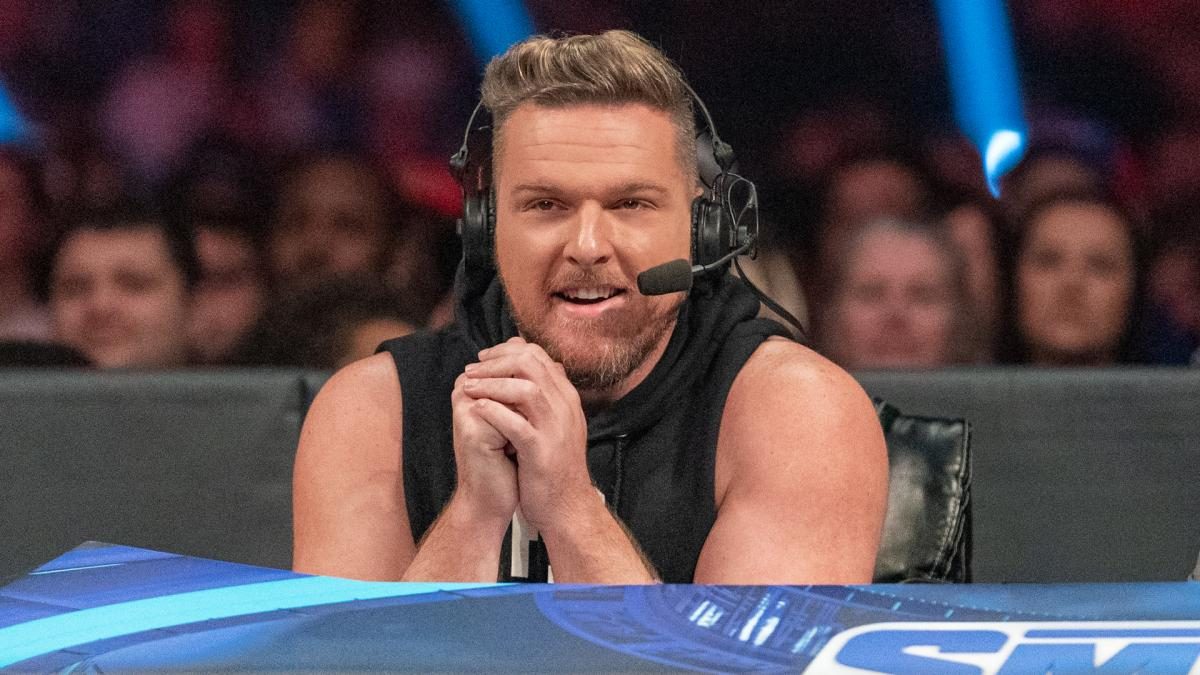 If you didn't see the news earlier today, Pat McAfee has been announced as the new color commentator for WWE SmackDown starting tonight.
Following the announcement, Pat McAfee had Michael Cole – SmackDown's lead announcer – on his show to ask him a few questions.
One of those questions from McAfee was:
"What happens when I f**k this up inevitably? Is there any type of thought for that? You're the greatest of all time, how are you gonna make up for that do you think, whenever I ruin this entire thing potentially."

If you use this quote or any portion of it please credit WrestleTalk.com for the transcription and link to this page
Cole replied:
"Okay so first off, you're not going to mess up because I'm gonna help you and I'm going to carry you. Secondly, if you do mess up, I'll be heading to a very early retirement.

"Seriously though, in all seriousness, you're gonna kill it, because you have a passion. You have intensity, you have emotion. We saw that in NXT, from your early days of doing the TakeOver panels, to actually cutting promos, to getting in the ring, to having some Hellacious matches. I think you now understand the commitment of what our Superstars have to go through to get to this level. You also can talk, you can cut a promo, you've done some commentary in the past. So I think when we add all those things together, and just you as a person and knowing how excited you are for this, I think this is a recipe for success. I just don't know how it can go wrong. I really don't.

"I've been racking my brains for the last couple of weeks since we started talking about this, because I know you Pat. And I know how you are and I know how emotional you are about everything you do in your life, and I keep racking my brain about how is this going to blow up in my face. Because I know it's going to (laughs). But I can't find the reason. I can't decide in any way how this is going to fail. I just can't."

If you use this quote or any portion of it please credit WrestleTalk.com for the transcription and link to this page
Well, if reassurance is what McAfee was looking for, he certainly got it.
McAfee did commentary for the second half of the 'NXT invasion' episode of SmackDown in November 2019 alongside Tom Phillips and Renee Young.
WrestleTalk.com will have live coverage of SmackDown later featuring a Tag Team Championship match and WrestleMania fallout.
What are your thoughts on the above story? Let us know in the comments on Twitter or Facebook.