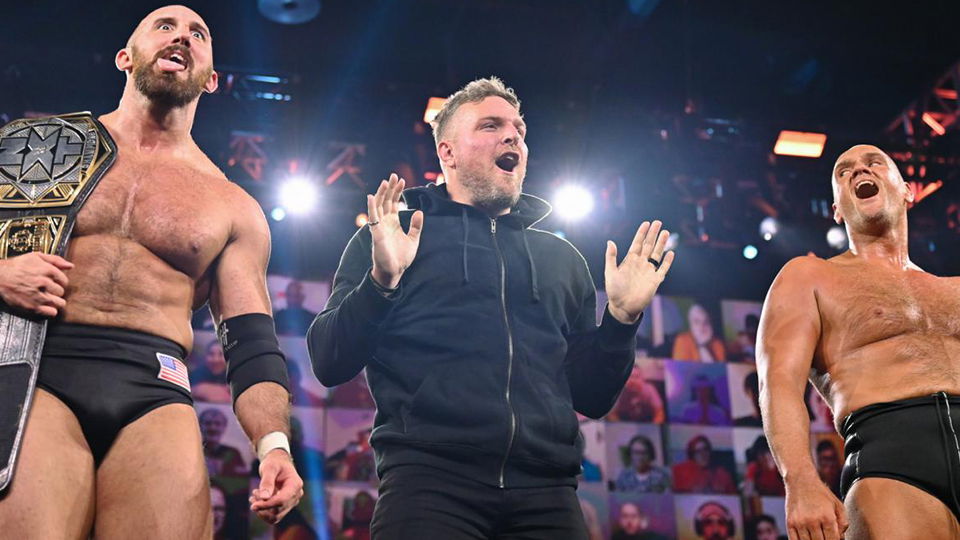 NXT shocked fans last night with the return of Pat McAfee. Many had thought his match with Adam Cole at NXT Takeover: XXX would be a one-off, however, it seems as if he will have a larger role in NXT going forward.
McAfee has now surrounded himself with the new NXT Tag Team Champions. Danny Burch and Oney Lorcan managed to defeat Breezango to capture the titles with the help of McAfee, but after the match, McAfee called the new faction the kings of NXT. Here is the quote:
"I'd like to say this place looks like absolute dog crap with all of you humans in here this evening. This would have looked much better without you. I was in a building that didn't have any fans. The place was fantastic. Now tonight, you all got a chance to have a front row seat to watch two men who have battled for years to get to the top of the NXT Tag Team mountain. This is the start of something very special. You're probably wondering how did we get here. We will get to that at some point. Just know that us three are the kings of this brand. We three are unstoppable. Us three are nowhere near done with what we're going to do to all of NXT. Have a great night! We're the greatest! You suck! Cheers."
During the match, McAfee shoved Fandango off the top rope while wearing a mask as the referee was distracted. This allowed Burch to hit Tyler Breeze with a low blow and hit a double-team DDT for the win. This is their first reign as NXT Tag Team Champions.
What do you think of Pat McAfee teaming with Burch and Lorcan? Let us know on Twitter!