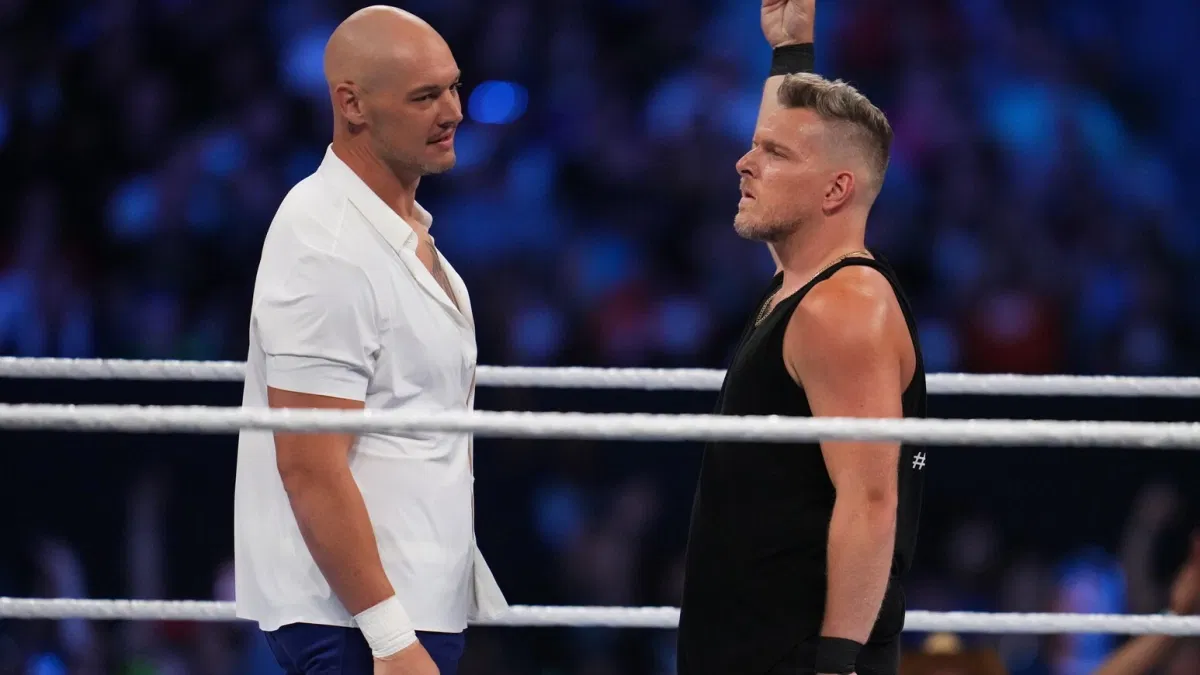 Pat McAfee has admitted some things went wrong before and during his SummerSlam match against Happy Corbin.
Pat McAfee competed in his third match on the main roster and fifth match in WWE overall against Happy Corbin at SummerSlam last Saturday.
Speaking on The Pat McAfee Show, the SmackDown commentator revealed that there were some things that went wrong before and during his latest bout.
He said:
"There were some moments in that match that were really like, I should have prepared differently. For instance, just walking into the stadium. I took a nice deep breath of that humid air and it was thick. It was sauna thick down there because it was supposed to rain. Projections of the weather for like two weeks to a week out, even the morning of, was rain is coming. Whenever it's hot and rain is coming, that means it's humid as f*** and I didn't even think about that as I was training in my basement in air conditioning."
McAfee continued on to explain how the weather affected him even before his SummerSlam match, saying:
"That immediately hit me the day of. I'm walking in and this is not in an arena or an enclosed area. This is going to be hot as f*** out here. As I'm walking around, I start sweating and I haven't even done anything and I am drenched, so I started to hydrate earlier. I started to hammer some water and Gatorades. I definitely thought that I should have trained a little differently for this one. I should have gone outside a little bit. It was a little bit of a bush league on my part not to think about it being outside."
On how this later affected his contest against Happy Corbin, McAfee added:
"A lot of my offense off the ropes and with the ropes, the ropes were obviously wet. They were a little slick. The shoes I was wearing, I had not worn them on ropes. So there's a lot of things that as they were happening I was thinking to myself, 'F***ing idiot. Bush league. You are so dumb.'"
McAfee defeated Happy Corbin at the SummerSlam event to complete their rivalry.
Keep track of Pat McAfee's win-loss record (for televised matches) at this link.
Transcription via Wrestlingnews.co
If you're in the UK but didn't manage to get tickets to Clash at the Castle on September 3, WrestleTalk is hosting a watch party at The Joiner on Worship in Shoreditch, London, and we'd love for you to join us! Click here for more details.