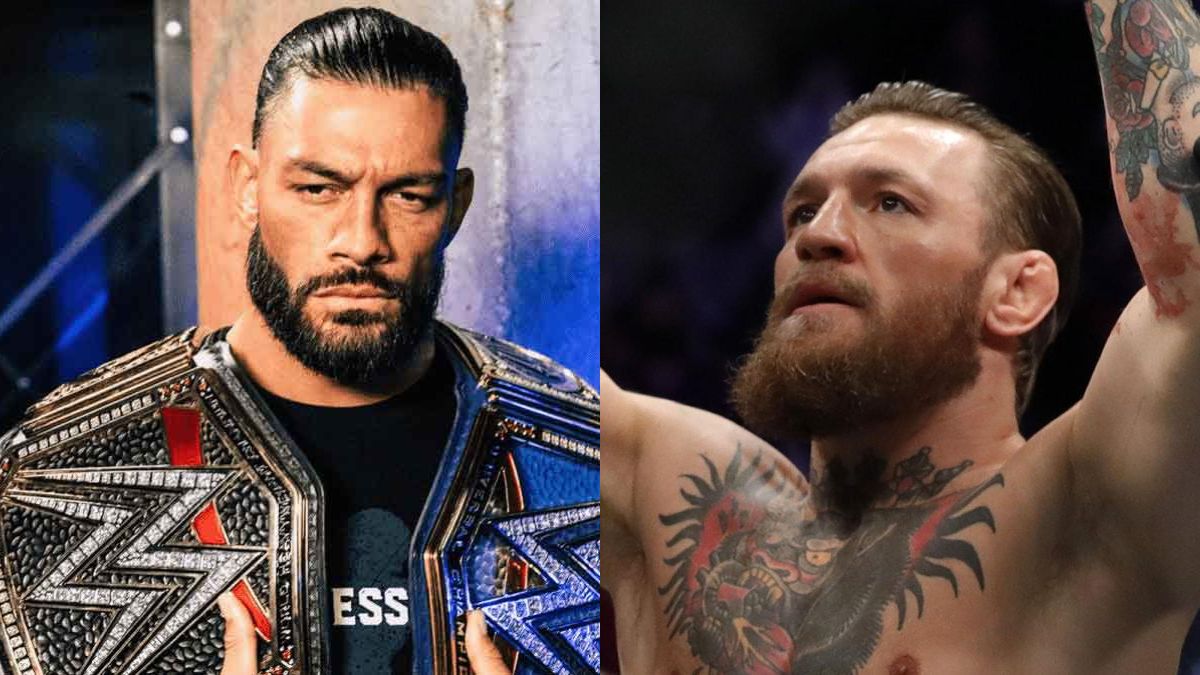 A WWE star has commented on a potential Roman Reigns vs. Conor McGregor match following WWE and UFC merger.
On Monday morning, Endeavor announced that it had purchased WWE and will merge it with the UFC to form one global sports and entertainment company.
As previously reported, Conor McGregor responded to the news and got into a social media back-and-forth with Paul Heyman following the huge announcement.
Heyman compared the former UFC Light Heavyweight Champion to the Undisputed WWE Universal Champion, leading to fans fantasy booking a showdown between two of the top names from the two companies that are now one.
Speaking with Ariel Helwani of BT Sport following WrestleMania 39, Heyman was asked about McGregor tweeting to say he would break his jaw in three places and calling him a grandpa. Paul replied:
"I'm not a grandfather, but I appreciate the fact that I'm old enough to be one, number one, and I'm still thriving on top. I would like to see if Conor McGregor at 57 is still thriving at the very top of his entire industry."
"We'll see if he's even relevant at 57. We'll see if he even lives to 57 with his lifestyle now, number two. Number three, it's not that he tweeted to me, I picked the fight with him."
"Let's be honest about this. He, as a Roman Reigns wannabe, did the Paul Heyman style, you know, title on each shoulder, and, you know, gave a shout out to himself, of course he did."
"You know, the ultimate self promoter in Conor McGregor, you know, standing nine feet tall and weighing 155 pounds and five foot four."
"So, with that in mind, I said, 'Look at Conor McGregor, a Roman Reigns wannabe', and of course, you know, he said, 'Oh, be careful grandpa. I'll break your jaw in three places.'"
Heyman continued on to question if McGregor would truly hit him, since he said it instead of just doing it, saying:
"My father who was a pretty street savvy guy from the Bronx, you know, my father used to say, 'If you're going to hit somebody, you don't want to go up and go, I'm going to punch you in the face. I'm going to beat you up. I'm going to come get you.' You know what they do if they want to beat you up? They walk up to you and they hit you."
"He's talking a good game but he isn't coming after The Wise Man, and even if he did come after The Wise Man, what if I landed a lucky shot like the lucky shot he hit Aldo with? (Jose) Aldo clipped him and busted him open on a knockout punch that he threw."
"What if I had a lucky punch on Conor McGregor? Right? What if I did? If he beats me up, who cares? I'm a 57-year-old Wise Man. I'm a Jew boy from the Bronx. This is a tough fight for Conor McGregor? I don't see him picking a fight With Roman Reigns, but then again, listen."
"You know, little people do what little minds tell them to do, and that's okay, because I like the little guy. He's funny to me. Like a clown. You know, like a clown. He's here for my amusement."
Roman Reigns is coming off the heels of one of the biggest win of his 947+ day reign as Undisputed WWE Universal Champion, defeating Cody Rhodes in the main event of WrestleMania 39.
Transcription via Wrestlingnews.co
Think you're a wrestling mastermind? Well you can prove it by taking quizzes in our brand new quiz section! Don't forget to tweet us your results!