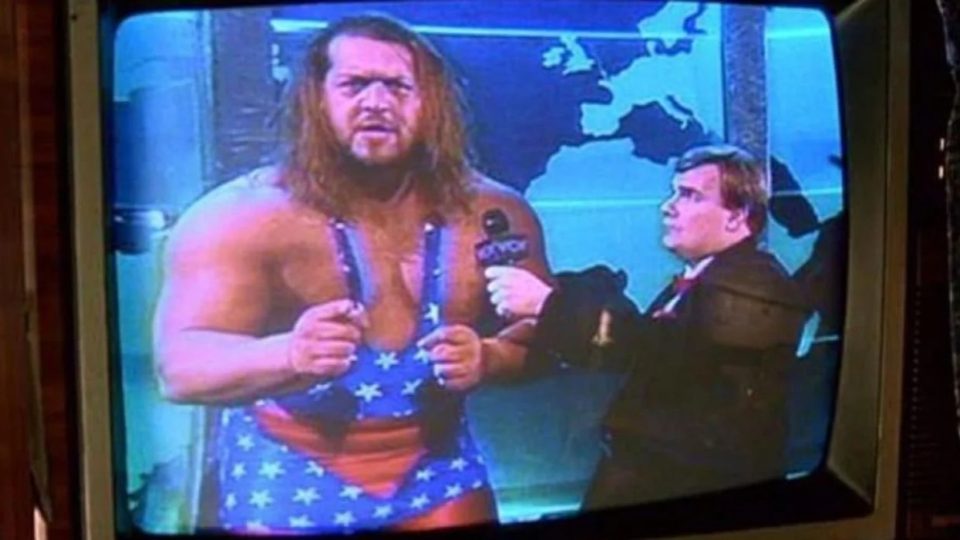 Paul Wight has discussed his "Captain Insano" film character, addressing rumours that the persona will make an appearance in AEW.
Shortly after Paul Wight's first Dynamite appearance, AEW filed to trademark "Captain Insano", the name of the character Wight played during his role in The Waterboy (1998) alongside Adam Sandler.
Wight recently discussed the persona on Oral Sessions with Renee Paquette. Revealing that he'd love to bring the character back, Wight talked about Hulk Hogan's love for Insano.
Claiming that Hogan's Mr America was inspired by Captain Insano, Wight joked that he'd imitate Hogan during Insano's comeback.
Here is the full quote:
"Renée Paquett‪e: How weird is it for you to be announced as Paul Wight in a wrestling environment?

Paul Wight: Super weird. Plus, I found out that AEW just filed for the trademark for Captain Insano.

Renée Paquett‪e: What!?

Paul Wight: Yeah.

Renée Paquett‪e: Shut Up!

Paul Wight: So, it's funny I might bring back Captain Insano

Renée Paquett‪e: F**k yes!

Paul Wight: Wouldn't that be great?

Renée Paquett‪e: Oh my God, that's amazing.

Paul Wight: I will totally rip Hulk (Hogan) off every chance I get. "Let me tell you something brother, Captain Insano shows no mercy dude."

Renée Paquett‪e: I love that. Oh my God that's so funny.

Paul Wight: You know what's funny? When I did that Waterboy years ago, Hogan actually goes "Brother, you should get back into that, that gimmick is money. Captain Insano, that's money brother." I think the whole reason he did Mr. America is because he was infatuated with Captain Insano."
Wight revealed that he left WWE due to creative frustration. He will become a regular commentator for AEW Dark: Elevation, which has its premiere episode this coming Monday.
With the likes of himself and Christian signing with AEW, Wight has named another WWE legend that he'd love to see join the promotion.
Quote via Bleeding Cool. 
What are your thoughts on the above story? Let us know in the comments on Twitter or Facebook.