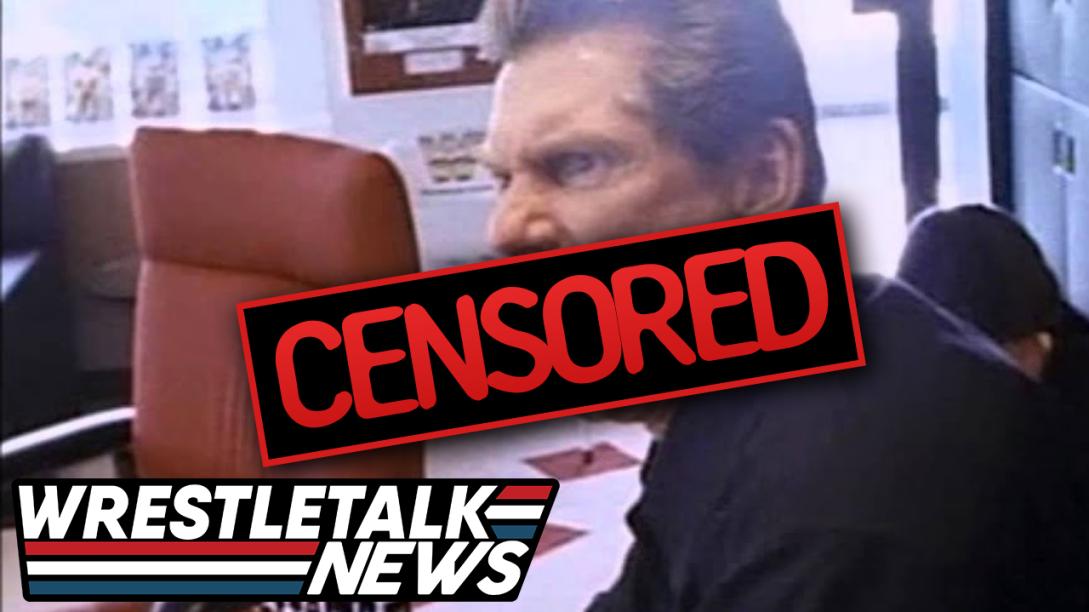 As WWE transitions its gigantic content library from the WWE Network to Peacock you would imagine that some things might get lost in the shuffle. If Music Power 10 and Camp WWE happened to fall off the back of the truck I'm not sure anyone would mind.
But fans have been noticing that some scenes and moments from the franchise's history have been edited out of the content that has made the transition.
So Peacock doesn't have a pause button but it does have delete, good to know.
This includes moments that have shall we say straddled the line of controversy, by which I mean took one big hoofing step over the line turned back to us and winked.
Peacock has been quietly deleting some of these scenes including Roddy Piper doing half black-face against Bad News Brown at WrestleMania VI and Vince McMahon saying the 'N' word during Survivor Series 2005.
According to sources familiar with the situation the streaming service is reportedly reviewing all 17,000 hours of WWE content to make sure that it lines up with Peacock's standards and practices. That poor quality control person, if you thought watching Raw weekly was bad this could basically be a new form of torture.
WWE is being made aware of any edits to its older programming, and according to Fightful the moments in question are still available to watch on the WWE Network.
If you could delete one WWE moment from history what would it be and why? Let us know in the comments.
Backstage Update On The Fiend vs Orton Booking
Fastlane saw the return of The Fiend, extra crispy edition, who appeared to give Orton a good spooking.
One of the things we've discussed a few times about the feud on podcasts and reactions is how it seems weird that Orton is a heel in this feud when the Fiend is a literal monster.
And that might be because WWE sees The Fiend as the babyface in this storyline, according to Twitter users who say they were part of the Thunderdome audience at Fastlane and Raw "the host said nothing during that segment at the PPV. On Raw this week the host wanted "Big Boos for Randy Orton", and nothing until the show went off the air".
Trying to burn Alexa Bliss alive will get you that.
Now not booing the Fiend doesn't automatically make him the babyface – he and Alexa have tormented Randy with black goo barfs, fireballs and wife troubles for a while now, but it definitely does paint this feud as comeuppance for a naughty Orton and gives a little sympathetic air to Fiend and Bliss.
Major Update on Keith Lee WWE Status
Someone else I have a lot of sympathy for is WrestleTalk fave Keith Lee who has been missing from WWE TV since before Elimination Chamber.
You may remember that Lee was set to be included in the triple threat match against Bobby Lashley and Riddle for the US Title, but was replaced with John Morrison.
Lee was said not to be cleared at the time and Fightful Select are now reporting that this issue is ongoing.
Lee's current absence is related to a health issue and he still has not been medically cleared, he is actively trying to get himself ready to go, but following tests he hasn't been cleared as of yet.
Wishing you a speedy recovery Keith, can't wait to see you back.
Top WWE Star's Future Uncertain?
After a stellar, show-stealing performance at Fastlane that made a lot of people go "Daniel Bryan is a very good wrestler", and made a great case for a triple threat at Mania, don't rule it out, it feels like D-Bry is back to the height of his powers in WWE.
So it seems like Bryan has a very difficult choice to make – as he has spoken about many times his current WWE contract is up soon and he needs to make a choice about how he wants to continue in WWE if at all.
He has floated in previous interviews the idea of going down to a more part-time role so he can spend time with the family – but in an interview with talkSPORT and Wrestling Daily's King Egg Alex McCarthy he said that while he wants to spend more time with the famalam, he also wants to provide financially too.
He added: "it's really just an evaluation of what's important to me".
"Going out and doing this thing that I love every week, but being away from my family, being away from my wife and kids three days a week, and they're at this stage that you don't ever get back."
He is a man torn between his love for pro-wrestling and the love for his family. 
"What do you love personally, but also what's the most important thing, that's the struggle that I'm dealing with right now – what's more important?"
Bryan Says No One Appreciates Lesnar
In the interview Bryan also touched on his match with Brock Lesnar from Survivor Series 2018, saying he had wanted the match for a long time, but had envisioned it as Yes man Daniel Bryan rather than the planet's champion.
Unsurprisingly it was a great match, getting 4.5* from Meltzer, and Bryan told Alex: "I don't think anybody appreciates how great Brock Lesnar is and the mind that he brings to wrestling."
He said Brock's character of sort of seemingly not really caring about the wrestling is not true at all.
He said: "Brock Lesnar loves this. He just also loves farming, loves being at home and he's not going to do it just because he likes doing it, he's going to do it because 'hey, you need to pay me to put my body on the line' that sort of thing, right? But his eyes light up when he does this."
WWE Announces Irish TV Deal
In other news, there is some good news for WWE fans in Ireland, because WWE has announced a new partnership with Virgin Media Television.
This means for the first time in Ireland, Raw and Smackdown highlights are going to air on TV. 
It's going to be a one hour cutdown show Saturday and Sunday mornings on Virgin Media Two – and I can't stop thinking about that one hour version of Raw. Sounds dreamy.
AEW Unveils New Signing
After good showings on Dark and Dynamite including the mixed-tag match with Cody Rhodes, Shaquille O'Neal and Jade Cargill, Red Velvet has managed to stir herself up a new contract with the company.
Executive Vice President Cody Rhodes announced on Twitter that: "Red stepped up in a huge way! @TonyKhan saw what over a million people saw that night and upgraded her contract. She's ALL ELITE now!"
Not to be outdone NXT have also done a signing.
NXT Makes Another Signing
It seems WWE have been making more of an effort to sign more women lately to their company, with their latest class of performance center recruits having the most women out of any class previously, including former Impact Knockouts Champion Taya Valkyrie, as well as making big signings such as Meiko Satomura who recently joined NXT UK.
And it seems another has joined their ranks, as Stardom and Rev-Pro standout Bobbi Tyler has changed her social media handles to reflect her apparent signing with the company. The 24-year old has changed her username on Twitter to @StevieTurnerWWE, which is just the discount name version of Bobbi Tyler really isn't it.
With NXT now having its own Women's Tag Team belts, the more women that can make their way to its stacked women's division the better, so they can not keep running rematches for the belts, which they've already started doing.
AEW + NXT Viewing Figures
With the Wednesday Night Wars seemingly coming to a close after WrestleMania with NXT reportedly set to move to Tuesday nights, the final couple of weeks remain of conflict in the viewership figures, and the ones for this week's episodes are now in.
Featuring the contract signing between Adam Cole and Kyle O'Reilly and an intense promo segment between Finn Balor and Karrion Kross, NXT managed to pull in 678,000 average viewers, with a .17 rating in the 18-49 demographic. This is a big increase from last week's 597,000 viewers. The card for the two-night NXT TakeOver Stand & Deliver took shape on this show, which looks bloody marvelous.
Meanwhile over in AEW, their episode featuring the main event of John Silver vs Darby Allin for the TNT Championship managed to pull in an average of 757,000 viewers, a slight decrease on last week's 768,000, with a .42 rating in the 18-49 demographic.
But with NXT set to move to Tuesdays after WrestleMania, what does that mean for Impact Wrestling, which already airs on Tuesdays?
Impact Moving To Thursdays
Well it was announced by Impact themselves that they're not going to try and compete with NXT, and instead they're going to be moving back to Thursday nights, starting on April 8. This means that for the first week, they'll be competing with the second night of NXT TakeOver, however going forward it may benefit them greatly with their relationship with AEW as AEW can push them to watch the following night's Impact show instead of telling them to wait until the following Tuesday.
Adam is back with some more fantasy booking – this time booking John Cena's final run in WWE. How would he have him retire? Find out by pressing the video to the right and watching on partsFUNknown, subscribe there while you're at it, and press the video below that to find out more about Alexa Bliss and Randy Orton having heat about their Fastlane finish. Subscribe here for daily wrestling news videos, I've been El Fakidor, your Jam That Jampion, Jam That Jam.
What are your thoughts on the above story? Let us know in the comments on Twitter or Facebook.