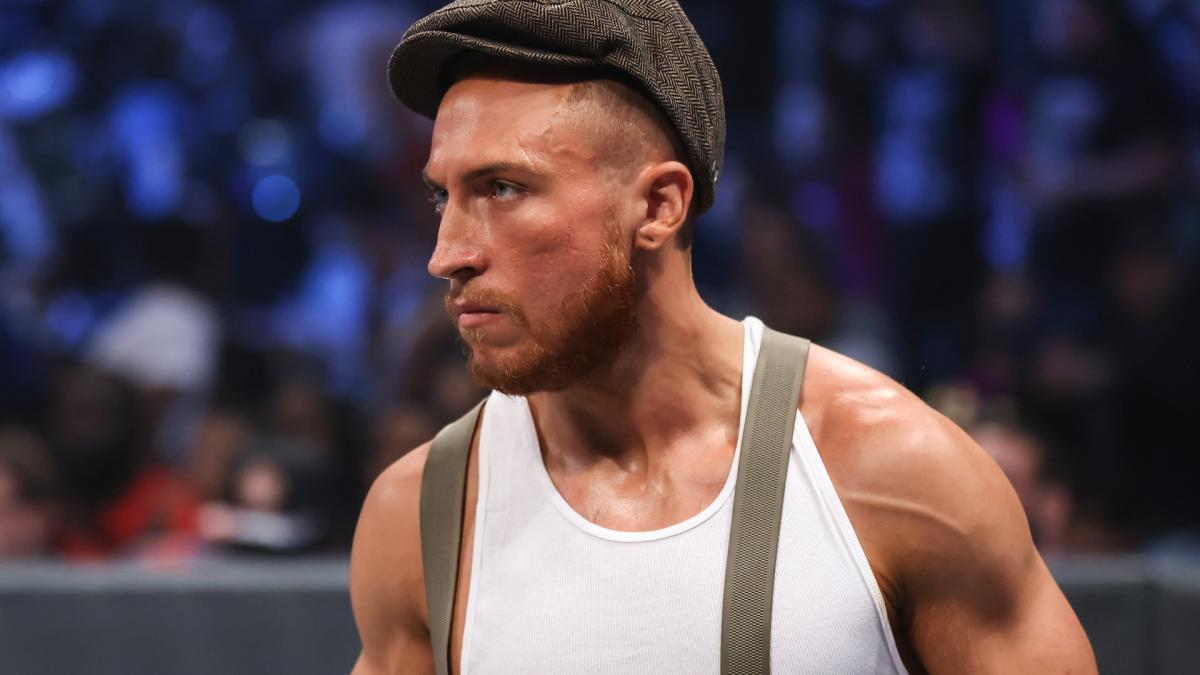 Pete Dunne has revealed what he really thinks about being renamed Butch, it sounds like there'll be another notable name change soon, WWE is high on an AEW star, and more.
It's Friday morning, the end of the week is near, thankfully, and what better way to start to the day than getting caught up on all the latest wrestling news. I'm Liam Winnard for WrestleTalk.com, and this is our audio news bulletin for March 25, 2022.
Listen to this morning's round-up here:
Butch
Two weeks ago on SmackDown, Pete Dunne was officially called up to the main roster and joined forces with Sheamus and Ridge Holland, except he was given the new name 'Butch'.
Despite making vague references to the fact that everyone else knows him by a different name and that Butch is just what Sheamus and Ridge called him in the pubs in the UK back in the day, Butch's WWE.com profile has been updated and the name change is official. He is officially Butch.
Speaking on NXT UK star Mark Andrews' Love Letter to Wrestling podcast, Butch spoke openly about his new name and how he feels about the change. He said:
"The thing is with me, whether it's a name or whatever changes, that's not what really endeared me to the audience in the first place, right? I'd like to think anyway it's the quality of the in-ring work, and that's what I'm going to keep the same, of course. And it's going to get better, it's going to improve as time goes.

"It's exciting. I've been in NXT for five years now, so time to change it up and see what we can do and push it forward with a new challenge.

"It's exciting, but it's also just a little bit different. I think it's time to change it up a little bit. Five years, fresh start, and why not try something a little new."
Well, it's good to hear that he's in high spirits, and hopefully it's something we'll all just get used to because he's way too good of a wrestler to have something like that hold him back.
As you probably know by now, the WrestleMania plan was to do the three members of New Day vs Sheamus, Ridge and Butch, but obviously that's off the table now because of Big E's broken neck, so we'll have to see how WWE recalibrates it.
Another Name Change
Speaking of name changes, we could be getting another one pretty soon.
Gable Steveson is on his way into WWE and will be making his presence known at WrestleMania, but apparently there's one little thing that needs to be figured out first, that being the matter of having two Gables.
WWE already has Chad Gable, and because Gable Steveson has name value since he's an Olympic gold medallist etc, he won't be getting a new name, and will be Gable Steveson in WWE.
You might think, well that's not really a problem, but apparently, it is.
Speaking in an interview with the MMA Hour, Steveson said:
"We're gonna have to have a talk with him (him being Chad Gable). I mean, I don't when I'm gonna even talk to him. It could be WrestleMania, it could be somewhere else. I'm just not sure.

"You can't (have two Gables). You can't but right now we do. So there might have to be a little switcharoo. I don't know, but I love Chad too. He's a cool dude."
Chad Gable is obviously no stranger to the dreaded WWE name change factory, as he was previously Shorty Gable and then Shorty G for a period across 2019-2020.
As another interesting side note, Gable Steveson's brother, Bobby Steveson, is actually a member of the NXT roster and he did get a new name, that being Damon Kemp.
WWE High On AEW's Ethan Page
We mentioned yesterday that Ethan Page has signed a contract extension with AEW, but it sounds like if he didn't, he may have been able to find a new home in WWE.
Speaking on the Mat Men podcast, Andrew Zarian reported:
"Ethan Page is another dude that WWE is very high on. They like Ethan Page's whole deal.

"I know that Ethan Page has re-signed and he's there for a while but I know for a fact that there are eyes on him for sure because he's a guy who is a good looking guy who can cut a great promo.

"He has that TV look, so you gotta keep a guy like that happy, especially now that he re-signed with you. You gotta do something with him."
AEW recently subtly teased a split between Ethan Page and his tag team partner TNT Champion Scorpio Sky, but they were back together seemingly as normal this past Wednesday.
Page joins the list of AEW stars WWE has its eyes on, which also includes the likes of MJF, Wardlow and Jade Cargill.
Other Stuff
In other little bits of news…
WWE appears to have changed the AJ Styles vs Edge match from WrestleMania Sunday to WrestleMania Saturday.
Sting filed several trademarks based off of his iconic facepaint design, notably including a trademark for it to be used for energy drinks.
You can never really tell whether MJF's saying these things in character or not, but he said that he's not going to re-sign with AEW before his contract expires so he can wait for an offer from WWE and compare the two.
Speaking of MJF, as part of his storyline with Wardlow, Wardlow has been removed from the AEW roster page. The idea is that MJF is going to keep Wardlow under contract, since he's contracted to him not AEW, but he's just going to pay him to stay at home so people completely forget about him. Basically what WWE is doing in real life with Mustafa Ali.
Former ROH head booker Gabe Sapolsky posted an apology about some of his in-character commentary on old ROH shows and asked Tony Khan to edit it out.
Danhausen said that he'll be able to return to in-ring action for his AEW in-ring debut "sooner than later".
Fightful Select reported that WWE had planned an NWO appearance during WrestleMania weekend as part of a promotion deal for WWE 2K22, but that was before Scott Hall sadly passed away. It's currently unknown whether the other members will still do the appearance or it just won't happen all together.
Shane Helms, AKA The Hurricane, revealed that he has signed a legends deal with WWE.
And AEW has filed for two new trademarks. The first is Undisputed Elite, which you would think is the faction name for Adam Cole, the Young Bucks and reDRagon, and the second is AEW: Fight Forever, which going by the description, appears to potentially be the name of the upcoming AEW video game.
Be sure to stay tuned to WrestleTalk.com throughout the day to keep up with all the news from the world of pro-wrestling, and I'll see you Monday morning for another round-up.