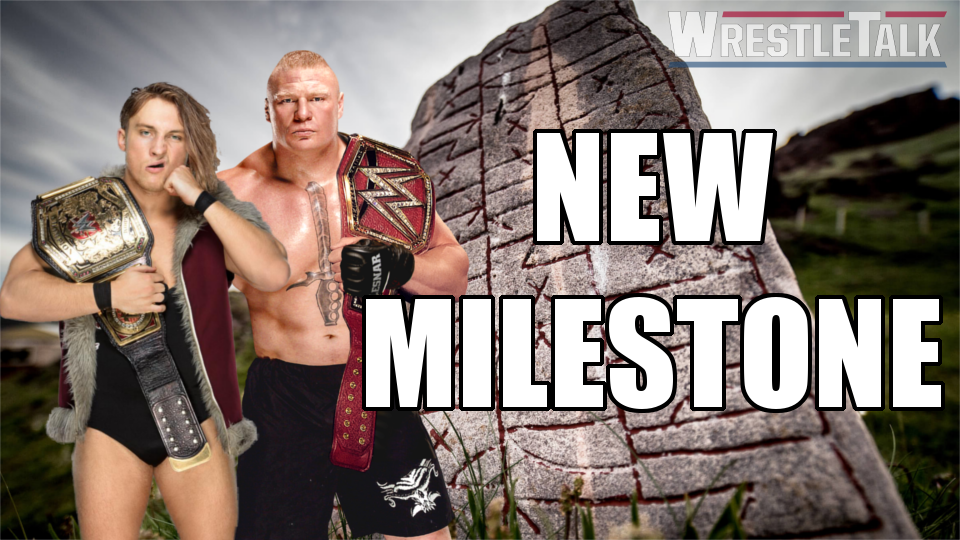 On Sunday, June 24, Pete Dunne's WWE United Kingdom Championship reign surpassed the 400-day mark. The only person ahead of him is current WWE Universal Champion Brock Lesnar at 450 days and counting. Don't expect to see the 'Beast' defend his title anytime soon, however, as he simply may never return if the Extreme Rules main event change is anything to go by.
Nevertheless, now that Dunne has broken into the 400s, he and Lesnar have officially accomplished something that has not been seen in WWE for three decades. The company now has two singles champions with simultaneous 400-plus-day reigns. This the first time since 1988 in which the feat was shared by the 'Sensational' Sherri (WWF Women's Championship) and the Honky Tonk Man (WWF Intercontinental Championship).
.@PeteDunneYxB's reign as @WWE United Kingdom Champion has now surpassed 400 days. #WWEUKCT

This is the 1st time since 1988 that @WWE has TWO singles champions (Dunne & @BrockLesnar) who both have 400+ day reigns with titles at the same time. In '88 it was Sherri & @OfficialHTM.

— Wrestling Stats & Info (@WWEStats) June 25, 2018
Lesnar is likely in line to lose the title to either Bobby Lashley or Roman Reigns. That is when he decides to show up this year at least. Remember when competitors were stripped of their championships if they could not or would not defend it for 30 days?
Dunne, however, is seemingly set to carry the upcoming NXT UK brand with his title in-hand… or in-mouth. Regardless, the 'Bruiserweight' seems destined to outlast the 'Beast'. He may even become the longest reigning men's singles champion of the modern era in doing so. Not bad for a lad from Birmingham, England.
If Lesnar's ongoing controversial WWE vs. UFC storyline is more shoot than work, Dunne keeping hold of the title may be a quick way in Vince McMahon's eyes to rectify the record books after using Lesnar to do the exact same to CM Punk earlier this year.
Can you envision Pete Dunne as WWE's longest reigning singles champion? Should Brock Lesnar be stripped of the WWE Universal Championship? Let us know in the comments below or on Twitter here. You can also join us on Discord to chat with Oli, Luke, the magazine team, the website writers and each other here!