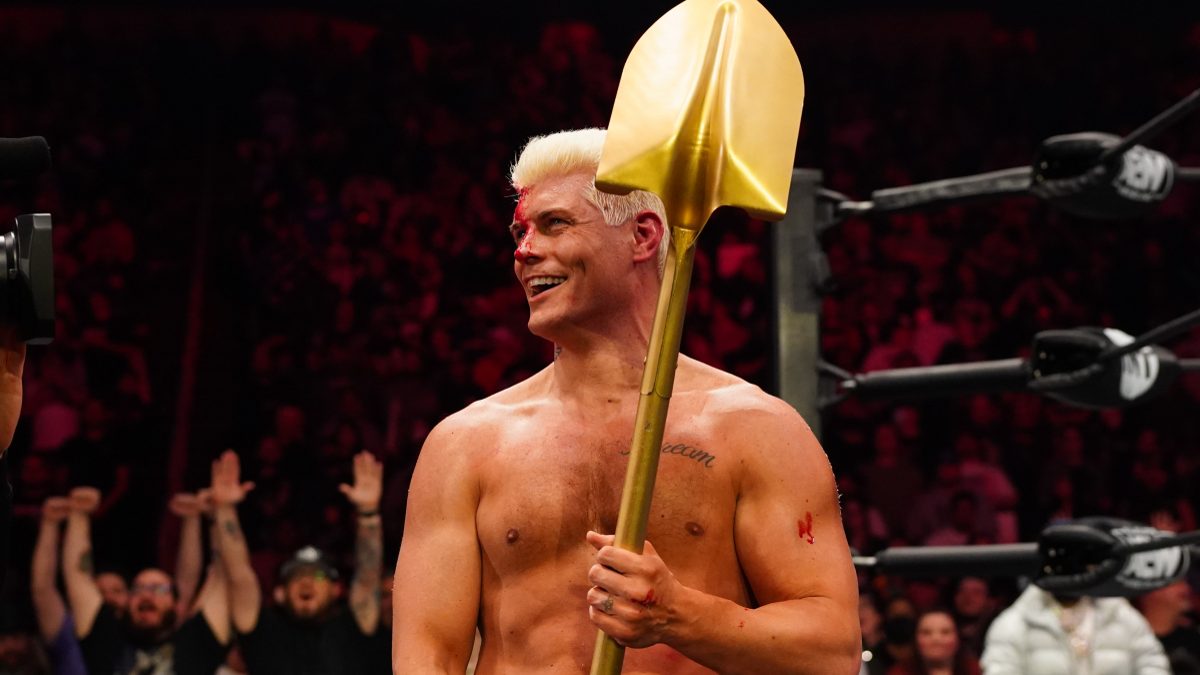 Some ACTUAL news on plans for Cody Rhodes in WWE, mild WrestleMania 38 spoilers (not actual results so don't worry), AEW has a new partner promotion, and more!
It's Monday morning, there hasn't been an audio update for a couple of weeks because I was on holiday, but they'll be back daily from now on. I'm Liam Winnard for WrestleTalk.com, and this is our audio news bulletin for March 21, 2022.
Listen to this morning's round-up here:
Cody Rhodes WWE Plans
For weeks, speculation and rumors swirled about Cody Rhodes potentially heading to WWE but there was always that element of uncertainty, but now, it seems certainty has been achieved.
PWInsider reported that Cody Rhodes is signed with WWE, and the deal was actually signed a couple of weeks ago at this point.
The plan is for Cody Rhodes to face Seth Rollins at WrestleMania, although it's unclear whether he'll show up on Raw in the leadup to WrestleMania, or his return will actually be at WrestleMania itself as a mystery opponent or something like that.
Reddit user Kerrmit125, who has emerged with an accurate track record of multiple correct reports in recent weeks and has been investigated by the SquaredCircle page and deemed a reliable insider, reports that Rollins vs Cody is scheduled for WrestleMania Sunday. Fightful Select also reported there are travel plans in place for Cody to be at the Sunday show, so all signs point to that being the night it'll take place.
When it comes to beyond WrestleMania, PWInsider reported that the plan is for Cody to be on the Raw brand, with Fightful reporting that he is scheduled for the Raw after WrestleMania, which would certainly seem to back that up.
Other WrestleMania Spoilers (Sort Of)
Speaking of WrestleMania some kinda-sorta spoilers have emerged about what's planned for the event, but as mentioned before, there's no actual results of matches being spoiled, or anything like that.
Kerrmit, who we mentioned before as having reported that Cody vs Rollins was scheduled for WrestleMania Sunday, also gave a couple of other details about the placement of some big matches/segments.
First of all, we knew that Becky Lynch vs Bianca Belair was set for night 1, but Kerrmit is reporting that the match is set to be the opener for the show.
That's not all, because the report goes on to add that the Kevin Owens/Steve Austin segment is actually slated to close night 1, which would mean it wouldn't be Charlotte Flair vs Ronda Rousey which is what most people would have expected.
Keep in mind that plans do change, as we've seen plenty of times throuhout the past few weeks for WrestleMania especially, but that's what WWE has planned as of right now.
Another possible WrestleMania spoiler is that Gable Steveson, who this past weekend won the NCAA Championship to cap off his pre-WWE career, tweeted that he will be at WrestleMania, but then deleted that tweet, so maybe he wasn't meant to tell everyone quite yet.
AEW Partners With DDT
Switching over to AEW, and the promotion has announced a brand new partnership with Japanese promotion DDT, that will see DDT's wrestlers head to America to work AEW shows.
The announcement was made on social media by AEW's Vice President of Talent Relations Christopher Daniels.
Daniels said:
"I'd like to say congratulations to DDT for their 25th anniversary, and I'd like to also announce that AEW and DDT have come to an agreement to bring DDT's wrestlers to the United States of America. And I for one am looking forward to introducing the top talent from DDT to the American wrestling fan base."
There haven't been any announcements yet about who specifically from DDT we'll see in AEW, or in what capacity it'll be – it could just be some matches on Dark or something – so we'll have to wait and see on that.
Other Stuff
In other little bits of news…
Tony Khan announced FTR vs the Briscoes will take place at ROH Supercard of Honor, following reports that WarnerMedia didn't want the Briscoes in AEW due to homophobic comments that had been made years ago by Jay Briscoe, so this was a way for Khan to work-around that and still do the match.
Mustafa Ali, who is still being held hostage by WWE after requesting his release, tweeted: "A humble and fair warning, as soon as all this gets sorted, I'm gonna absolutely body all of your faves". It's believed Ali still has over two years on his WWE contract.
Matt Sydal revealed he suffered a dislocated knee a few weeks ago and that's why he's been out of action recently.
Kevin Owens took to Twitter to praise the tag team match on SmackDown that had Sasha Banks & Naomi taking on Rhea Ripley & Liv Morgan, before it was ruined by Natalya & Shayna Baszler as a way to add them to the Women's Tag Title match at WrestleMania.
Some idiot posted a fake tweet that a few WWE stars had been released. Shelton Benjamin was one of them, and he specifically came out and said it wasn't true.
There were some late changes made to this past Friday's SmackDown in that there was originally going to be a Ridge Holland promo addressing Big E's broken neck from a week prior, but that promo didn't happen and instead, WWE showed Big E's social media updates before Holland picked up a win over Kofi Kingston.
One other late change was to the six-man tag team match with Drew McIntyre and the Viking Raiders taking on Happy Corbin, Jinder Mahal and Shanky. Originally it was supposed to be Corbin, Mahal and Madcap Moss, but Shanky ended up replacing Moss for unknown reasons.
WWE announced an injury to Bianca Belair, which is said to be a "fractured hyoid bone in her throat" after the attack from Becky Lynch on Raw last week, which seems to be purely a storyline injury ahead of their match at WrestleMania.
Jeff Jarrett appeared at a WWE house show in Springfield, Illinois as a special guest on Miz TV.
Natalya revealed in an interview that Brock Lesnar has been watching SmackDown matches and giving feedback backstage.
Jonathan Gresham won the PROGRESS World Championship from Cara Noir at PROGRESS Chapter 130. This makes him the first American to hold the PROGRESS Title, and also means he holds a title affiliated with WWE at the same time as holding the ROH World Title, which is now affiliated with AEW since Tony Khan now owns ROH.
Toni Storm made over $30,000 at the very least – probably way more – from her OnlyFans launch in just one day.
Fightful Select reports that Hernandez is finished with IMPACT Wrestling for the time being, but the door is still open for a return at some point.
Former NXT Champion Robert Roode will have his first singles match in NXT in over four years tomorrow night as he's been announced for a match against Bron Breakker.
And as for tonight's Raw, the only thing announced is that AJ Styles will be back to address Edge's attack from a couple of weeks ago ahead of their WrestleMania match.
Be sure to stay tuned to WrestleTalk.com throughout the day to keep up with all the news from the world of pro-wrestling, and I'll see you tomorrow morning for another round-up.