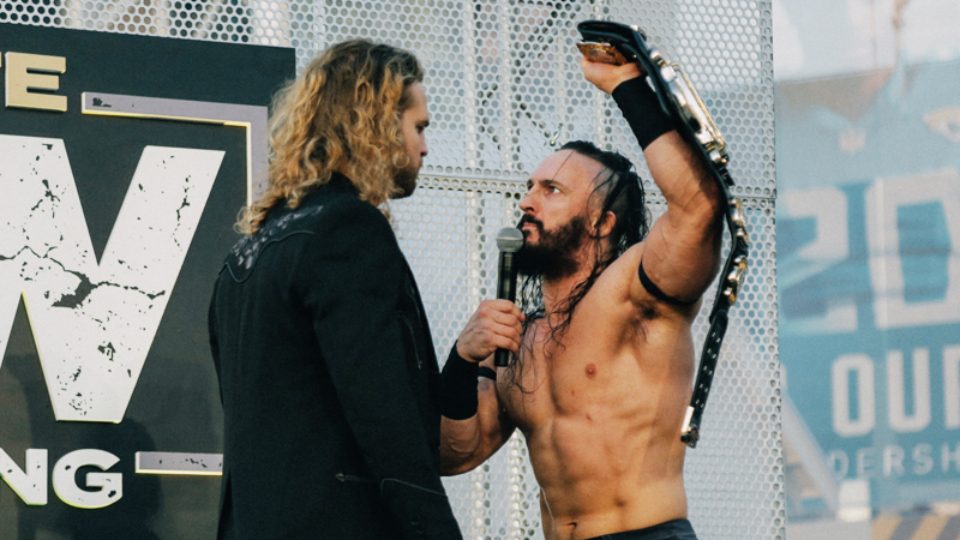 Before All Elite Wrestling have even had their first proper show, they have already had one of their top stars quit the company. Yesterday at a WrestleGate show in Nottingham, England, PAC said he wouldn't be coming to AEW after an impromptu match with his Double or Nothing opponent, Hangman Page.
Wait! PAC says he isn't going to #DoubleOrNothing and he isn't going to @AEWrestling !!!!!@theAdamPage @BASTARDPAC @MattJackson13 @NickJacksonYB @CodyRhodes @TheBrandiRhodes @IAmJericho @WONF4W @ryansatin @WrestleGatePro #LionsSpirit pic.twitter.com/mQGmugZjPU

— Ringsiders Wrestling (@Ringsiders_) May 18, 2019
Some people are uncertain about whether this is a work or not and if PAC will actually not be attending Double or Nothing in Las Vegas on May, 25. Dave Meltzer of the Wrestling Observer has said that this is not part of a storyline and PAC will really not be at Double or Nothing:
"The angle at [yesterday's] WrestleGate show in Nottingham, England involving PAC and Hangman Page was done largely to present the match that had been built up because the match won't be taking place at Double or Nothing on Saturday."
Meltzer explained why the match won't be happening and why PAC is seemingly already done with AEW:
"The official word from AEW is that there were creative differences regarding the match and Pac won't be on Saturday's show. With PAC's regular matches in the U.K., it's known that beacuse he takes his status as world champion with Dragon Gate seriously, he has not agreed to any losses since winning the Open the Dream Gate title and to protect that has done 30:00 draws with Zack Sabre Jr. and Will Ospreay. On the flip side, AEW wants to present a sports-like atmosphere and had their own direction for what they wanted".
Meltzer did state what the match will be shown for free at some stage this week, and said that the DQ finish leaves the door open for the former WWE Cruiserweight Champion to work with Page and AEW at some stage in the future if the two parties can iron out their differences. He also confirmed that a new opponent for Page at Double or Nothing will be announced:
"The Pac vs. Page match will be released this week on the Internet by AEW with the idea that everyone can see the match, even if it had a DQ finish, for free, so fans are getting the hyped up match. Page agreed to fly to England and do the match to make up for the hyped match not happening on the PPV. Page will be wrestling against a new opponent, although the name probably won't be announced before the PPV show. The DQ finish kept things open ended enough that Pac may be back with the promotion at some point to face Page, although there is no definitive time frame."
As of yet, AEW has not released an official statement on this weekend's events. WrestleTalk will provide more information if and when it becomes available.