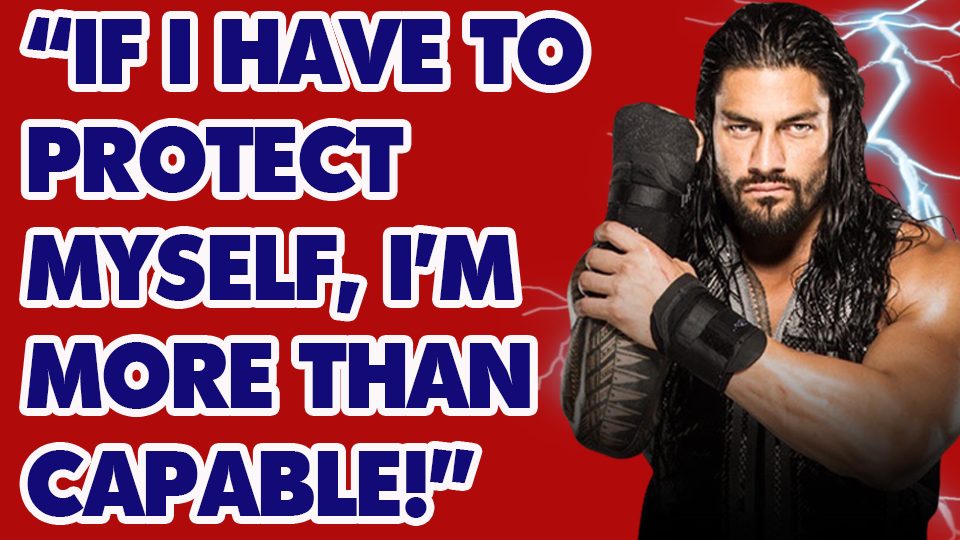 Whether it's their WrestleMania 31 main event, their on-screen rivalry, 'shoot' comments, or Roman Reigns cousin The Rock selflessly helping to make Brock Lesnar a star at SummerSlam 2002, no one can deny the pair have a wealth of history which will come full circle on April 8 at WrestleMania 34.
https://www.youtube.com/watch?v=ECqJxsweaLo
No one is any doubt that the final offering between both men – WWE will not book this again even if Brock stays – will be a hard hitting affair, but what would happen if Lesnar went rogue as he did with Braun Strowman at the Royal Rumble?
This is just one of the subjects that cropped up when the WWE Universal Champion elect appeared on Cheap Heat with Peter Rosenberg to promote the upcoming title match. When asked of his plans if Brock chooses to throw 'shoot' punches, Reigns had this to say, forewarning an all out shoot fight should something off script occur:
"If he throws two at me, I'm throwing three back. My dad was a big man. One of the easiest things about wrestling Brock Lesnar is that there isn't much thinking about it. It's just all physical stuff, and I've been doing physical stuff since I was seven years old. I played Division-One Football at Georgia Tech, so I've seen and been around some of the best athletes in the world. What we do is a different form of entertainment and athleticism, but you still have to be an athlete in order to do what we do all year round. You have to keep yourself in that shape so, I'm never scared to be able to push that button, let's go. If I have to protect myself, I'm more than capable, no doubt."
Whilst Reigns' responses would have been carefully vetted by WWE and the idea their bout may descend into all out chaos will attract more viewers out of curiosity, one cannot help believe Vince McMahon wouldn't have been thrilled at the comments that his biggest star is ready to throw down in a non-WWE way should the moment call for it.
https://www.youtube.com/watch?v=_UEFELfzTo4
Elsewhere in the interview, Reigns touched on Brock Lesnar's current standing within the WWE Universe. Be warned, the rest of what is to come is a work, with Reigns talking as if the current angle with Lesnar is reality:
"It's a little bit different for him, right now, especially where we are at and the stuff I am bringing to light about him and his character and work ethic. I think some of the fans are taking it negatively. For the most part, Brock Lesnar is a cool dude, you can't deny the fact that he is a big, jacked up brother who comes in and throws people on their necks."
Strange terminology aside, the question opened up a query about the chemistry between Reigns and Lesnar between the ropes:
"I've had interactions with him; I've had history with him. We had our main event match at WrestleMania 31 and we had a few different four ways and triple threat matches like that, where others characters were involved. It's a different dynamic. Every time you are in a situation like that you do get to spend a little more time with somebody. Yeah, on his own time he seems like a cool dude, I don't him that well, but we're not friends or anything."
Some of the language Reigns uses in this conversation is odd to say the least, but I for one cannot wait for the Vince McMahon edition where he comments on Reigns being willing to break character in the ring and calling the man he's spent weeks shaming a "cool dude." If only the world were that wonderful a place.
Roman Reigns challenges Brock Lesnar for the WWE Universal Championship at WrestleMania 34 on April 8, on the WWE Network.