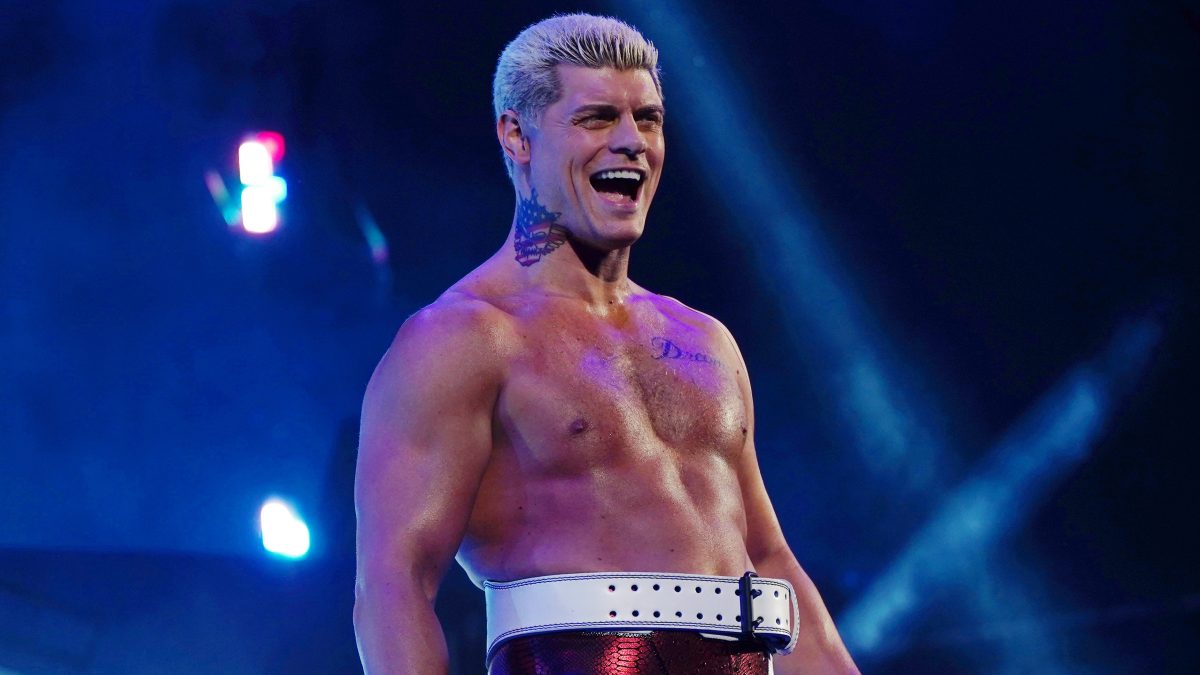 A released WWE star is back with the company, WWE hit us with several Cody Rhodes teases, some beef between NXT and AEW stars on Twitter, and more.
It's Tuesday morning and what better what to start the day than getting caught up on all the latest wrestling news? I'm Liam Winnard for WrestleTalk.com and this is our audio news bulletin for February 22, 2022.
Listen to this morning's round-up here:
Drake Maverick Back With WWE
Drake Maverick, who was released by WWE in November 2021 for a second time after origially being released in April 2020 and re-signed almost immiedately, is back with the company once again.
This was reported by PWInsider, who mentioned that Maverick is on the Raw creative team, and has been for 3-4 weeks now.
There hasn't been any word on exactly what Maverick has been involved with to this point, nor any further details on his role beyond him being on the creative team.
So Drake Maverick is back with WWE, but is Cody Rhodes? That has been a question on everyone's minds since last week, and the consensus seems to be, that yes he is.
WWE Teases Cody Rhodes Several Times
Cody, however, did not show up on Raw, despite there being several times WWE teased him doing so.
You might remember there was a hint of a Cody tease when The Miz said at Elimination Chamber that he was going to have a "handsome" surprise coming to Raw.
Well WWE played into that again – twice – last night. The first time was ahead of the show on Twitter, when WWE promoted the Miz TV segment and wrote that "Adrenaline was in the air", which seemed eerily similar to the first line of Cody's entrance music, "Adrenaline, in my soul".
If you thought that might have been a coincidence, fast forward to the show itself when Miz was hyping up his surprise again, he specifically referred to his new tag team partner as "Dashing", an obvious callback to when Rhodes was 'Dashing' Cody Rhodes.
Miz's partner ended up being Logan Paul as had been reported ahead of time, but that wasn't the last of the Cody teases.
Edge appeared on last night's show for a promo about his match at WrestleMania, where he made references to several different potential opponents, one of which was Cody Rhodes.
Edge did this through buzzwords, one of which was "Phenomenal", which was on an obvious nod to AJ Styles who he could be facing, one was "Live Forever" which would seem to be a reference to Damian Priest, and the other was "Undeniable", a word that became synonymous with Cody Rhodes.
So whether he's on his way back there or not, WWE is well aware of the rumors and is absolutely playing into them.
Carmelo Hayes Vs. Max Caster Twitter Beef
It's been a while since there was a good old Twitter exchange between someone from NXT and someone from AEW, but that changed yesterday thanks to Carmelo Hayes and Max Caster.
It's worth prefacing this by making clear that Hayes and Caster had worked together a lot on the indies in the past and the exchange seemed to all be in good fun – between them, at least. Not sure everyone else on Twitter took it the same way, as usual.
But anyway, it started when Hayes shared a gif of him doing a hand gesture to create the letter "A" to signify that he is the "A-Champion", which has been his go-to nickname/catchphrase since he won the North American Title.
However, that same gesture is used by the Acclaimed on AEW programming – the team of Max Caster and Anthony Bowens – which Caster made sure Hayes knew about by tweeting one of his catchphrases: "Everyone loves the Acclaimed".
Hayes' response to that is where everything ramped up a little bit, because he said: "Damn I didn't know this was your thing, I don't watch the YouTube show ‍♂️".
Prompt the witty, well thought out, clever response from Caster a little bit later, when his devstating rebuttal to Hayes' dig was: "You're being racist".
Like I said earlier, it was all in good fun, and quite frankly, it's nice to see people having fun.
Other Stuff
In other little bits of news…
Brian Pillman Jr had posted an emotional message on Instagram saying that he was moving out of Jacksonville, which some people took to mean he was leaving AEW, which he later clarified that he isn't. He's just moving out of Jacksonville and back to Cincinnati.
The latest update on Bobby Lashley is that he was seeing a doctor yesterday so should know very soon if the shoulder injury he suffered at Royal Rumble will require surgery or not.
In other updates, Madcap Moss was said to still be doing fine after his terrifying bump during his match against Drew McIntyre at Elimination Chamber, and speaking of McIntyre, he was doing fine too, despite it being his first singles match since January 1 due to him taking it easy thanks to his own injury issues.
Ringside News reported that quote "nothing is off the table" when it comes to pitches being made backstage for WrestleMania.
Being The Elite made yet another reference to "erratic behavior" with the Young Bucks asking Matt Hardy to take a drug test, as the teases of Jeff Hardy coming into the company continue.
Our very own Sanchez Taylor interviewed 'Sw3rve The Realest' (the former Isaiah Scott) and Session Moth Martina after PROGRESS Wrestling Chapter 129 this past Sunday – you can listen to both of those interviews on the site right now and we'll continue posting notable quotes.
Speaking of PROGRESS, the company announced Sw3rve as first entrant in Super Strong Style 16 on June 3-June 5. PROGRESS also announced a title vs title match between PROGRESS Champion Cara Noir and ROH Champion Jonathan Gresham for March 20.
It was revealed that William Regal will be available to select as a playable General Manager in WWE 2K22 MyGM, despite having been released earlier this year.
Yonight's episode of NXT 2.0 features Dolph Ziggler vs Tommaso Ciampa in a match where the winner will get a shot at Bron Breakker's NXT Championship. Ciampa pinned Ziggler's tag team partner Robert Roode last night on Raw in a tag match, where Ciampa was teaming with Finn Balor.
And also on the card for NXT 2.0 tonight is the big LA Knight vs Grayson Waller match which has been building ever since Halloween, and the start of the women's Dusty Classic with two of the four quarter-final matches – Io Shirai & Kay Lee Ray vs Lash Legend & Amari Miller, and Ivy Nile & Tatum Paxley vs Kacy Catanzaro & Kayden Carter.
Be sure to stay tuned to WrestleTalk.com throughout the day to keep up with all the news from the world of pro-wrestling, and I'll see you tomorrow morning for another round-up.