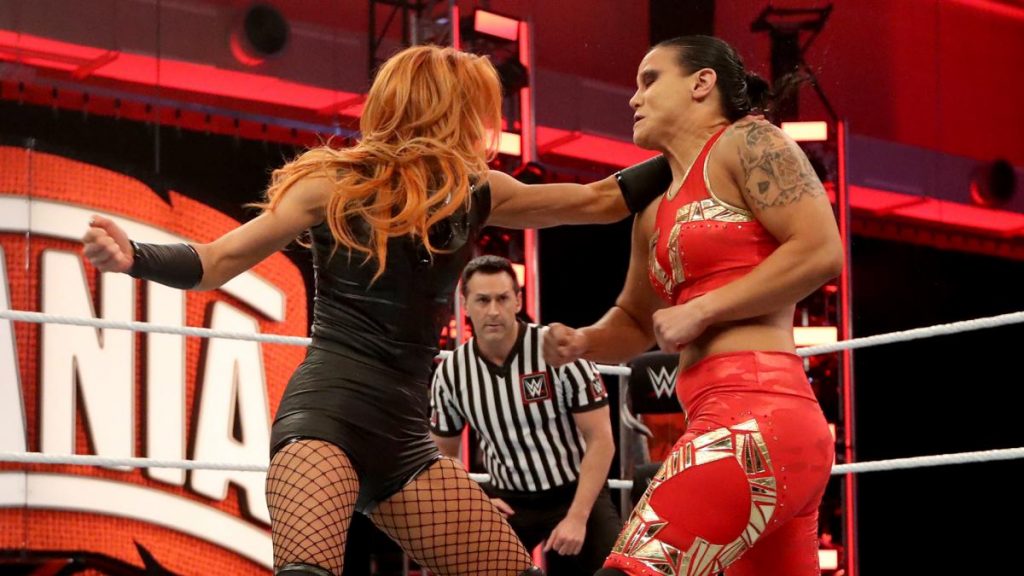 Last night on Raw, Becky Lynch announced that she will be off of TV for the foreseeable future as she and Seth Rollins are expecting their first child together.
In the process, Lynch vacated the Raw Women's Championship to Asuka. Becky revealed that the Money in the Bank ladder match the night before, which was won by Asuka, was actually for the red strap.
Lynch revealed yesterday that her baby is due in December, and also explained how she found out she was pregnant last month.
Speaking on PWInsider Audio, Mike Johnson has stated that, as far as he is aware, Becky is the first WWE star to compete at WrestleMania while pregnant:
"When she wrestled Shayna Baszler at WrestleMania at the WWE Performance Center she became the first-ever WWE performer that I know of to work a WrestleMania while pregnant.

"It makes her a hell of a warrior, but it also might explain why that match was not the physical war that we all expected and a physical brutal monster of a match. Obviously, the finish there was a little safe and a little weird and that match did not live up to what a lot of people think it should have been, but in hindsight, that makes a lot more sense and kudos to everybody involved."
WWE and Lynch obviously wouldn't have known about the pregnancy at the time, otherwise Lynch likely would have dropped the title to Baszler.
As Johnson states, the match was not as physical or as brutal as many people expected it to be. However, Shayna was on hand to remind us of a brutal spot from the match which is particularly scary considering Becky was pregnant at the time.
— Shayna Baszler (@QoSBaszler) May 12, 2020
Now that Asuka is Raw Women's Champion, who do you think she should feud with? Let us know on Twitter.