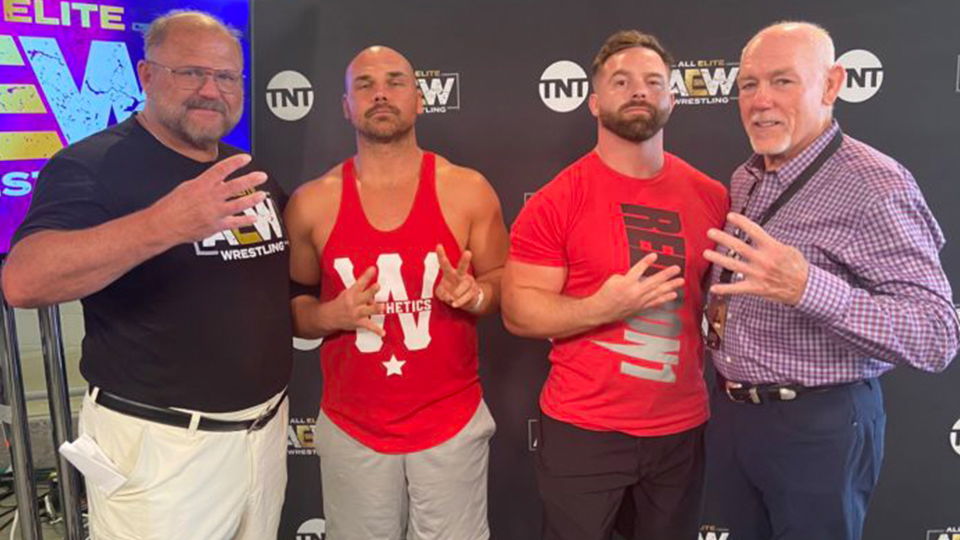 Once Scott Dawson and Dash Wilder of the Revival had left WWE, it was really only a matter of time before the duo debuted on AEW, which they did on the May 27 episode of AEW: Dynamite.
There have been rumours that while the duo, now going under the FTR name, had signed a contract with AEW, they also wanted to wrestle in Japan and around the world.
This rumour has now been confirmed by the tag team in an interview with Kenny McIntosh on Inside the Ropes.
Speaking to Kenny, Cash Wheeler (Dash Wilder) said:
"First, we got to smack the piss out of Kenny Omega for pouring out our beer. First and foremost, we've said we're the best tag team on the planet for a long time. We've proved it time and time again, but, right now, our sights obviously are going to be set on tag team gold. When you're the champions, you get the pay raise. You get all the perks that come with it. We want to be AEW Tag Team Champions. We want to just run through the entire division and have anybody that wants to step up to us. Because that's what we do. We prove it in the ring. We can prove it wherever you want, but when it comes down to it, we want to get in that ring, lace up our boots, and do what we do."
Dax Harwood (Scott Dawson) then followed this up with:
"The advantage that we have as far as not being officially signed yet is we can look broader than AEW. Obviously, the match everyone is waiting for is the Young Bucks. We're waiting for that too. After we beat Kenny Omega and Adam Page and become AEW Tag Team Champions, the next step is to beat the Young Bucks and put on the match that everyone's been waiting for and then officially we can be called the greatest tag team in the world.

"On top of all that, there are guys we're excited to face and to test out skills against. And that's like The North (in Impact). Those guys are an incredible tag team. We looked forward to working with those guys.

"Obviously, for a few years, we've gotten tagged a lot about FTR and the Briscoes (in ROH). Those guys are from Sandy Fork, and that's okay. We're from North Carolina. I guarantee you, I promise you with all ten of my fingers and all ten of Dash's finger, we can beat the hell out of them easy. I would love to test my skill and grit against them.

"Across the pond over in New Japan, Juice Robinson and Dave Finley. That's a team we are looking forward to working with. Tama Tonga and Tanga Loa (Guerrillas of Destiny).

"Ultimately, we want to stack up tag team gold. so before everything's all said and done, people can say, "You know what? Tully and Arn were one of the greatest, Midnight Express were one of the greatest, but FTR is the best we've ever seen."
FTR has said in the past that they would be interested in a new Four Horsemen stable in AEW, and following their victory over the Lucha Bros last night, they could be one step closer to the AEW tag championships.
We'll just have to see how long it takes for FTR to head off on their world domination tour.