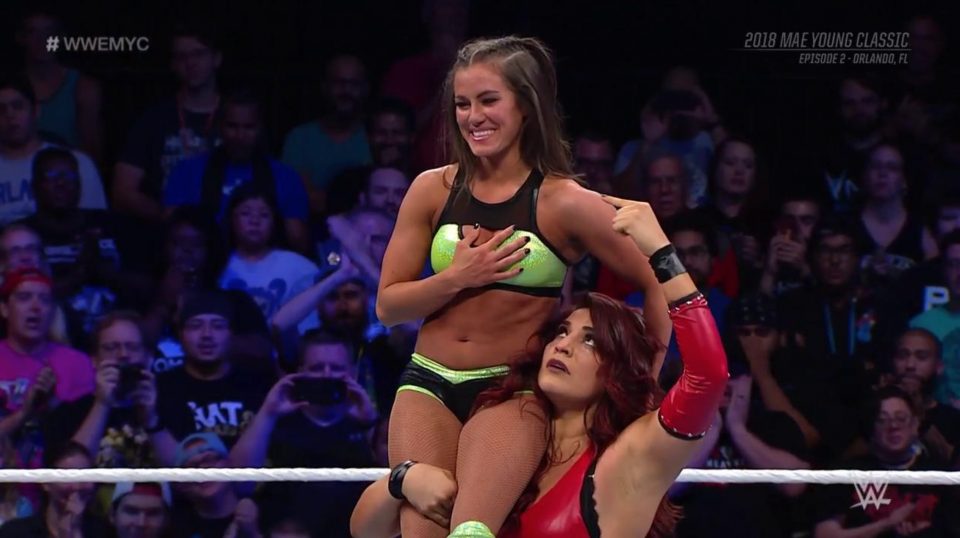 It was reported earlier this week by Casey Michael that NXT star Kacy Catanzaro had quit WWE due to a back injury.
However, according to the latest Wrestling Observer Newsletter, Catanzaro is still under contract with WWE, and has not left the company.
The Newsletter says that there were definitely rumours going around over the weekend that Catanzaro had left, but as of Tuesday this week, she was still signed to WWE. Furthermore, suggestions that she is significantly injured are reportedly false.
Regarding Kacy Catanzaro, the former gymnast and competitor on "American Ninja Warriors," who had showed so much promise and charisma on Florida developmental shows but hadn't gotten a push in NXT, Sports Entertainment Sirens reported she had quit the promotion. WWE has not commented officially on this. From what we were told by multiple people in the company, as of 9/3, she had not quit. There is smoke to the fire in the sense there is a story, there absolutely were rumors that she quit going around over the weekend, but she's still under contract and those close to the situation said she had not quit. They've also said the story that she's injured to any significant degree is also not true.
She is still listed on WWE.com as a part of the official NXT roster, and has not confirmed her departure on social media.
She has been relatively active on social media, posting several inspirational quotes alongside videos and GIFs of her wrestling, which led some to believe that she had indeed left.
For now, she is still a part of the roster, but we will keep you updated with the story as it unfolds.