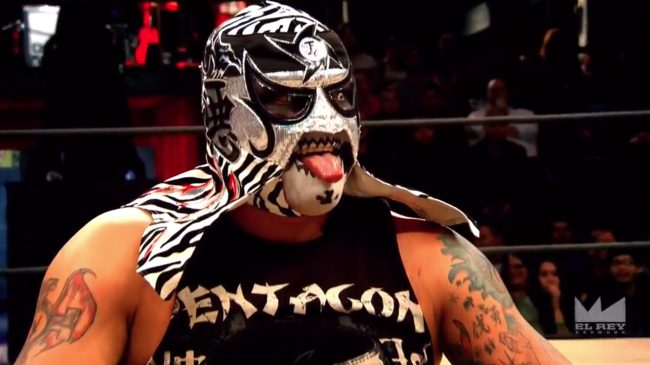 This week's Lucha Underground recapped the Grave Consequences match, which resulted in the death of Fenix and the rebirth of Catrina. The teaser also gives us Catrina beating up Melissa Santos and ditching Mil Muertes, Killshot abandoning his tag team partners, Johnny Mundo's wedding, Joey Mercury's debut, and Matanza throwing Taya through the wedding cake. This week's Lucha Underground episode is titled, "The Circle of Life".
The show begins with Catrina declaring that she's done with Mil Muertes. She coldly belittles Muertes and declares that she never loved him.
However, pissed off and ready to kick some butt, Melissa Santos challenges Catrina. The two then have an intense cinematic back and forth martial arts fight throughout the building. In the end, Catrina falls off the building to her doom as Santos stands tall. Aerostar was then able to use his time travel power to bring back Fenix to life, but he warns Santos that it will take Fenix time to be himself again.
After that thrilling cinematic arc, the first match sees Joey Mercury aim for revenge against the man that destroyed his best friend's wedding, Matanza Cueto. The match doesn't last long as Cueto gets the win with his finisher, The Wrath of the Gods. Mercury is then sacrificed to the gods.
After that then Killshot takes on Big Bad Steve with The Beautiful Brenda by his side. Steve gives it his all, but Killshot puts him away with the Killstomp for the win.
Once the match concluded, Killshot confronts Son Of Havoc, who's chillin in the stand with a bag of popcorn in his hand. The two former partners turned enemies' brawl in the ring, but Havoc gets the better of Killshot by removing his mask.
Next up, Pentagon Jr cuts a promo and challenges anyone on the roster since Johnny Mundo was no longer able to compete. Hernandez answers the challenge. Pentagon Jr. is able to get the W with the Pentagon Driver in a fairly short World title match.
King Cuerno then attacks Pentagon, first smashing him with the Lucha Underground title belt and then ending the vicious assault with the Thrill of the Kill (leg underhook Package Piledriver) on the Lucha Underground Championship. King Cuerno leaves the temple as the show goes off.
Let us know your comments below or on Twitter. You can also join us on Discord to chat with other like-minded fans, Oli Davis, Luke Owen and the WrestleTalk staff!