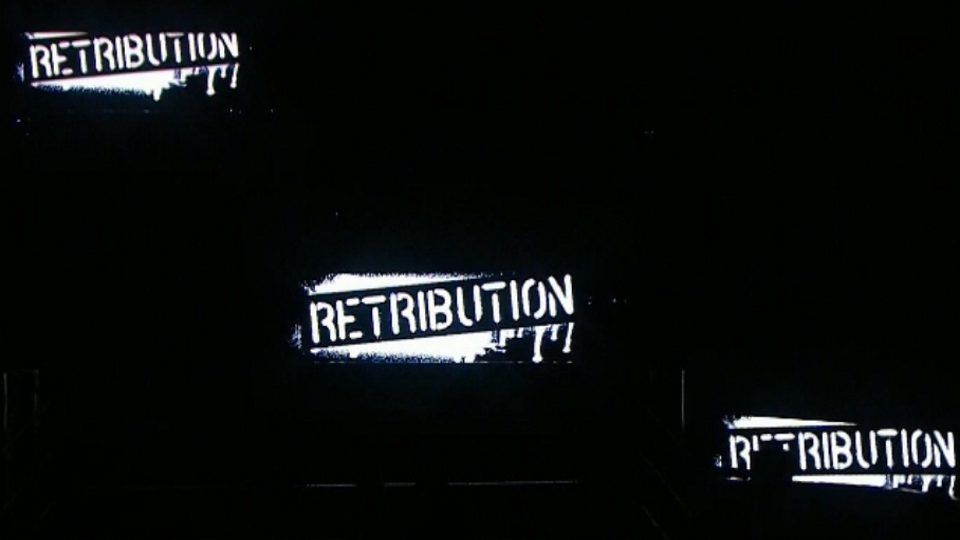 During tonight's episode of WWE Raw on the USA Network, we heard a promo from RETRIBUTION for the very first time since the group burst onto the scene.
The audio and lights were cut during a Riott Squad vs Nia Jax handicap match, the group's new logo became plastered all over the ThunderDome, then we got a promo from masked personnel.
The first voice, which was a female, said:
"This Thunderdome is only a facade – behind the mountain of screens is the same foundation. The same WWE as before. The same behemoth who discarded and disowned us and left us to survive in an unfair world. Where the powerful continue to grow, while we are left to feed on nothing but the scraps of contempt."
A second voice, which was a male, added:
"But contempt is a powerful motivator. We are driven to destroy. To lay waste to every superstar, and every fan. Blinded! You cannot see what you do not have. So the locust of contempt will feed on all of you! The darkness of RETRIBUTION will seep into the pores of every superstar and all of your so called universe. WE are RETRIBUTION!"
The voices were deepened and distorted, but clearly came from Mia Yim and Dominik Dijakovic. They seemed to be joined by Shane Thorne, Dio Maddin and Mercedes Martinez.
It has been said that the people we've seen so far might not be unveiled as the actual members (although they might), so we'll just have to keep waiting until WWE decides to finally pull the trigger.
Quotes via Rajah.com