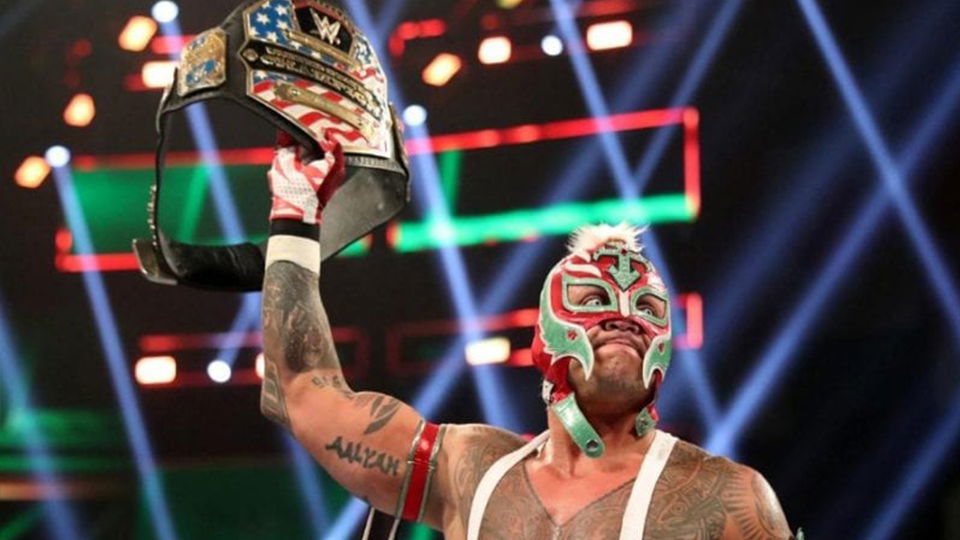 It was reported last year that WWE was considering putting Andrade and Rey Mysterio in a Mask vs. Hair match for the United States Championship on the WrestleMania 35 card.
However, Rey Mysterio was defeated by Samoa Joe on the show in a match that lasted just one minute, while Andrade was given a spot in the Andre The Giant Memorial Battle Royale.
Andrade and Rey Mysterio have been feuding for the last few weeks on Raw, with the duo having an awesome ladder match over the US title on the 01/20 show.
Speaking to TVInsider ahead of the 2020 Royal Rumble, Rey Mysterio revealed that he would be open to facing Andrade in a Mask vs. Hair match at WrestleMania if their feud is to continue:
"I think the goal right now — after tonight's outcome in the Andrade ladder match — I think something along the ways that if he wants to keep feuding and going a step further, I'm willing to put my mask on the line versus his hair for a WrestleMania moment. Whatever the case might be, whoever ends up winning, I think it would be a huge stepping stone for either of us. As far as moments, I really would love to relive a Royal Rumble moment, being that I hold the record right now for having the longest time in a Rumble match. These moments stick in my mind and heart. You always want to become better than you were yesterday."
There is no word on if WWE is even planning on having Andrade and Rey Mysterio feud for the next few months. However, make sure you stay tuned to WrestleTalk.com for the latest on WWE's plans for Mania.
It has actually been reported that WWE is planning a serious feud for Andrade and Humberto Carrillo in the coming weeks, likely leading to a WrestleMania match. This means that the prospect of a Mask vs. Hair match at WrestleMania between Rey and Andrade is unlikely.
Would you be interested in seeing a Mask vs. Hair match at WrestleMania 36 between Rey Mysterio and Andrade? Let us know in the comments.