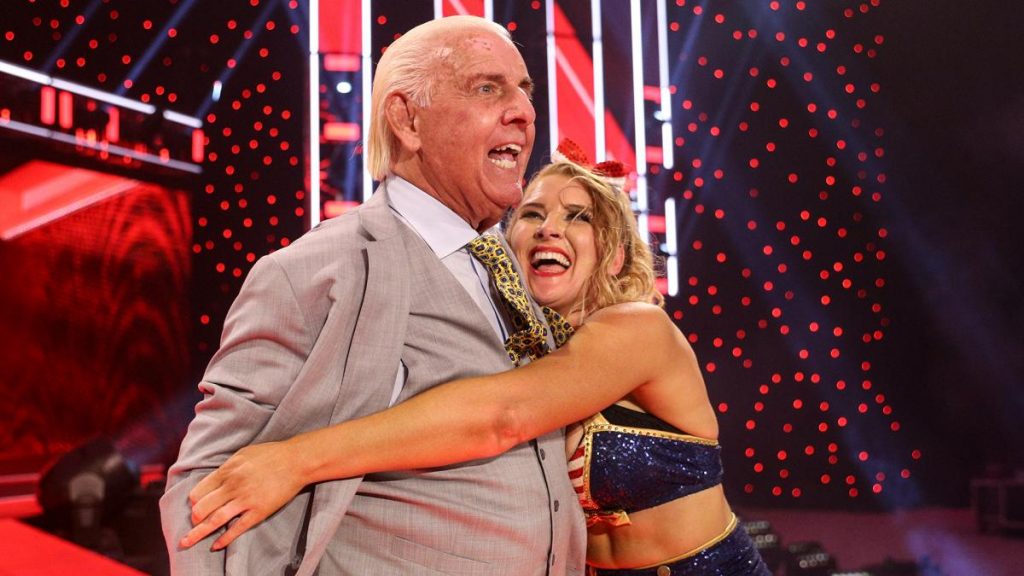 Earlier this year, WWE ran a storyline on Monday Night Raw with Lacey Evans and Charlotte Flair, where Evans seemingly entered a brief romantic relationship with Ric Flair, who is 41 years her senior.
Speaking with Ariel Helwani on his MMA Show, Ric Flair revealed that he wasn't a fan of the storyline, explaining that he "didn't feel comfortable" with how things played out on television:
"In this instance, I didn't (feel comfortable). It didn't make a difference. One thing I've learned is that you're not going to win a war when someone has their mind made up. [Charlotte] most definitely didn't like it. I always say 'yes' because I didn't want to be that guy who is like 'that isn't perfect for me.' I have been buried in the desert, I've gotten my head shaved, no other top guys have gone through this. I've done everything. I've gotten fired for a year because I took my son to AAU Nationals. I've weathered every storm and come back. I got to TV and Mr. McMahon wasn't there to argue the point with. He had stuff going on and, I don't like to put pressure on someone if I can't talk to him. He had made up his mind. I think a lot of it is because [Lacey] is a Marine and we can't give enough back to the people who have served. He wanted her to be successful and the way to be successful sometimes is to take two other people who are doing well and give them the rub. She's a nice girl, but it didn't fit. We made the best of it and ultimately, she's pregnant now with her husband. It was never anything personal, I barely know her,"
Ric Flair again reinforced that he wasn't a fan of the storyline, but noted that you're never going to be able to win in an argument against Vince McMahon, so he just went along with it:
No, I didn't like that one. To [Vince], I'm always going to be 'kiss stealin, wheelin' dealin,' which is great because he likes that even though he hated it when I used to say it. [Ric doing Vince impression] '80s heels don't draw! Go lead by example! If I put you in the first match it's because where you belong!' You're not going to win the argument. He's smarter and he's the boss."
As Ric Flair mentions, the storyline was abruptly dropped the week before Elimination Chamber in February as Lacey Evans found out that she was legitimately pregnant with her second child.
What are your thoughts on the above story? Let us know in the comments on Twitter or Facebook.
Thanks to Fightful for the transcription.