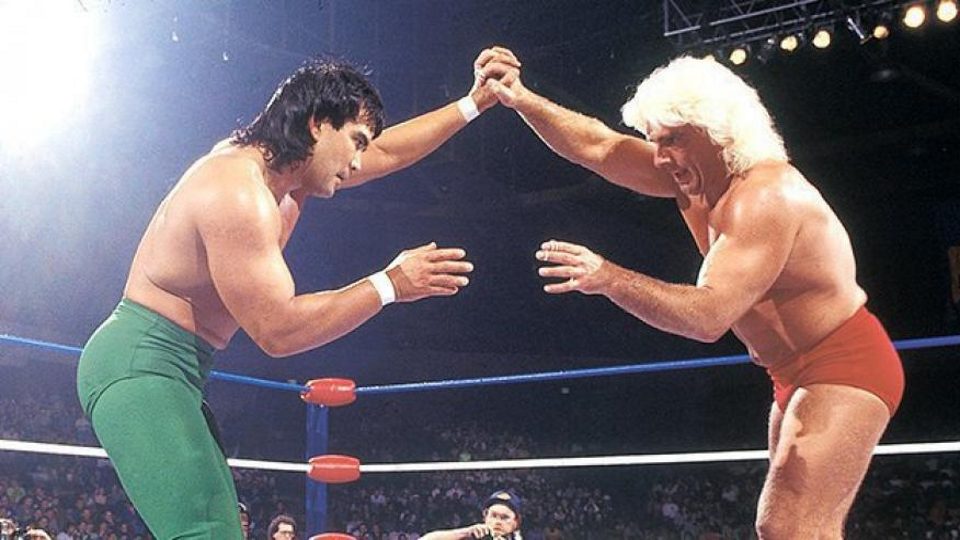 Mirror, mirror, on the wall, who's the greatest babyface of them all? Why it's you, Ricky Steamboat. And if you don't believe the mirror, just ask 'Nature Boy' Ric Flair.
Ric Flair and his daughter, WWE SmackDown Women's Champion Charlotte, recently sat down for WWE Network's Photo Shoot series to help promote WWE 2K19. Over the course of 25 minutes, the legendary Flair family were presented with pictures and video on a projector. Sometimes they were shown a location or an event, like a photo from a family vacation. Other times they were shown people, such as Charlotte's peers in the WWE women's division, or Ric's old opponents.
When a picture of Ricky Steamboat battling Flair at NWA WrestleWar 1989 was shown, Flair's tone changed, and he made a proclamation:
"Steamboat! There'll be arguments about this, but not many that can stand. The greatest babyface of all time. … I don't think anybody had better matches in the history of the business than Steamboat and I had."
Ric praised Steamboat's physique, toughness, and the fact he was a genuinely nice guy. Clearly, 'Naitch' enjoyed working with Steamboat, but their historic trilogy over the NWA Worlds Heavyweight Championship speaks for itself.
Flair did not stop praising his fellow wrestlers, however. He said that he was "completely enamored" with Dusty Rhodes, and believes he was the most creative man in pro-wrestling. He called Roddy Piper the greatest heel of all time, and said that the Undertaker restored his self-confidence during their WrestleMania 18 match.
Finally, on the subject of Charlotte, Ric said that if Shawn Michaels took the torch from him, then his daughter took it from both him and Shawn.
Do you agree with Ric Flair's assessment? Is Steamboat the greatest good guy ever? Is Piper the best heel? Who was more creative than Dusty Rhodes? Tell us what you think in the comments below, on Twitter, and in our Discord Chat!