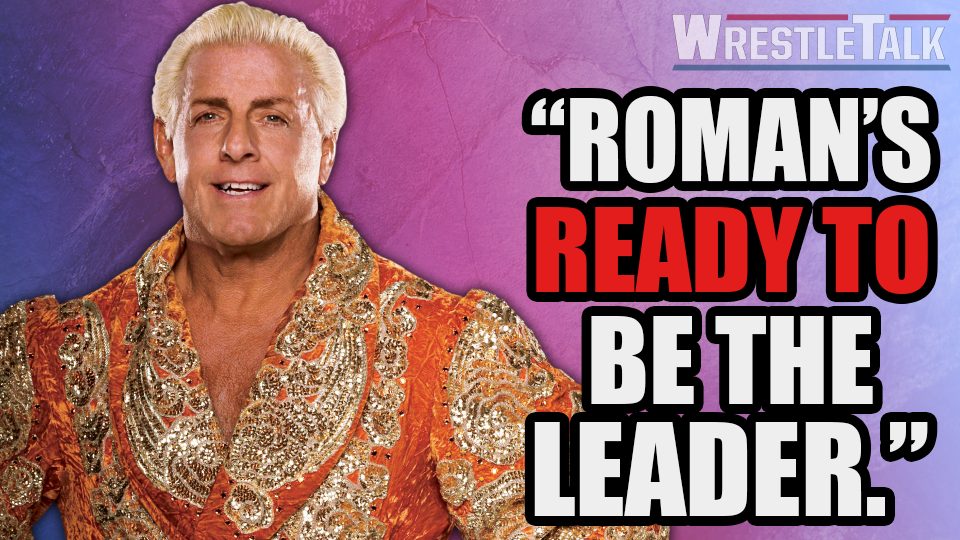 Eternal 'WOO' man and two-time WWE Hall of Famer, Ric Flair, was recently interviewed by Justin Barrasso of Sports Illustrated, where he discussed many talking points including the upcoming SummerSlam bout between Roman Reigns and Brock Lesnar, his daughter Charlotte Flair, his health, and new projects he's involved in.
It seems the 'Nature Boy' is excited for the 'Biggest Party of the Summer' on August 19:
"This is a big couple of weeks for wrestling. WWE has come up with something creative for Roman Reigns and Brock Lesnar, and I'm really looking forward to watching."
You do have to admit, love or hate the Lesnar/Reigns storyline, it certainly is unique. When pushed further on what the 'Big Dog' would need to do against the 'Beast' to make the match as compelling as possible, possibly attempting to avoid a similar reaction to their WrestleMania 34 match, Flair responded with:
"It's not the individuals who make the match any more, it's the promotion. The fact that Roman has wrestled Brock three different times and not been successful shows the constant belief from the company that Roman's ready to be the leader."
I think we all already knew WWE are ready to make the former SHIELD member the leader; the problem lies with if everyone else is ready for that. That being said, if Reigns and Lesnar can somehow find a way to put on a thriller of a match, similar to that of Goldberg's encounter with the Universal Champ at WrestleMania 33, this may at least be a respected ending to a long story.
69-year old Flair then went on to discuss his health, including his scare last year that forced him into a medically induced coma.
"It's almost a year ago, August 14, when I went through everything with my surgery. But now I feel great. I just had another surgery a couple weeks ago to reverse the stoma. Now I need a couple of months of rest, and I still can't work out yet, but I feel fantastic. It's a miracle."
The 'Nature Boy' also shared his relief that his body was still holding up after so much time in the ring:
"I'm not physically banged up. I feel great. My knees, elbows, and back, they don't bother me at all right now. When I look at my friends with back operations, hip replacements, knee replacements, I'm just thankful I'm in one piece because so many have been through a lot. Hulk [Hogan] has had like nine back operations. Guys in my generation and even the generation younger than me are all physically banged up much more than me, but I'm lucky to be doing great. Thank you to all who've asked."
It is refreshing to see someone who has wrestled for decades be in such good physical health, especially a beloved legend such as Flair.
Smiles Are Contagious! WOOOOO! #justsmile pic.twitter.com/oP2UKXA1Z0

— Ric Flair® (@RicFlairNatrBoy) August 1, 2018
Charlotte Flair made her return to SmackDown Live this past Tuesday and immediately inserted herself into the Women's Title picture by beating current champion Carmella. Her father spoke about her time away:
"Her time off came at a good time. She was at the ESPYs, presented an award, and did the 'Body Issue' for ESPN. She's built her brand, and her brand gets bigger every day. By the time she's ready to figure out whether she wants to stay in the business as an executive or do something else, her brand will be that big where she'll be able to make the choices she wants. I'm really happy for her."
There's no doubt Charlotte is on course to become as big of a star as her father, if not exceeding those levels. Ric has also been offered a new endorsement deal with TickPick, a no-fee ticket marketplace, something that he's very excited to share:
"I'm really excited about working with them. We had fun filming the commercial, and I hope this works for them. I'm anticipating this partnership being very successful.

"I can still cut a promo, but I wish I had a tan for that commercial. My wife put my boat up for sale, but I'll actually be in the sun for the first time next week. The doctor has finally given me the green light to travel, and that's perfect because I need a suntan."
The former Four Horsemen member seems to be in a good place physically and mentally, and it's great to see. Here's to hoping he continue his stylin', profilin' limousine ridin', jet flyin', kiss-stealin', wheelin' and dealin' ways for a while to come.
Related content:
Is Flair right about Reigns and Lesnar? What do they need to do to make a compelling match? Let us know in the comments, on Twitter or on Discord today!